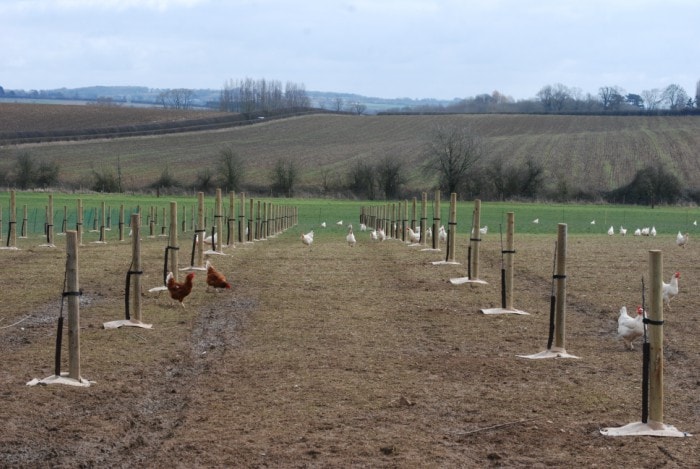 STORIES ·
27.03.18
Farming
Planting trees in hen fields may sound like a strange thing to do but it's the first important step in our latest undertaking on the farm – our agroforestry project. Agroforestry is a means of managing combinations of trees, crops and livestock so that not only do you get better results from your crops; above all, and as was my main intention in launching this project – you enhance the welfare of your animals. For me animal welfare is at the heart of the way we farm at Daylesford and we are constantly striving for new means of caring for our animals to ensure they lead the happiest lives possible.
Hens are creatures that naturally seek out dappled light, shade and shelter, so by planting trees we're providing them with the extra cover they need to feel protected and secure. This encourages them to roam even further around their extensive pastures.
We have planted 800 fruit trees that run in rows along the lengths of half our hen fields. Alongside them are rows of native British alder trees, which not only act as a windbreak for the fruit, they offer shelter for the hens and provide woodchip to be used as fuel in our biomass boiler.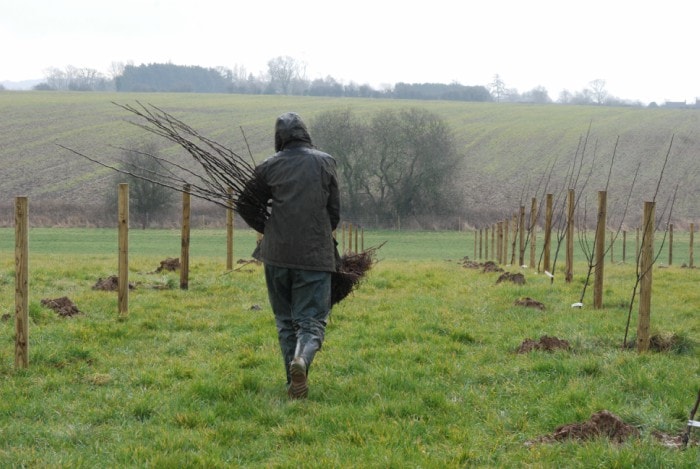 And finally, in the other half of the fields, we've planted kale. The leafy green is one of the most popular vegetables we grow in our market garden, so I'm delighted that the healthy brassica also has huge benefits for this project. The kale will be grown the year after the hens have roamed the fields. Our mobile hen houses will be moved across to the next field, leaving behind a rich, fertile soil, perfect for nourishing the growing kale. The following year the vegetable will be left to go to flower and seed. The seed feeds the birds and the flowers provide essential pollen and nectar for bees and other pollinators, a source they can access throughout the year, which is particularly vital during the more barren periods of the year when food is scare.
Our agroforestry venture is something I am immensely proud of. The innovative nature of the project attracted the support of the Woodland Trust, which awarded us a grant to fund the tree plantation. It's an integrative project that brings together different teams and elements of what we do on the farm, and above all its many benefits are far-reaching and will continue to be appreciated for many generations to come.