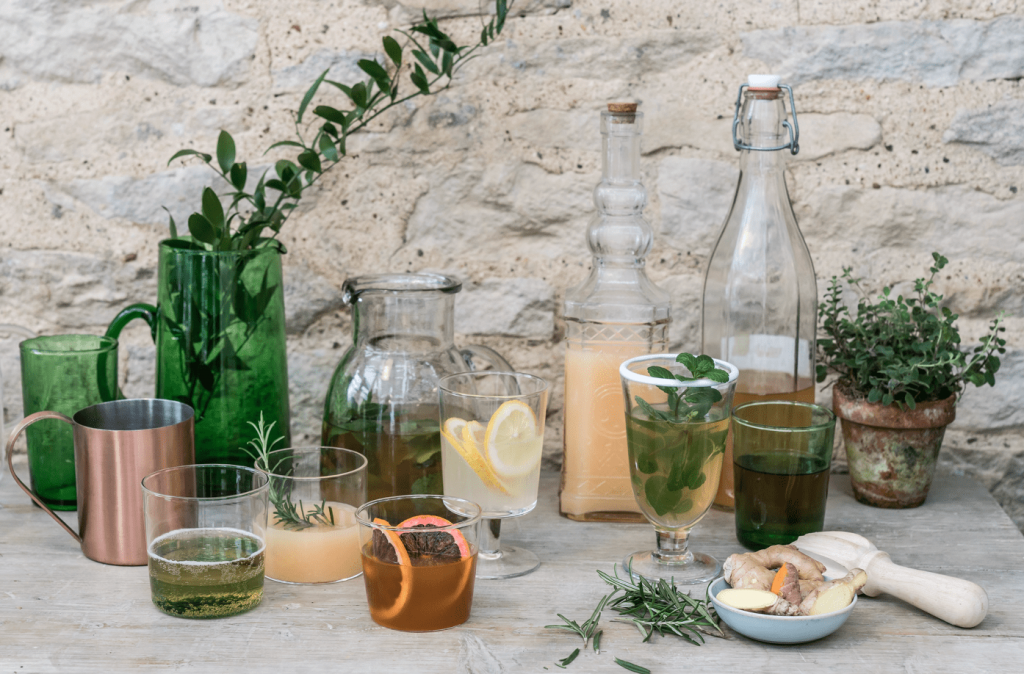 a classic shrub recipe is a syrup-like mixture of vinegar, sugar and fruit to which you add sparkling water or wine
STORIES ·
28.11.18
Mindful Living | Recipes | Sustainability
One of our family traditions at Christmastime is to make our own sloe gin, soaking the bright berries we've foraged from the hedgerows then hiding the bottles away to steep for a year. And every year we look forward to tasting the previous year's batch.
But as more and more people are choosing to drink less or not to drink alcohol at all, my thoughts have been turning to offering non-alcoholic alternatives to our sloe gin and I've been interested by the idea of shrubs. English 'shrubs' have started to come back into fashion – I'm seeing them on more and more restaurant menus – and they're something I'm keen to experiment with as well.
Originally designed as a means of preserving fruit, a classic shrub recipe is a syrup-like mixture of vinegar, sugar and fruit to which you add sparkling water – or wine.
Below I'm sharing the recipe for a shrub our resident nutritionist at Daylesford, Rhaya Jordan, has put together. She has updated the classic recipe to make it healthier, swapping refined sugar for raw honey to get its beneficial enzymes and choosing a live vinegar for gut-friendly probiotics. These ingredients create a digestive tonic that will also help keep you hydrated.
Many classic shrub recipes use late summer and autumn fruit, but for winter you could try damsons or plums, or cranberry, orange and ginger. You can control the flavour to make it as sweet, sharp or fruity as you like. Rhaya often opts for two parts of live vinegar to one part fruit and honey.
fruit shrub
blackberries
raw honey
apple cider vinegar
Start by weighing out your fruit, then weigh out equal measures of vinegar and honey.  Mix the honey and fruit together and muddle slightly, lightly breaking the fruit as you go.  Leave in the fridge overnight.   The following day add the vinegar and stir. Leave for another night in the fridge before straining.
At this time of year, when many of us get swept up in all the parties and alcohol on offer, shrubs offer a wonderful refreshing alternative to the alcoholic offerings, though you could always swap the sparkling water for wine if you prefer.