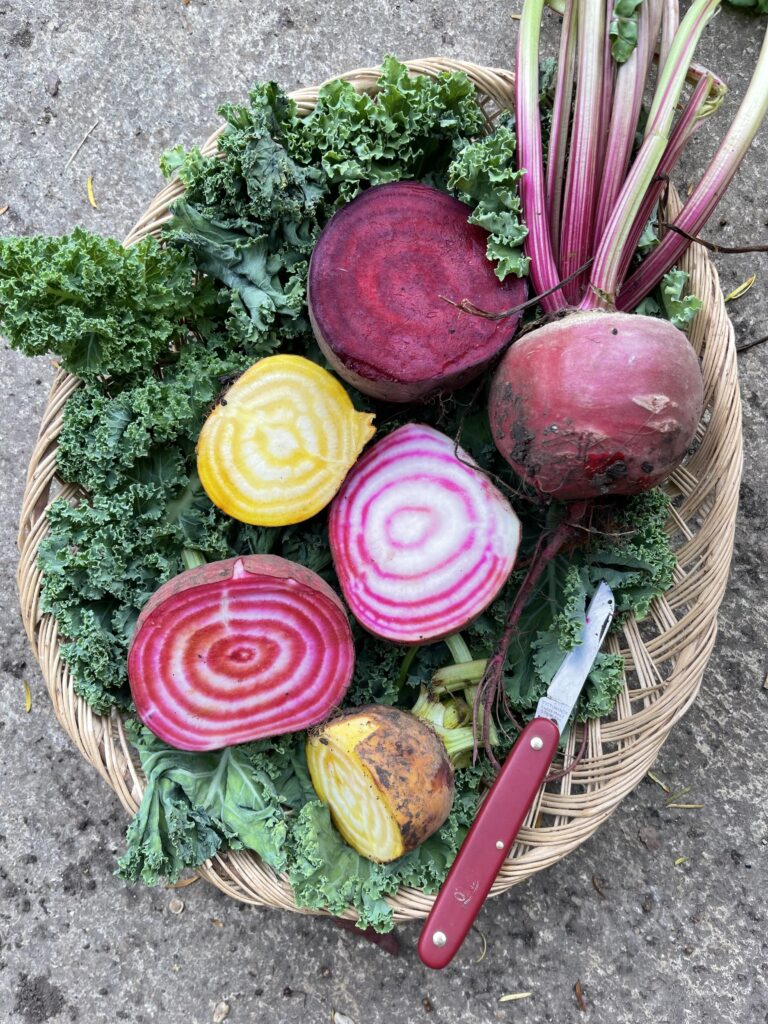 we've been harvesting lots of heritage beetroot both at home and in the farm's market garden this month
STORIES ·
20.09.23
Food | Garden | Recipes
We've been harvesting lots of heritage beetroot both at home and in the farm's market garden this month, so I thought I would share the recipe for this delicious, seasonal galette – a version of which appeared in our fifth volume of Seed Magazine.
In the spirit of the Soil Association's Organic September, every ingredient here is organic, and the way that you fold up the edges of a galette ensures that no pastry goes to waste. It's quick to make your own by hand, but if you're short on time you can simply pulse the ingredients together in a food processor until smooth.
I have shared a video of the recipe on my Instagram which you can watch here.
Serves 6
250g plain flour
125g butter, frozen
1kg beetroot, washed
300ml apple cider vinegar
100g caster sugar
200g blue or goat's cheese – I used Daylesford Bledington Blue
3 thyme sprigs, leaves stripped
1 egg, beaten
sea salt and black pepper
1 tsp runny honey, to finish (optional)
large handful of watercress, to serve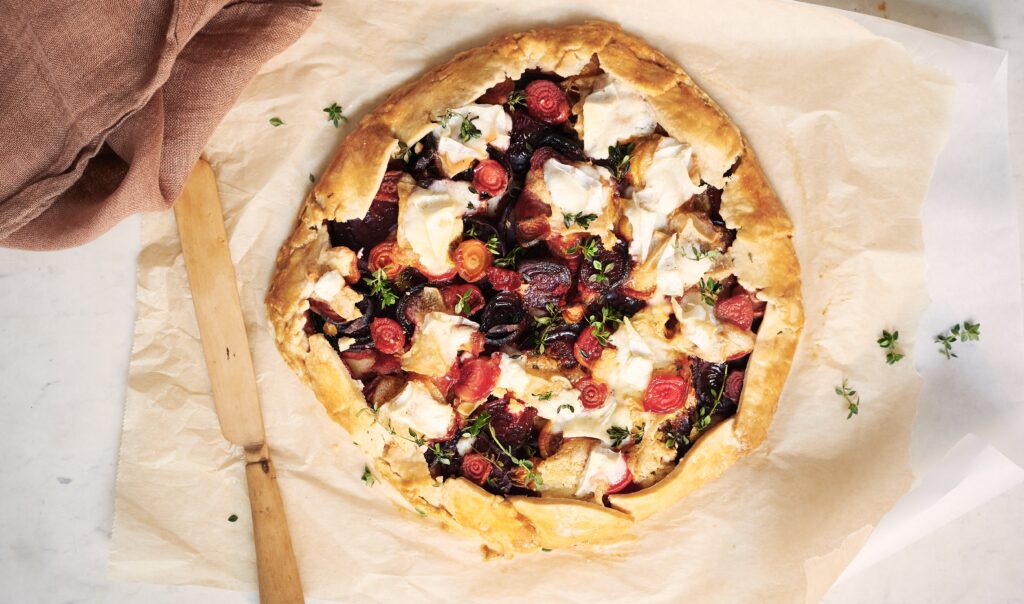 Start by making the shortcrust pastry. Place the flour in a large mixing bowl with a pinch of salt and grate in the frozen butter. Stir to combine, then gently use the tips of your fingers to rub together until breadcrumbs form. Gradually add 1-3 tablespoons of cold water, continuing to mix until the the pastry can be pressed together to form a smooth flattened ball, being careful not to knead the dough too much. Wrap the pastry in clingfilm and put in the fridge to chill for at least 1 hour.
Meanwhile, cook the beetroot. Bring 1 litre of water to the boil in a large saucepan with the vinegar, sugar and a pinch of salt. Add the beetroot, return to the boil and simmer for about 25– 35 minutes for small beetroot, around 45–55 minutes for larger ones. Drain and allow to cool slightly until cool enough to handle, then peel.
When ready to assemble the galette, preheat your oven to 190ºC/170ºC fan. On a floured surface, roll out the pastry to a round, about 1cm thick. Place on a baking tray in the fridge for 15 minutes to firm up.
Cut the beetroot into thin slices, then place a pile in the centre of the pastry, leaving a 2cm margin at the sides to fold up the pastry. Scatter three quarters of the crumbled cheese over the beetroot, then the thyme leaves and fold the edges of the pastry around the sides to create a lip. Brush the edges of the pastry with the beaten egg.
Bake for 25–30 minutes, or until the pastry edges are golden.
To finish, drizzle the honey over the galette (if using) along with the remaining crumbled goat's cheese. Serve warm with a crisp watercress salad.