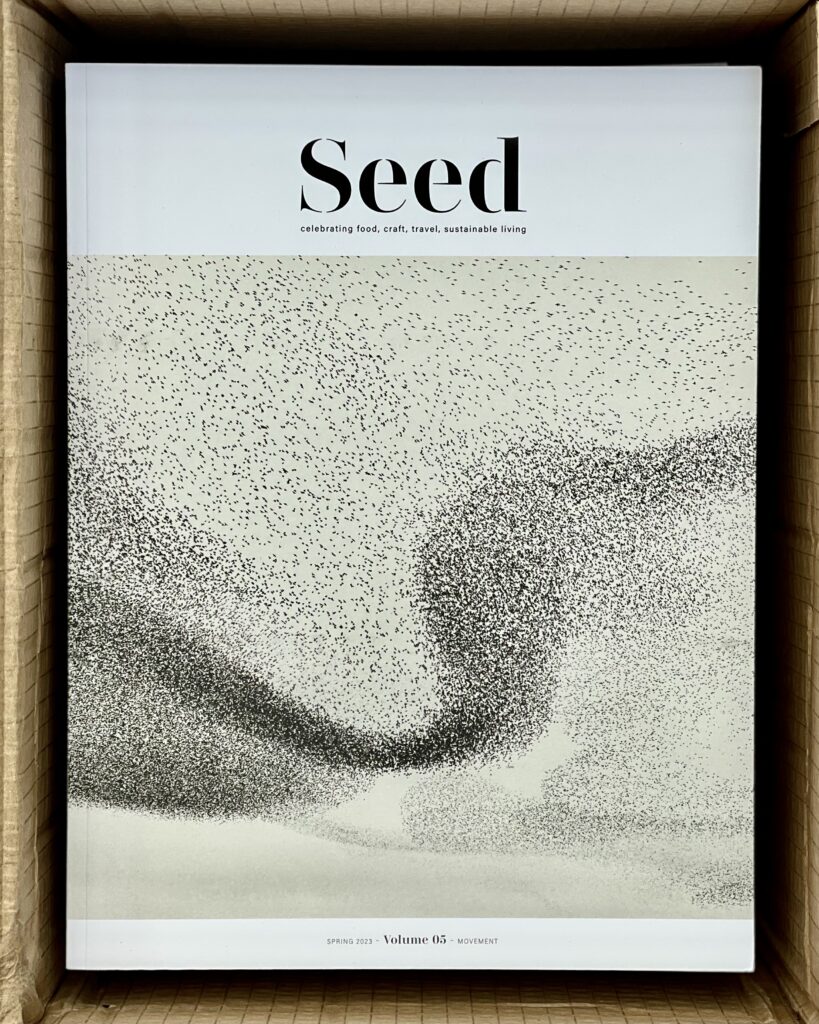 STORIES ·
15.05.23
Craft | Mindful Living | Sustainability
At the end of April we published our fifth volume of Seed, the biannual magazine that I created in 2019. Founded on the belief that we need to live sustainably and consciously, Seed's philosophy is to lead by example: to gently inspire our readers to make small changes with their choices so that together we can have a wider impact on the future of the planet – like sowing a seed that will grow and flourish into a plant.
This issue considers the role that movement plays in human wellbeing, but also its significance within art and nature. I found it fascinating to see how our writers interpreted and explored this theme, starting with our beautiful cover story that was shot by the Danish photographer Søren Solkær.
The cover depicts 'Black Sun' – a natural phenomenon that occurs twice a year in southern Denmark when the skies come to life with swirling starling murmurations. I find the image mesmerising and encourage you to have a look at Søren's Instagram page to see this beautiful feat of nature in motion too.
this issue considers the role that movement plays in human wellbeing, but also its significance within art and nature
We also visit the studio of heritage craftsman and one of Britain's few remaining block print artists, Nicholas Hughes; discuss the relationship between physical and mental health with the wonderful Julia Samuel; and take a culinary trip along the rugged Irish coastline at Cork with chef Clodagh McKenna. Elsewhere, our writers discover the art of stone balancing, investigate the mysterious world of mycelium, and moon mentor Kirsty Gallagher teaches us how to live in tune with the lunar cycle – something I have been tracking myself for many years.

We have also included eight delicious low-waste recipes, a crafting tutorial, an inspiring spring table setting and a guide to growing brassicas, which I hope will perhaps encourage a few of our readers to try their hand at a sustainable new hobby in their own homes.
I hope you find as much pleasure in reading Seed as our small team did in putting this issue together. Volume 05 is available to purchase here, along with volumes 01 – 04 if you would like to build a full collection. You can also follow the magazine on Instagram for more details on the pieces, our writers and a few exclusive clips from behind-the-scenes. I would love to know what you think.