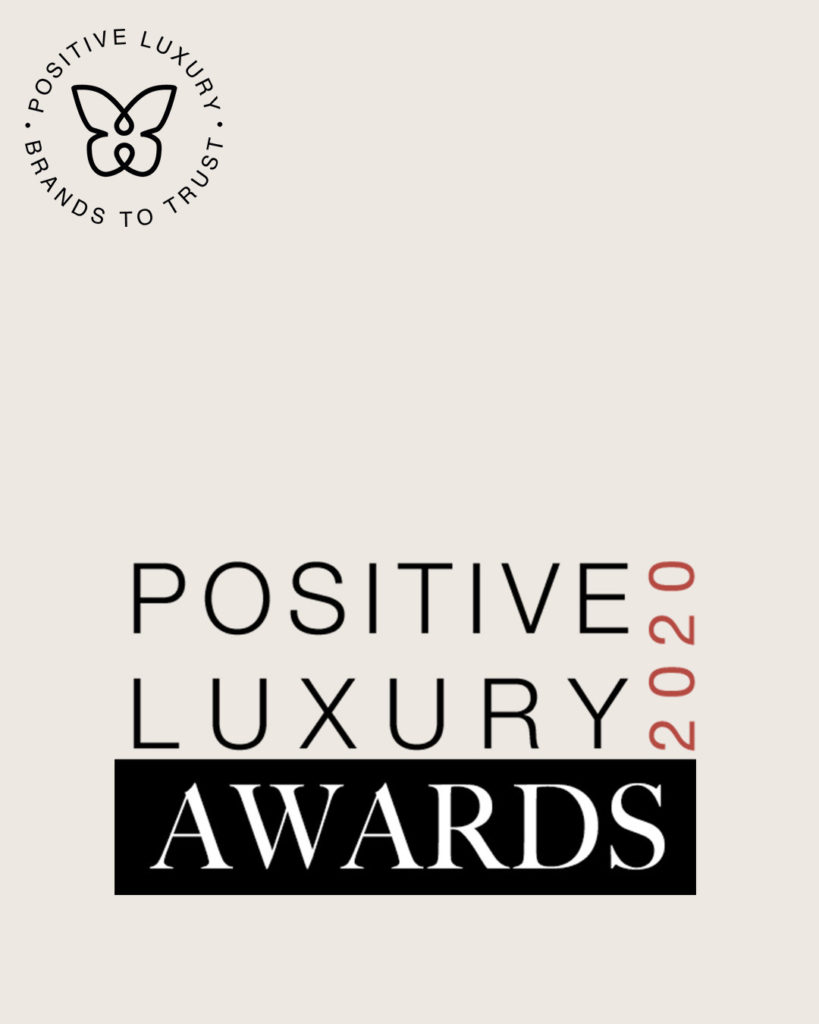 STORIES ·
28.02.20
Farming | Mindful Living | Sustainability
This week has been a very exciting and inspiring week for me. On Tuesday I attended the ceremony for the inaugural Positive Luxury Awards.
Positive Luxury was founded in 2011 by environmental trailblazers Diana Verde Nieto and Karen Hanton MBE. It launched the Butterfly Mark, a symbol that is given to brands and people who care about the future and have adopted sustainability as a business strategy; it helps consumers make informed choices with their purchases. The awards were set up to recognise many of these companies or individuals and their work within certain specific areas.  
It was such an inspiring evening and enormously encouraging to be surrounded by so many individuals and brands from a spectrum of industries who are all working so hard to be a force for change for our planet. I was very struck by the level of creativity and innovation in the room and it was hugely exciting to feel that 40 years after I started my own journey to do the  right thing for the planet so many others are now walking that same path.
At the ceremony I sat down with Misan Hariman, photographer and founder of WhatWeSeee to have a fascinating discussion about the landscape for luxury brands and sustainable pioneers today. I've included a summary of what I said. There's also more about the event and the background and criteria for the awards on Positive Luxury's website here.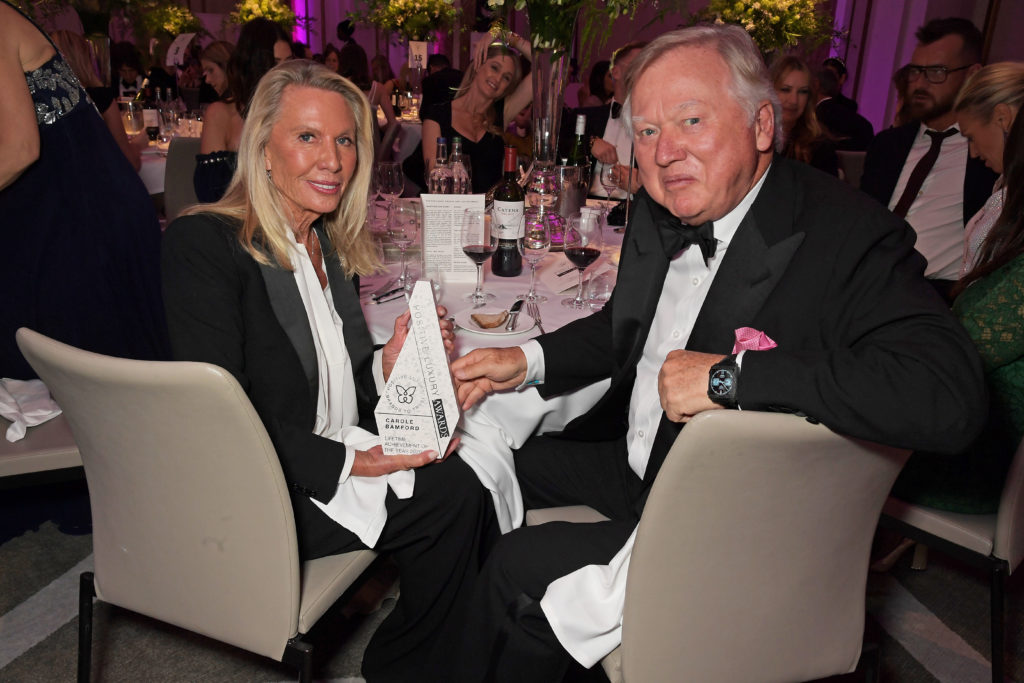 we're witnessing really creative ways of doing or producing things more sustainably and that makes me excited and gives me great hope
What's been the achievement of your career that you are most proud of?
When I look around at Daylesford and everything that we've done there since we made the decision to start farming organically, I do feel very proud. Daylesford began as nothing more than a collection of empty barns and bare fields and it has grown to become one of the most sustainable organic farms in the UK with the ability to lead and drive change. That's perhaps what's most important to me and what I'm most proud of – the capacity we have to inspire and enable others to make changes in their own behaviour and to live a more sustainable, holistic life. Whether that's individuals, or other business. At Bamford, we've been making ethical clothing since we started and now so many others are doing the same and that's really wonderful to see.
Making a business responsible and a positive force comes with challenges – what have you turned to for inspiration to overcome a significant barrier?
My family has been a huge influence, in particular my husband, who is a constant and unwavering support; I value his expertise, his advice and his knowledge.
My grandchildren remind me every day why it is so important we keep striving to push through any barriers – looking after our planet is vital so that we can preserve it for them and it breaks my heart to think that might not see the beauty or enjoy the resources that we are so lucky to have.
And in my day-to-day, my meditation practice is something I rely on to balance any stresses or worries. I have practised yoga and meditation since I first went to India when I was young and they continue to help ground me and keep me centred and calm. When you practise yoga or meditate you're creating your own space, a place and a time for yourself to recharge your energy and so to me that time in the morning is essential. I think everyone needs to have moments of that kind in their day, whether it's by taking a walk, having a bath or reading a book – we all need to stop and refocus.
As a successful business leader, what advice do you have for others who want to build sustainable businesses and brands?
Be passionate – do something you really, really believe in. Starting a business can be very hard, especially at the beginning, and you're inevitably going to meet adversity, so it's important you love what you do and are prepared to work hard at it and want to fight for it.
Be curious – keep asking yourself questions and know that there is always something more you can do. Think about how the product or service you are offering will inspire others to live more sustainably or responsibly but remember that to make it sustainable you need to think about all aspects of your supply chain – you need to be able to account for the whole story. 
How can we become more conscious consumers?
The first thing I would say is to start small and make changes that are sustainable for your lifestyle. Nobody is perfect and it is better to go slowly and make realistic swaps rather than embark on lots of big changes if you abandon them after a short time. Identify areas that are manageable for you.
Be mindful with your choices. There are lots of relatively simple swaps we can make to ensure we're avoiding plastic, for example, but there are plenty of other small steps that we can take to adapt our lifestyle such preventing any food waste at home; looking after our clothes to make sure they last; and buying clothes that aren't designed to be worn for a season then thrown away. 
And of course, a huge part of being conscious is about arming ourselves with information – seeking out and supporting the brands and businesses that are doing the right thing and are behaving responsibly. It's not always easy to make informed choices because there is so much greenwashing, which is why accreditations such as the Butterfly Mark and the Soil Association logo, for example, are so important. They are visible, vital indicators not simply of whether we're purchasing something sustainable and ethical, but also that we're choosing products or services that are going that bit further and using their business to have a positive impact on the planet. 
The 2020s are being called the decade of change, what are you biggest hopes for the decade?
Every day I am encouraged and inspired by the voices of the younger generation and they fill me with hope for the future. The urgency of the actions taken by young activists such as Greta Thunberg bring into sharp relief the state of the crisis we are in and remind us all that we cannot sit by and let this happen. Children are taking a stand and my hope is that they will continue to reinforce the message that together we can be a force for change. 
We're witnessing really creative ways of doing or producing things more sustainably and that makes me excited and gives me great hope. We need to keep identifying the game-changing solutions – the  nature-based solutions – and technologies that are going to help shape that future.
I'm also hopeful that this wave of momentum that we're experiencing will just keep growing to the point where authorities enforce measures that mean the status quo has to change. I feel that we're at the tipping point. Initiatives like the plastic bag charge show us how governmental initiatives can have a huge impact and so I'm hopeful all the work that the young are doing to raise awareness of the problem will lead to implementation at a national and international level.