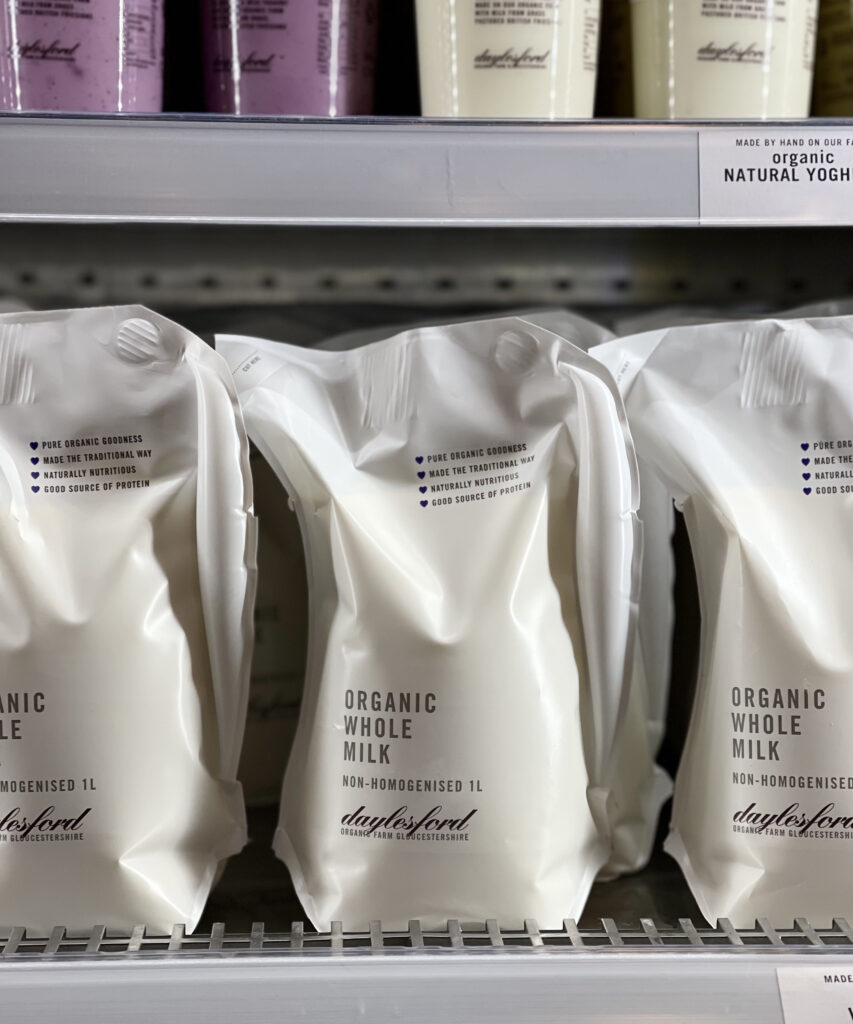 STORIES ·
30.01.22
Food | Mindful Living | Sustainability
Nature is full of complex systems and cycles – and yet it produces no waste. I find this truly amazing, and a stark reminder that the pollution our planet is being overwhelmed with is all our own creation. Having read that more waste comes from discarded packaging than any other industrial sector – including textiles, transportation, electrical and construction – I wanted to share a little about our philosophy at Daylesford and Bamford. Ever since I opened our first farmshop in 2002, our ethos has been to 'package lightly', and in 20 years we have never produced a plastic shopping bag.
Choosing the right packaging for a product is a complicated process, bringing together numerous factors. We consider the environmental impact at every stage in its life-cycle – from the raw materials, weight and how it will be transported to whether the packaging can be refilled, reused or recycled. Over time we have developed a hierarchy of packaging practices. We are not perfect and there are areas we need to improve, however it is my hope that our sustainable approach may inspire others to make small changes, and perhaps think of their own innovative planet-friendly solutions too.
ever since I opened our first farmshop in 2002, our ethos has been to 'package lightly', and in 20 years we have never produced a plastic shopping bag
Avoid it
It goes without saying that the most environmentally friendly option is to avoid packaging altogether. We are proud to sell our fresh fruit, vegetables and baked goods loose, and I love seeing our colourful, seasonal produce on display in our farmshops. Although it is not possible to sell our meals and soups without a container of sorts, we have managed to remove an unnecessary 14 tonnes of card by replacing paper sleeves with fully-printed pouches – the equivalent of 680 trees.
Reuse it
Packaging that can be reused is infinitely kinder to the planet than a single-use option. Our Zero Waste Pantry enables customers to refill their own containers – or choose from our range of pots and jars – when buying dry store-cupboard essentials, oils, vinegars, honey and cleaning products. Visitors are also encouraged to bring their own cups and salad boxes to fill on-the-go at our coffee or deli counters – and enjoy 50p off the cost of their purchase for doing so.
Much of our packaging is designed to last so that it can be given a new lease of life once the product is finished. Our decorative Bamford candle jars make elegant holders for brushes, pencils and trinkets, and I love hearing all the innovative ways our wicker hampers have been reused – from toy boxes and welly storage to dog beds and laundry baskets.
Recycle it
For many of our perishable goods and beauty products, packaging to preserve shelf life is unavoidable. Post-consumer recycled plastics have a significantly lighter impact when compared to virgin plastics, so we opt for this wherever we can, and continue to experiment with new technologies such as compostable biofilm for our cheeses. As many of our products as possible use completely recyclable packaging that is easy to clean and sort into domestic recycling bins. These materials include recycled glass, plastic, board and FCS paper, and the inks we print with are low impact water-based.

We are particularly proud of our innovative Ecolean milk packaging – made from 40% chalk, a natural material that requires no chemical processes to extract and minimal energy to produce. As a result, the environmental impact of our milk packaging is dramatically reduced when compared to plastic and glass bottles in terms of waste and carbon footprint – even lighter on the planet than the traditional glass bottles collected and refilled by the milkman in days gone by.