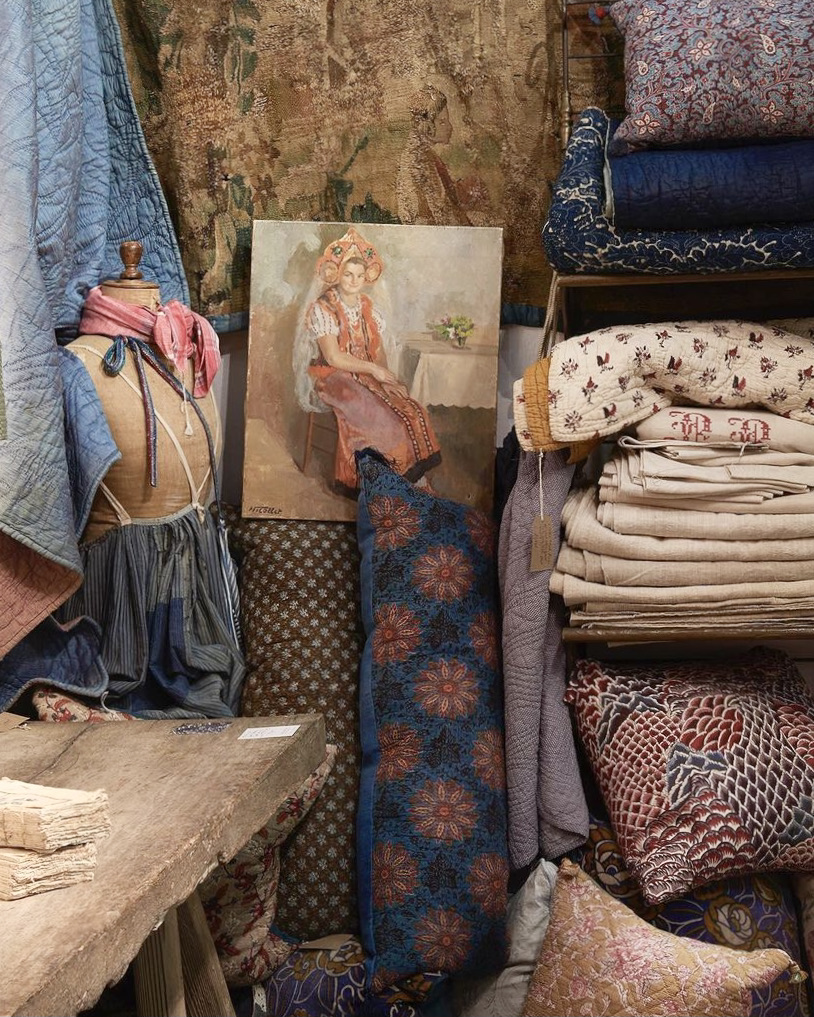 my showroom is the beating heart of my business, and it is a real joy for me to work among such gorgeous things every day
STORIES ·
05.10.21
Craft | Mindful Living | Sustainability
Katharine Pole is one of the most knowledgable antique textile dealers in the UK and is forever scouring markets at dawn to add to her vast collection of European fabrics. Originally a textile designer herself, Katherine is a regular exhibitor at at the prestigious Battersea Decorative Antiques Fair – an annual highlight for avid collectors like me. It has been a joy to work together on a number of special projects over the years, from interiors at home to those in my Cotswold pub, The Wild Rabbit – and most recently Bamford's AW21 collection, for which an 18th-century Genoese mezzaro became the central inspiration. It was a pleasure to speak to Katharine about her career, influences and some of the most memorable pieces she has uncovered over the years.
Where does your passion for textiles stem from?
Definitely from my mother who was an artist – our house was always filled with art books, and she kept us busy with lots of creative painting and sewing projects. I was born in Adams, Massachusetts, and as a child there were many visits to museums including the Metropolitan Museum of Art where Goya's portrait of Manuel Osorio Manrique de Zúñiga (also known as 'The Red Boy') in his crimson suit with lace collar, frothy sash and beribboned shoes enthralled me. We lived in Algeria for a year in 1963 where my mother worked as a graphic artist for the newly independent Algerian government, and I have a strong memory of walking past a fashion boutique every week to look at its ever-changing window display of Chanel outfits.
During your designing days, where did you find inspiration for your work?
I have always been interested in watching old films, observing the history of fashion through paintings, and poring over magazines ranging from Vogue to the most obscure titles I can find. Having arrived in England in the mid-sixties I studied textile design at Central School of Art and Design, specialising in printed textiles. As a student I was a frequent visitor to the V&A's textile department and became absorbed by the French toiles and English chintz, integrating these formal designs into my more drawn and painterly style. Two great inspirations in my work as a textile designer have been the paintings of Matisse and the textiles of the painter Raoul Dufy.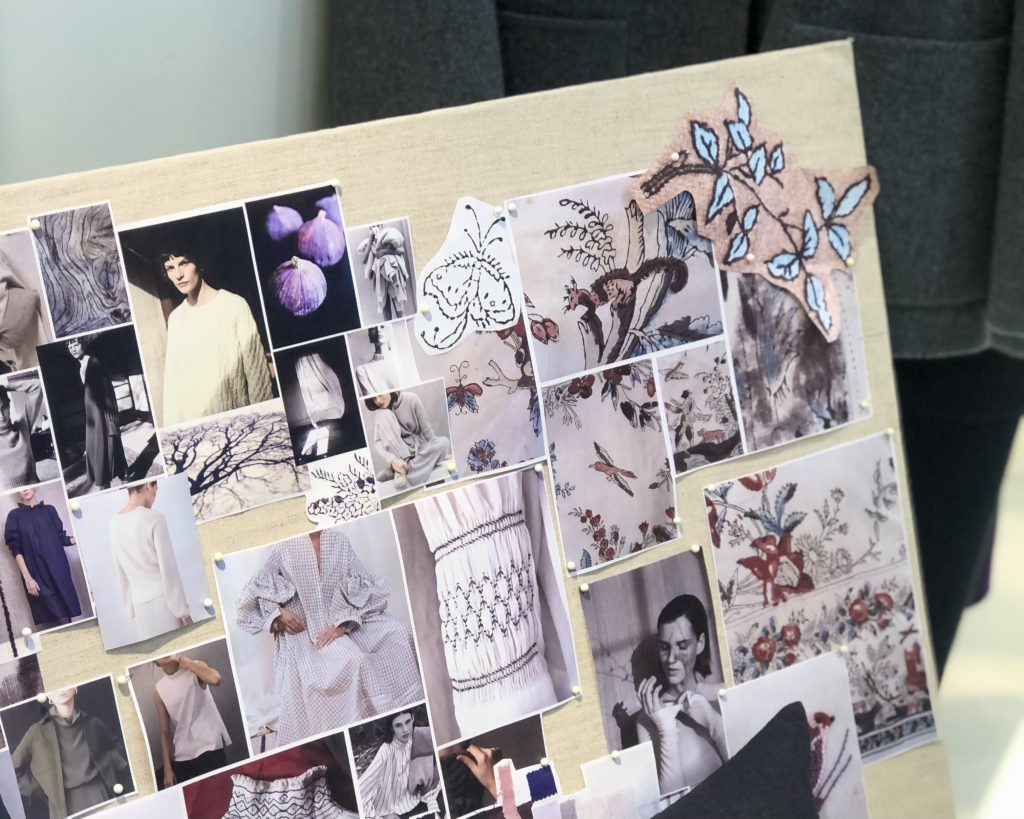 When you made the shift to dealing, what was it that drew you to antique textiles in particular?
With two young children I found it challenging to continue to design, so, encouraged by my mother-in-law who was a dealer, I started buying and selling. My first focus was children's antiques – anything from china to chairs to old toys. It was when showing at various antique fairs that I met antique textiles dealers, particularly the wonderful Bryony Thomasson, a specialist in French rustic textiles and objects who became a mentor to me and helped me to realise the possibility of making a business from my love of them.
i have always been interested in watching old films, observing the history of fashion through paintings, and poring over the most obscure magazine titles i can find

Where do you source most of your pieces from?
I source my textiles through a network of treasured contacts and relationships built up over 27 years of dealing, and, of course, travelling to fairs and markets all over France.

You now sell online and have an incredible showroom – how large is your collection at the moment?

Well, there's always room for more! I have no 'off button' when it comes to buying and collecting beautiful textiles. My showroom is the beating heart of my business, and it is a real joy for me to work among such gorgeous things every day. From chintz and florals to toiles, printed textiles have always been close to my heart. I have been particularly drawn to entrancing French indigo textiles, whether it be resist block prints for furnishing a bed or more subtle designs used in workwear.

What is the most memorable piece you've come across during your career?

There was a very rare late-18th century French sack-back robe in a wonderful Indienne block-printed cotton that I discovered in a flea market, and also a rare panel of 1920s Raoul Dufy printed linen – an amazing pattern of people among dense foliage.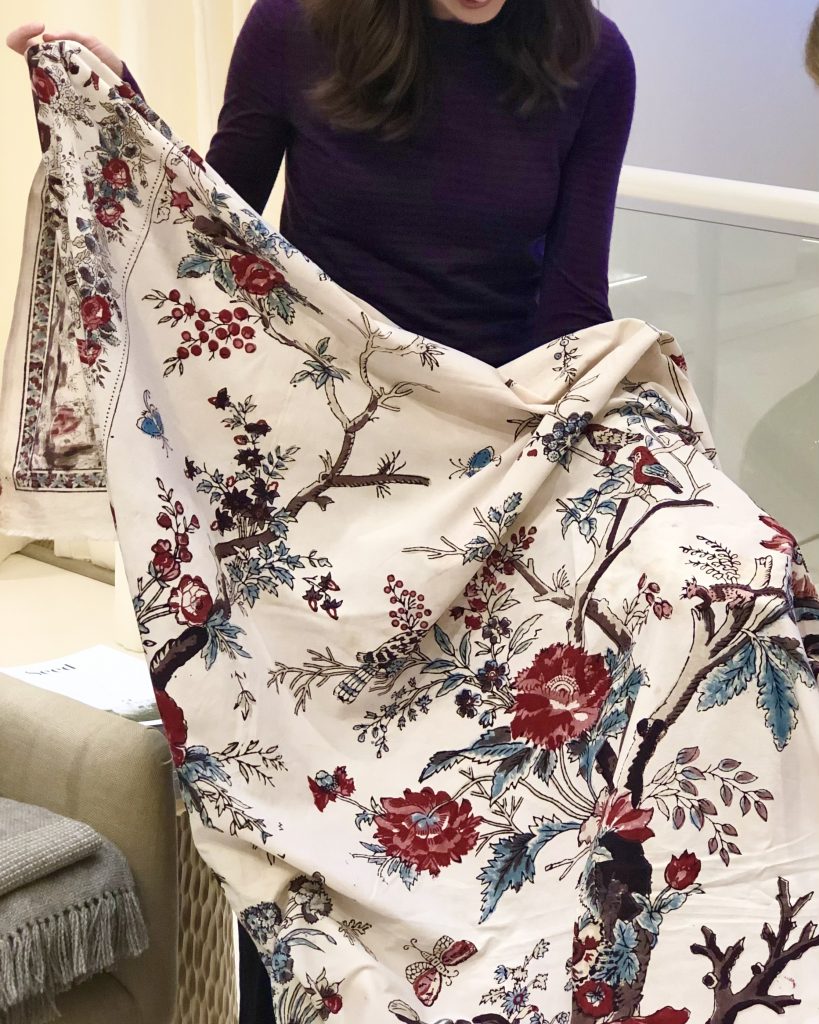 Can you tell me a little more about mezzaros, and my one (pictured above) that became the inspiration for Bamford's AW21 collection?
it's exciting to give beautiful antique fabrics a new lease of life, and see modern designers inspired by a textile from many centuries ago
A mezzaro is a large block-printed and painted cotton, usually the size of a large bedcover. Originally from Genoa in northern Italy and produced in the 18th and 19th centuries, they were worn like shawls by women, fixed to their heads and draped down over their bodies. Your mezzaro is a wonderful textile – a large-scale design in shades of violet to aubergine, reds, blues and black, and based on 18th-century Indian palampores (or bedspreads) that were imported to Europe. It shows an exuberant central flowering 'Tree of Life' standing on a rocky mound surrounded by a border of exotic lush flowers and filled with birds, butterflies and all sorts of other animals.
Sourcing, preserving, and selling antique fabric is inherently an incredibly sustainable practice – I love how we incorporated scraps of your indigo antique fabric into these Bamford cushions. What happens to most of your textiles after they have been sold?
You're right, antique dealing is basically a sophisticated form of recycling! They are wonderful pieces to have in your home and to live with. A lot of my business is with interior designers who might want to use an 18th century quilt, 19th century chintz curtains or cushions created from antique textiles in their projects. I also supply textile houses who are re-editing old designs, and it's always interesting to work with film costume designers who are looking for the kind of textiles that will give texture and authenticity to a period production. It's exciting to give a beautiful antique fabric a new lease of life, and to see modern designers inspired by a textile from many centuries ago.
You can shop Bamford's unique and antique handmade cushion covers here, or discover more pieces inspired by Katharine's 'Tree of Life' mezzaro here.