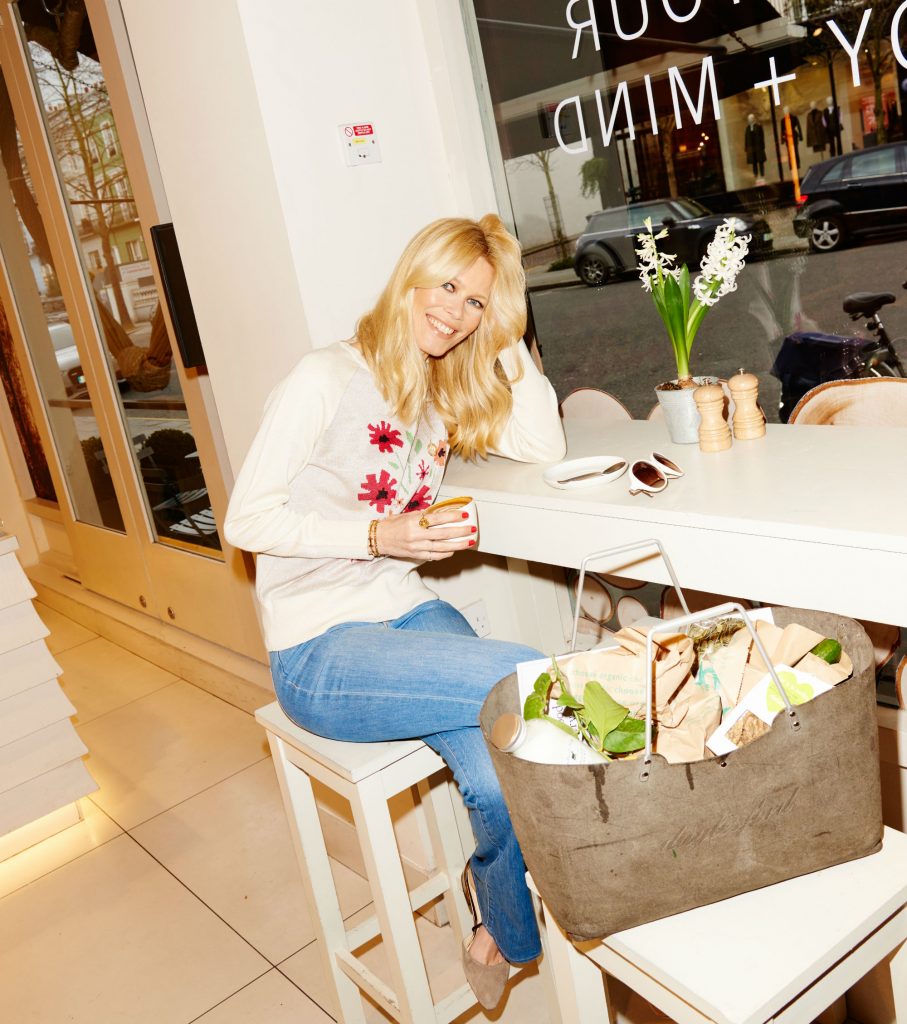 'if you wake up feeling happy, calm, no aches or bad thoughts and you feel the same when you go to sleep then you are healthy'
STORIES ·
28.12.18
Food | Mindful Living | Sustainability
Claudia Schiffer is someone I have long admired for her strength, ambition and her drive to succeed. We share a passion for sustainable living and looking after our minds and bodies in a natural, holistic way and it makes me very happy that she is a long-time supporter of Daylesford.
As we go into the new year and many of us start to think about our well-being and how we would like to take care of ourselves this year, I asked Claudia to share a few insights into her own routine and how moving to live in the countryside has changed her outlook on what it means to feel well.
What does being healthy mean to you?
If you wake up feeling happy, calm, no aches or bad thoughts and you feel the same when you go to sleep then you are healthy!
Do you follow any kind of eating philosophy or way of eating?
I make an effort not to eat too much sugar, to choose organic and unprocessed food and to drink plenty of water. But if I go off-piste then I'll break all the rules and I will feel it the next morning!
Which ingredients do you consider staples – things you always have in your pantry or fridge, or simply those you rely on to make you feel nourished?
My staples include Manuka honey and fresh ginger for when a cold is coming on. I also have Daylesford organic white peony tea for when I get up early before the kids and fresh mint for tea after dinner. I keep a supply of dates and sheep's yoghurt for smoothies, almonds to make fresh almond milk and Booja Booja chocolates. I also love champagne truffles, Daylesford chicken pâté and Léoube rosé wine. When I do go off-piste I love milk chocolate, red wine and cheese, Parma ham and salami, and all sorts of pâtés.
How do exercise and movement fit into your life?
Running after the kids is my main exercise but I also do a mixture of pilates and barrecore training, as well as some tennis in the summer. I also enjoy long walks in the English countryside with my family and our dogs.
Do you change your well-being routine at this time of the year – change your diet after Christmas or shake up your exercise routine?
Christmas in particular is when I can't resist tempting German and English Christmas delicacies and mulled wine. Once the New Year starts, so does the regime!
You have a home in the countryside – how do you feel this affects your well-being and your way of life?
I only realised how calming and therapeutic the country was after moving there. It takes time for your body and mind to adjust. I used to live in New York and when I go there now it feels like a constant electric shock!
The impact of living more sustainably and being mindful with our choices, such as our food, fashion and plastic consumption, has hit the wider public consciousness over the past year – how important is living sustainably to you, and how does it influence the choices you make?
I do my best. I limit the use of plastic where possible and I think about what's best for my children's future. It's a sad state the planet is in!
How do you care for your skin over the winter? What products and rituals do you use to keep your skin looking so radiant?
I'm a fan of Bamford skincare, because it's so natural. I mix the daily face cream with the brand's different face oils and massage it into my skin. I have the same routine regardless of seasons.
How does social media feature in your life – is it something you enjoy, and do you feel a need to take time away from it?
Social is not a word to describe me! Social media has been a huge learning curve and something that I am still struggling to embrace. I have always been private and enjoyed playing 'not being me' when modelling. I'm giving it my best shot and I am constantly being laughed at by my kids!
What projects are you working on at the moment?
I'm launching a limited edition 'Party Collection' for Claudia Schiffer Make Up. It includes new pieces like my high shimmer highlighters and lip-glosses. I also have a new collection for my hosiery line 'Claudia Schiffer Legs', my eponymous coffee table book, and I'm an Executive Producer of Rocketman and the new Kingsman movie, which is currently in pre-production.