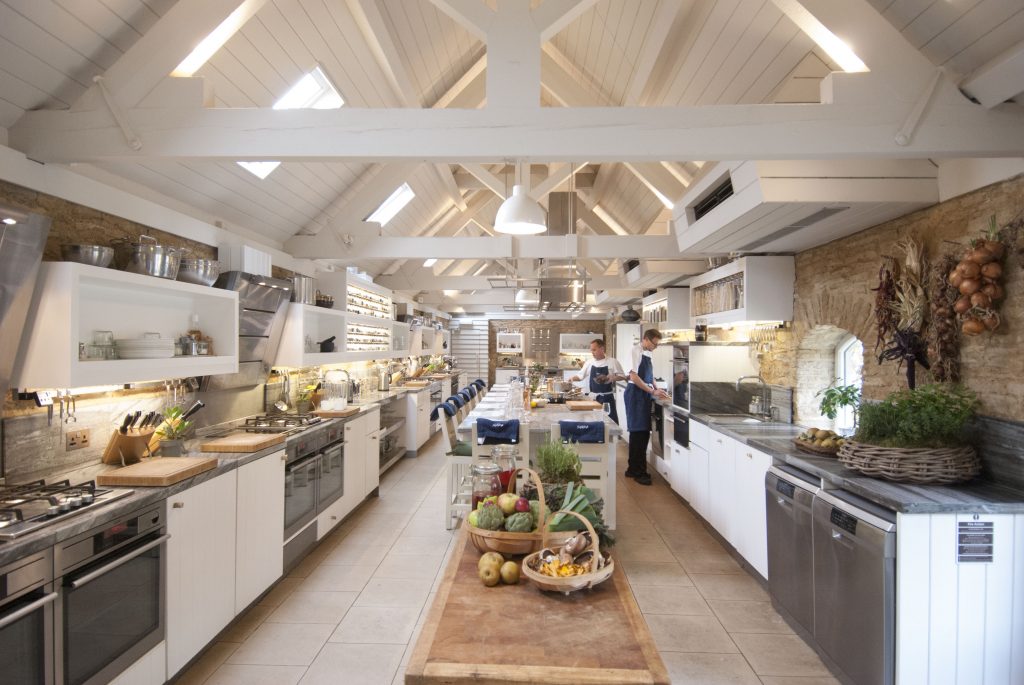 STORIES ·
23.10.18
Food | Recipes | Sustainability
It's finally time to bring out the stockpots and casseroles. I love the food at this time of year: the deep, soothing flavours that come from simmering pots of stews and stocks, the comfort of the smells filling the kitchen and the melting textures of slow-cooked root vegetables.
This week sees the arrival of game on the butchers' counters in all Daylesford's shops. Game is another seasonal favourite of mine. I know that some people have been put off game because they've had a bad experience with the way it's been cooked – game is very lean so it's easy to overcook it and it will be very tough. And I do appreciate that many people don't like the idea of preparing it themselves, which is a shame as it is so nutritious and as a wild food, is one of the most sustainable choices of meat, and readily available throughout the autumn and winter months.
If it's the preparation that's preventing you from enjoying game, I'd urge you to join us at the Cookery School this November. We're offering a one-day course on how to prepare and cook a selection of game. There will be demonstrations on how to pluck, dress and prepare your game and you'll try cooking a range of different seasonal recipes, giving you the chance to get hands on learning in how to master the techniques and cook your game to perfection.
And if you are nervous about the flavour of game, worried that it's too strong, I'm sharing one of my favourite dishes from my book Nurture below, I enjoy the milder-flavoured birds, such as partridge, and this is an easy dish where it's paired with lots of other wonderful hearty autumnal flavours.
roast partridge with lentils, sausage and kale
Serves 4
4 x oven-ready grey partridges (ask your butcher to prepare them for you)
100g butter, softened, plus extra for the kale
1 tbsp olive oil
4 good-quality pork sausages (about 280g total)
1 onion, finely diced
80g bacon lardons
½ carrot, finely diced
½ leek, washed and diced
1 garlic clove, crushed
1 celery stick, finely diced
¼ celeriac (about 200g), peeled and diced
175g Puy lentils, drained and rinsed
300ml chicken bone broth
200g chestnut or girolle mushrooms
½ tbsp chopped parsley
½ tbsp chopped chives
500g kale, tough stems removed
salt and pepper

Preheat the oven to 200°C/gas 6.

Rub the partridges with half the butter, season well and place in the oven. Roast for 25–30 minutes. Remove from the oven, cover with foil and leave to rest.

Meanwhile, melt the olive oil and a tablespoon of butter in a large frying pan over a medium heat and brown the sausages, then remove from the pan. Add the onion and lardons to the pan and cook for 2 minutes. Next add the carrot, leek, garlic, celery and celeriac and cook for a further 2 minutes. Add the lentils with 500ml water, the bone broth and browned sausages and season well with salt and pepper. Reduce the heat and simmer for 25–30 minutes.

Meanwhile, melt the remaining butter in a frying pan and fry the mushrooms until soft all the way through and browned. Once cooked, add to the cooked lentils with the parsley and chives and stir through.

Add the kale to a pan with just the water clinging to its leaves. Cover and cook over a medium heat until just wilted, about 3 minutes. Drain well and toss with a little butter.

Spoon the mushrooms, lentils and sausages into a serving dish, lay the partridges on the top and serve with the buttered kale.