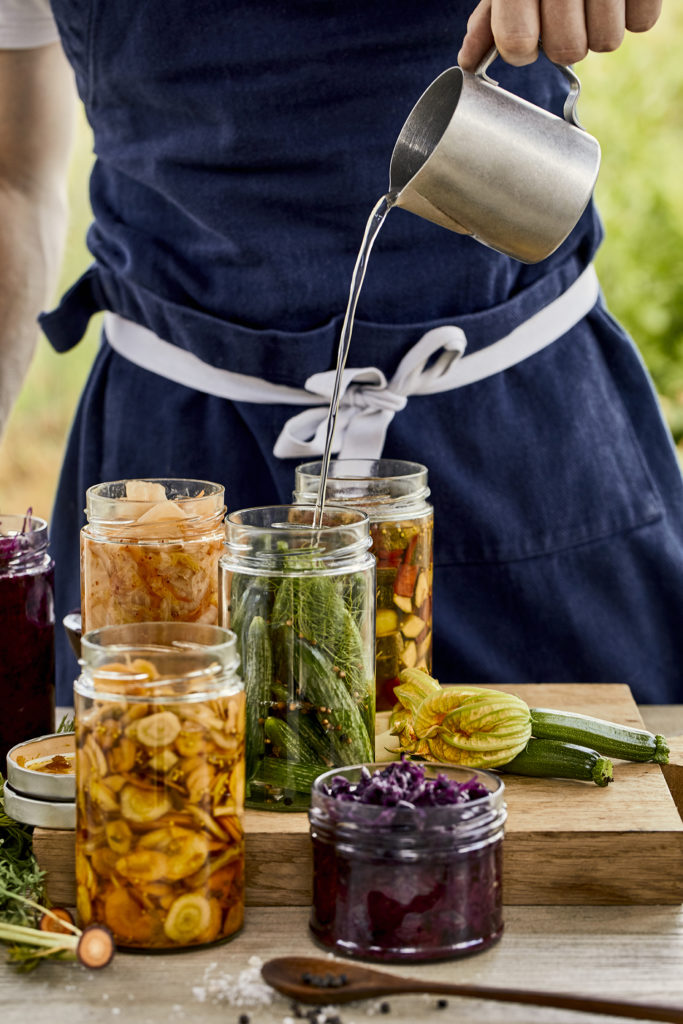 STORIES ·
16.08.19
Food | Sustainability | Well-Being
Today sees the launch of a project at Daylesford that I've been very excited about sharing: our new range of organic ferments. The project began as a way of using up the leftover or unwanted vegetables from our farm shop but is also a way of offering our customers a wonderful means of boosting gut health and improving digestion. 
Usually fresh vegetables fly off the shelves at the farm, but we do sometimes have leftover 'wonky' vegetables or an excess when lots ripen, so Jason, one of our tutors at the farm's Cookery School, had the idea of fermenting them. Jason now leads our in-house fermentary and has been working hard with his team to develop our new ferments range, which includes sauerkraut, kimchi and turmeric pickled cucumber.
Ferments might sound like a slightly strange concept but they are more delicious than they seem. Fermenting is the only form of preserving that retains the nutritional content of fresh food; it breaks down vegetables, making them more digestible and flavoursome. They do have a slightly acidic or sour flavour, which I admit is not to everyone's taste, but they are great for lightening heavy meals.
Our nutritionist and wellness expert at Daylesford, Rhaya Jordan, believes that we can actually get more nutritional benefits from vegetables once they are fermented because the bacteria in the fermented vegetables feeds our gut flora, which can help improve our immune system and because of the link between our gut and our brain, cultivate good mental health too.
To learn more about the flavours, visit our farmshops in London and the Cotswolds to see the full range.