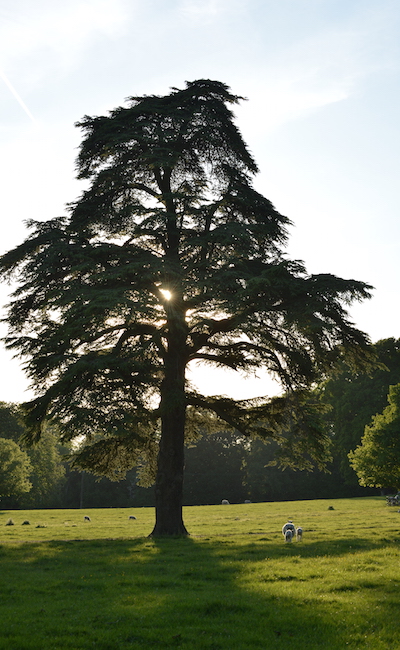 STORIES ·
04.06.20
Food | Mindful Living | Sustainability
While our experience of this pandemic and the situation we have found ourselves in has been unique to each of us, one of the common themes and shared experiences to emerge from our time isolating is that people are engaging with nature in a way that they may not have done before. As shops and restaurants closed, we've sought out parks, green spaces and footpaths, which, for many, has reignited an appreciation of the earth. The seasons' markers and milestones have been celebrated and cherished – the bluebells carpeting the woodlands, the sight of the first wisteria cascading down walls – and there's been a joy in hearing the return of birdsong. It's also been heartening to watch the trend for gardening develop and with it a sense of community, of shared interests and exchange of ideas. The RHS believes that thousands more people have taken to gardening during the lockdown, with visits to some of its advice pages increasing almost as much as 500%.
Tomorrow is World Environment Day and for me, the sense of unity and joining together which arises from initiatives such as this feels more pertinent than ever. The theme of the day for 2020 is 'biodiversity', which aims to celebrate the variety of species and plants that are needed to support a healthy ecosystem. The air we breathe, our water and food, all ultimately rely on biodiversity. It builds a more resilient planet, helping to prevent flooding, pollution and the affects of climate change.
To celebrate World Environment Day, I've put together a few sustainable habits – small ways to be more conscious with the way we shop or consumer that I hope you will find inspiring. I believe that we all have the power to help combat the climate crisis – through the mindful choices and behavioural changes we make, together we can drive big change. Nature is the richest source of beauty and nourishment; it is our greatest teacher and helping to protect it is a responsibility we all need to share.
i believe that we all have the power to help combat the climate crisis – through the mindful choices and behavioural changes we make, together we can drive big change
Reducing Food Waste 
Households in the U.K waste 4.5m tonnes of food a year. The old adage 'waste not, want not' can be easily forgotten when supply is so plentiful but it's a mindset that can help to minimise what we throw away. Using the entire vegetable from its stalk to its skin, making breadcrumbs or croutons from stale bread, freezing our  leftovers, or boiling the bones from a Sunday roast to make a nutrient-rich bone broth are all small acts we can try to do at home.  
Carry reusable bottles and containers  
It frightens me to read that by 2050 there will be more plastic than fish in the sea. Carrying around a reusable bottle is another simple step to ensure we are never tempted to buy plastic. Investing in bamboo cutlery and stainless steel containers will also help ensure you can enjoy sustainable picnics all summer. 
Buy loose fruit and vegetables
Buying loose fruit and vegetables is a simple way to avoid the unnecessary plastic wrapping. You can also order a vegetable delivery box to your door each week. We're delighted to offer this service to Daylesford's customers across the country. Find out more about our boxes here.
Reuse your jars
Instead of throwing glass jars in the recycling bin, try to reuse them at home. Once you have finished off the last of your jam or chutney, you can also  take the clean jar to your local bulk shop and refill it with grains or pulses. Last year, we launched our Zero Waste Pantry at Daylesford Kingham, but if you don't live close to us, this website, www.zerowastenear.me, can help you find the nearest bulk store to you.