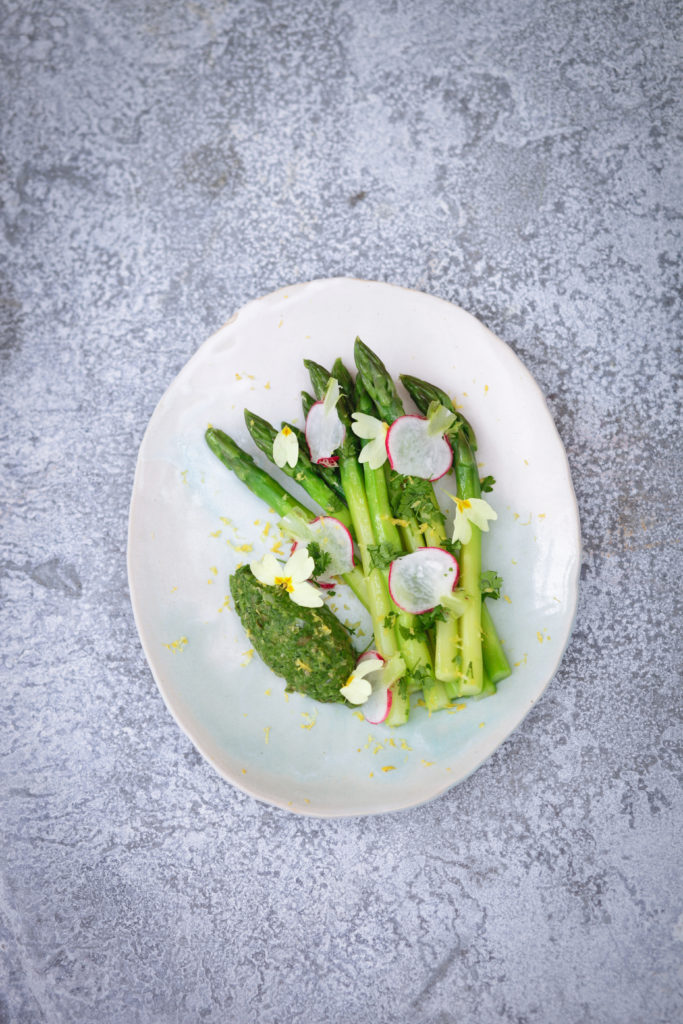 Asparagus is best served simply so as not to overpower its delicate flavour
STORIES ·
24.04.20
Food | Garden | Recipes
Like I think many people, I've been using this time to sort through things, looking back over old photographs or digging out books I've loved reading. I've also been flicking through old cookbooks.
This recipe is a favourite from my book Nurture, and it's one I've loved rediscovering over the past few weeks as we make the most of asparagus's fleeting season. The ingredients are very simple and you can change the herbs depending on what you have available.
ASPARAGUS WITH SALSA VERDE
Serves 4
20 asparagus spears
20g parsley, roughly chopped
15g chervil, roughly chopped
10g tarragon, roughly chopped
50g capers, rinsed and chopped
1 banana shallot, roughly chopped
1 tsp Dijon mustard
60ml olive oil
4 radishes, sliced
zest of 1 lemon
salt and pepper
edible flowers, to garnish (optional)
Bend the lower stems of the asparagus spears until the woody ends snap off, then use a vegetable peeler to peel the ends of the stems.
Bring a wide pan of water to the boil, add the asparagus and simmer for about 5 minutes, then drain and plunge quickly into iced water and drain again well. Leave to cool. 
Put the herbs, capers, shallot and mustard into a food processor and process until fairly smooth. Add the olive oil and process briefly, then check for seasoning.
To serve, scatter the asparagus with the radish, lemon zest and edible flowers, if using. Spoon the salsa alongside.