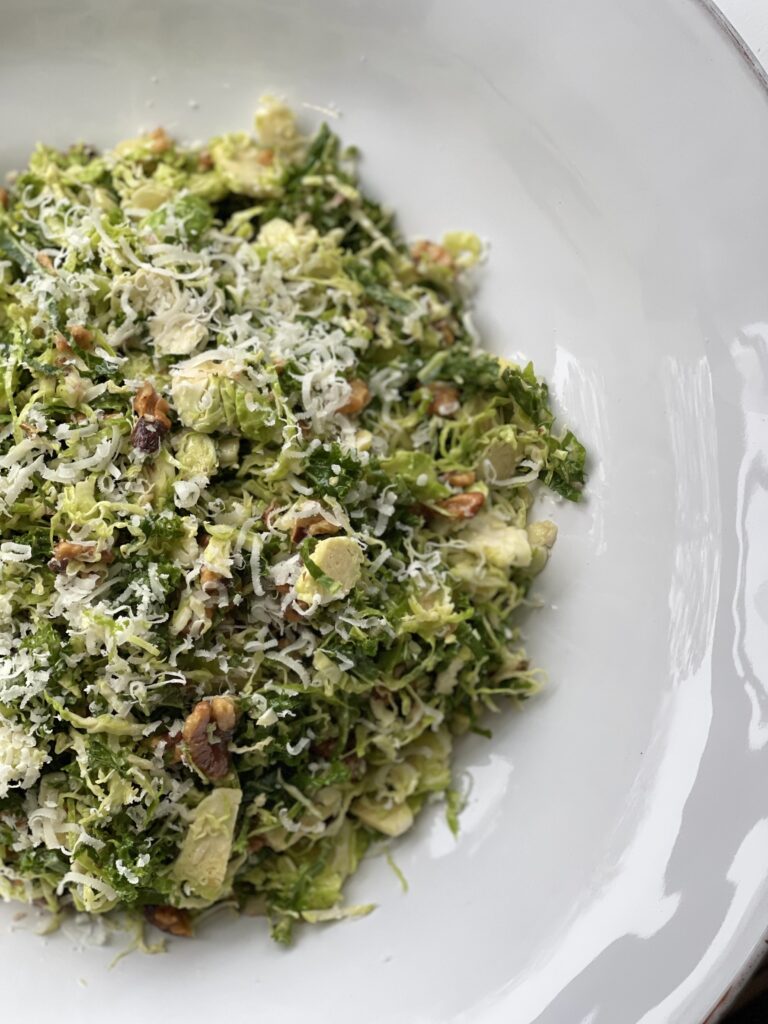 these nourishing little vegetables are high in antioxidants, fibre and vitamin C
STORIES ·
25.11.22
Farming | Food | Recipes
Brussels sprouts are vigorous plants which will grow well given plenty of sunshine, water and rich, uncultivated soil. A particularly hot summer and diligent fortnightly watering by Jez and the market garden team mean we're enjoying an abundant harvest on the farm this year, so it's always good to discover different ways to enjoy these nourishing little vegetables which are high in antioxidants, fibre and vitamin C.
If you haven't tried sprouts raw before, this hearty salad is a delicious and easy way to do so, simply shredding them and combining with kale, crunchy toasted walnuts and a tangy lemon and Parmesan dressing. I think it makes a satisfying lunch as it is, or you could accompany it with a little roast chicken or a slice of homemade quiche for a heartier meal. I've left the recipe – which was created by our Daylesford chefs ­– below, or enjoy it made freshly by them from the seasonal deli counters in all our cafés.
Serves 4 as a side dish
Ingredients
50g walnuts
200g Brussels sprouts, finely shredded
100g kale, finely shredded
For the dressing:
Juice of 1 lemon
1 heaped tsp Dijon mustard
60ml olive oil
1 small garlic clove, finely diced
1 small or 1/2 large shallot, finely diced
40g Parmesan cheese, finely grated, plus extra to serve
Sea salt and pepper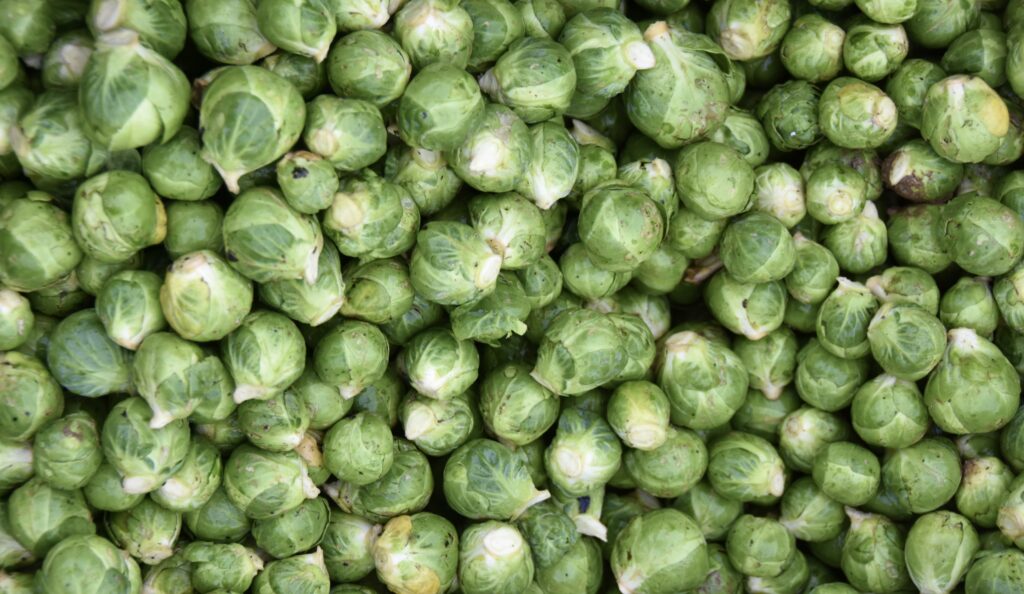 brussels sprouts are vigorous plants which will grow well given plenty of sunshine, water and rich, uncultivated soil
Preheat the oven to 180ºC.

Put the walnuts on to a baking sheet and place in the oven for 5-8 minutes until toasted and fragrant. Tip on to a clean tea towel, gather the edges together to make a parcel, and gently rub with your hands to remove the skins. Pick out the nuts and set aside on a board.

Make the dressing by whisking together the lemon juice and mustard, then gradually whisk in the olive oil until the mixture is smooth and slightly thickened. Stir in the garlic, shallot and Parmesan, then season with salt and pepper to taste.

Using the side of your knife, gently crush your toasted walnuts.

Place the sprouts and kale in a large mixing bowl, top with the crushed walnuts and pour over the dressing. Stir well to combine, then leave for 15 minutes to allow the kale to soften slightly. When ready to serve, transfer to a salad bowl or platter and top with a little extra grated Parmesan.

To see the recipe in action, you can watch a video on my Instagram page here.