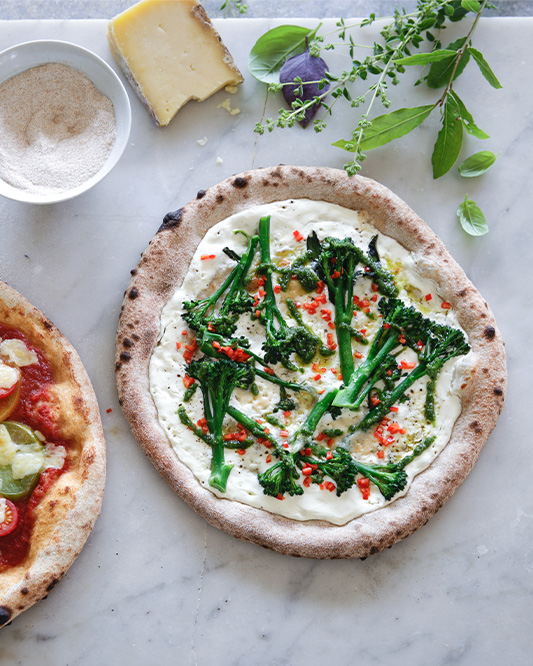 homemade pizzas provide a wonderful blank canvas for seasonal eating
STORIES ·
22.10.20
Food | Recipes
We serve pizzas from our big wood-fired oven at the Old Spot bar. It's one of the places I love most at the farm. Tucked behind the farm shop, it's an open, high-ceilinged room, flooded with natural light.

Pizzas provide a wonderful blank canvas for seasonal eating. This recipe, from my book Nurture, features Tenderstem broccoli but you could add any of the vegetables you have leftover.
Each makes 2 pizzas

Traditional pizza dough
250g italian tipo '00' flour or strong bread flour
3g fast-action dried yeast
175ml water
1 1⁄2 tbsp olive oil
1 level tsp salt

Mix the flour and yeast together in a large bowl or kitchen mixer fitted with a hook attachment. Gradually add the water and olive oil until it comes together. Leave for 5 minutes then add the salt and knead lightly for 1 minute. Leave for another 5 minutes and then carry on kneading lightly. Shape into a ball, cover with a damp cloth and leave to prove for about an hour until it is 1 1⁄2 times its original size. Divide the dough into two and shape into neat, tight balls. Cover and rest for 15 minutes.

Pesto ands broccoli pizza
1 quantity pizza dough
spelt flour, for dusting
300ml crème fraiche
220g Tenderstem broccoli, blanched for 3 minutes and refreshed in cold water
1 red chilli, deseeded and chopped
4 tbsp pesto (see below)
olive oil, for drizzling

For the pesto
2 garlic cloves, crushed
50g parsley, roughly chopped
30g blanched hazelnuts, chopped
150ml olive oil
55g Cheddar, grated
salt and pepper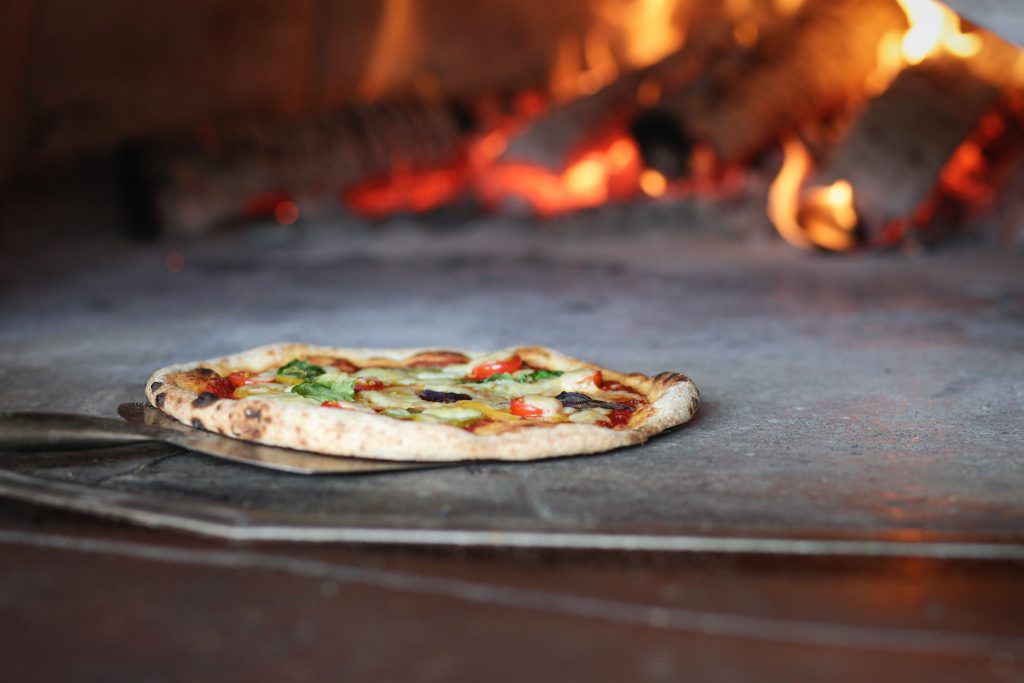 For the pesto, put the garlic and parsley into a food processor, add the chopped nuts and pulse to combine. With the engine running, slowly pour in the oil. Add the cheese, then season to taste. Any left over will keep in an airtight jar in the fridge for a week and is delicious with pasta or new potatoes.
Preheat the oven and roll out the dough as above. Spread half the crème fraîche on each pizza, leaving a clear border around the edge. Cut the thicker broccoli stems in half lengthways and put half on each pizza, along with half the chilli. Spoon 2 tablespoons of pesto over each pizza. Finish and bake the pizzas for 15-20 minutes.