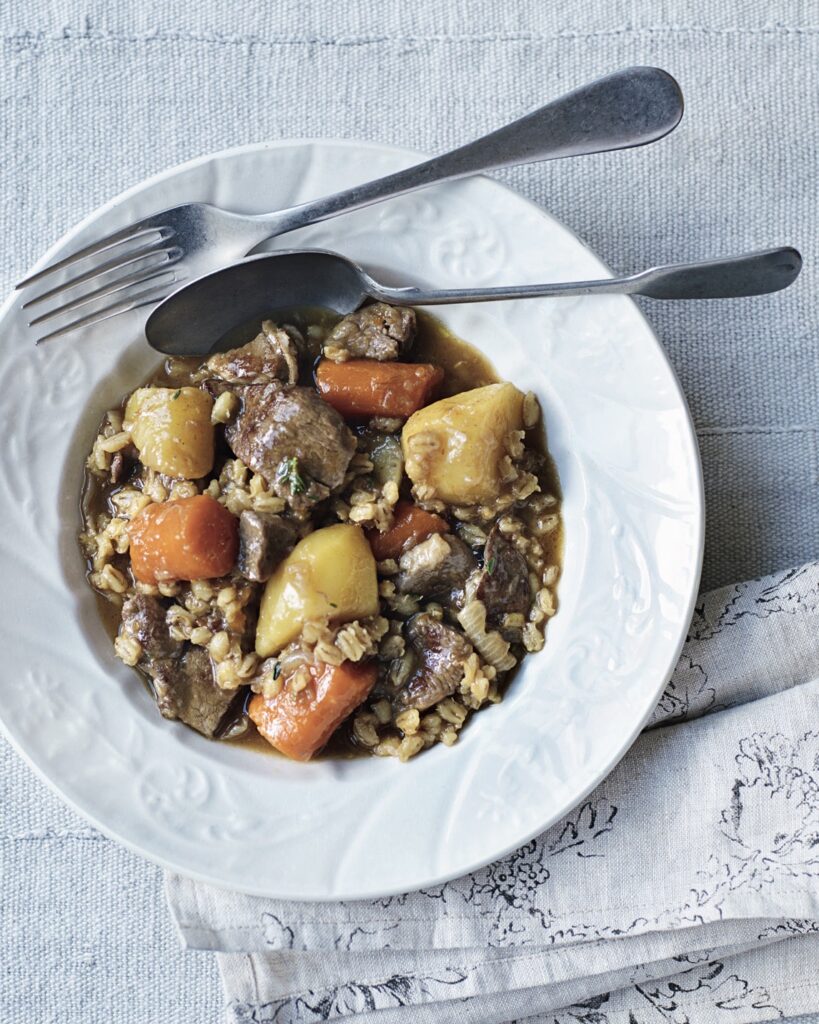 we make this traditional dish with organic lamb from the farm and lots of root vegetables from the market garden
STORIES ·
16.03.23
Food | Recipes
In celebration of St Patrick's Day I thought I would share my friend Clodagh McKenna's comforting Irish stew recipe. We make this traditional dish with organic lamb from the farm and lots of root vegetables from the market garden – a nutritious and hearty way to feed a gathering of hungry friends and family.
Clodagh recommends serving it with a slice of her wholemeal soda bread to soak up all the rich gravy, so we will have loaves made using her recipe available in all our Daylesford farmshops until Sunday. You can read more about the significance of this special bread here – which I also love fresh from the oven topped with lots of good salted butter.
Serves 6
For the stock
1 lamb bone
1 carrot
1 onion
2 peppercorns
1 bouquet garni
For the stew
4 carrots, cut into chunks
3 parsnips or small turnips, cut into chunks
4 medium onions, sliced
6 waxy medium potatoes, peeled and cut into large chunks
900g stewing lamb, cut into chunks
120g pearl barley
2 sprigs thyme, leaves picked
sea salt and freshly ground black pepper
For the roux
15g butter
15g plain flour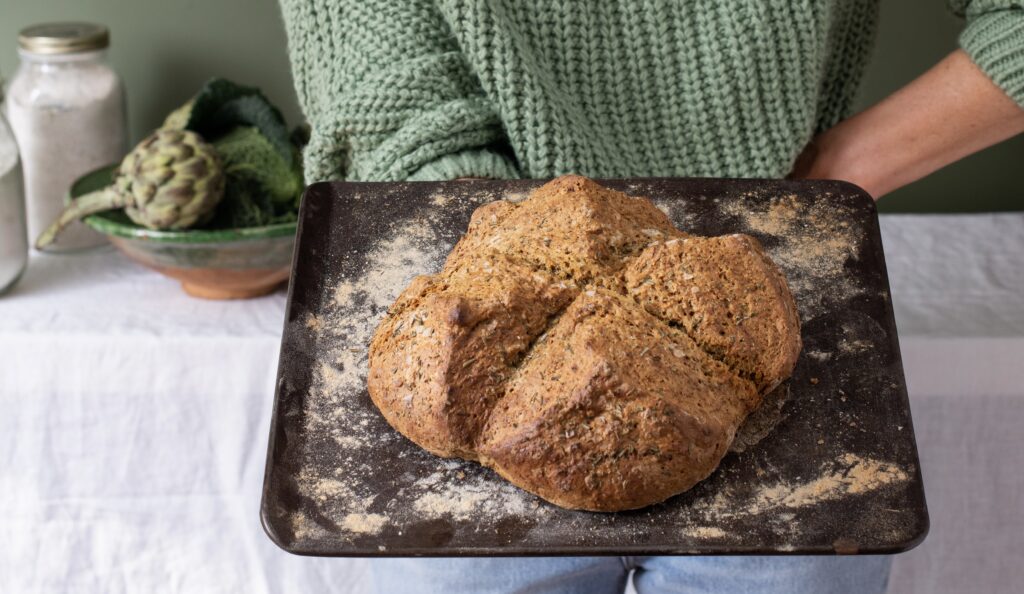 clodagh recommends serving it with a slice of her wholemeal soda bread to soak up all the rich gravy
First make the stock. Place all the ingredients in a saucepan and fill with about 2.5 litres cold water. Bring to the boil and simmer for 2–3 hours, skimming off the scum as it rises to the surface.⁠

Preheat the oven to 150°C.

Place a large ovenproof casserole dish over a medium heat and melt the butter. Add the carrots, season with salt and pepper and stir until they are a nice golden colour. Remove to a plate and repeat the process with the onions, parsnips or turnips, potatoes and lamb.⁠

Return all the vegetables and lamb to the casserole dish. Stir in the pearl barley, then place the potatoes on top (you don't want them to get mushy). Sprinkle over the thyme, then cover with the hot lamb stock.⁠

Cook in the oven for 1½ hours.⁠

Meanwhile, make a roux. Melt the butter in a saucepan and beat in the flour, until it forms a paste. Once the casserole has cooked, ladle the juices from the stew into a saucepan and slowly beat in the roux. Cook, stirring, until thickened and smooth, then pour the thickened gravy back into the stew.⁠
Serve with a slice of Clodagh's rosemary soda bread.