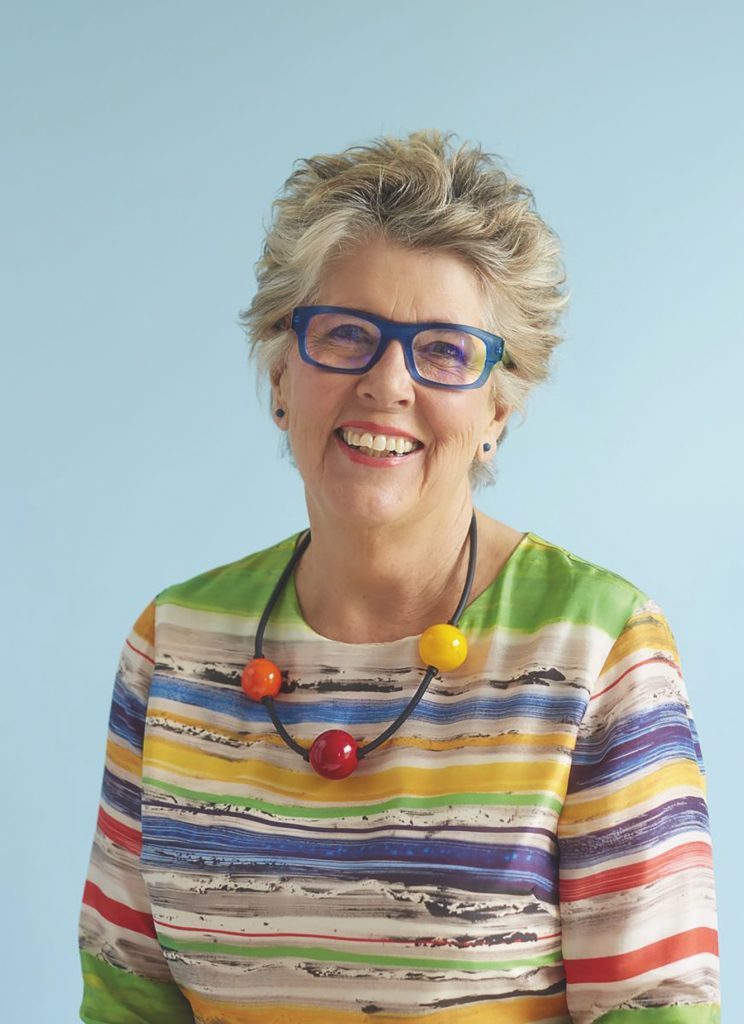 'never throw away food. almost everything can have a second life in a salad or soup, a stir fry or frittata.' 
STORIES ·
13.08.19
Food | Mindful Living
As the founder of the renowned and highly respected Leith's School of Food and Wine and a Michelin-starred restaurant, a journalist and now a judge on the The Great British Bake-Off, Prue Leith is a hugely admired figure in food. So I feel very fortunate that she set aside some time in her busy schedule to talk to me about her own love of cooking and what she feels we need to do as a nation to change our food habits.
Your restaurants, cookery school and books have inspired thousands of cooks. What first sparked your love of food and cooking?
I lived in Paris for two years as a student. No one can spend that length of time in France and not get interested, if not obsessed, with food and cooking. 
Your career in food and business has spanned over five decades. What are the biggest changes you've seen in our approach to food as a nation since moving to the UK in the 1960s? 
Food was dire in the early 1960s. Chefs were still wedded to classical Escoffier, but, post-war, did not have the staff, money, or ingredients to do a decent job. Vegetables arrived in stainless-steel dishes and were dolloped on slices of pre-cooked meat with thickened gravy, or on fish in a thick cream sauce. Pubs didn't sell food, cafés closed at 5pm, good restaurants were unaffordable for most and there were no supermarkets. 
Then along came the revolution with Elizabeth David writing about Mediterranean food, garlic, peppers, lemons. In the late 1960s top French chefs embraced new ingredients, like papaya and passionfruit, and produced freshly-made plated dishes, attractively arranged with garnishes that went with the main ingredient.   
Sadly that trend became exaggerated to a 'little bit of nothing on a big white plate' or 'a chef's dream of portion control', and was followed by comfort food in the 1980s, with pubs realising they'd make more money out of food than beer. New machines and a flood of welcome kitchen staff from Europe improved our cooking. Michelin arrived to stimulate competition. 
The 1990s saw a huge expansion of restaurants from every nationality, with tapas bars and café tables on the street, gastro pubs and fine dining all doing well.
Since the millennium we've seen the interest in food deepen and become more specialised, with chefs producing ever more complicated technical food, elaborate tasting menus and machine-driven cooking.  Not just sous-vide, but machines to make drizzles and foams, dehydrators to produced powdered food, spherification gels and 'cappuccinos'. We've also seen the organic, locally-sourced revolution and the interest in veggie food, veganism and even eating insects! 
Simple, good-quality food and ingredients are something I know you're as passionate about as I am: what are your favourite ingredients as we come into autumn and the harvest season?
Beetroot, squash, parsnips, sweet potatoes, and all those black fruits: blackberries, blueberries, figs, plums, blackcurrants.
What was the first dish you learnt to cook? And what is your favourite dish to cook now?
The first dish I learnt how to make was rock buns at school which were pretty horrible. Now I love to make proper jam tarts at home, made with homemade lemon curd using lemons from the beautiful lemon tree in my garden (I grew up in South Africa!). 
The importance of healthy, nourishing meals is something you have campaigned for, especially in our hospitals. How do you think we can continue to improve our eating habits as a nation?
The government needs to wake up to the fact that we need to teach children to eat healthily at school. The way to do that is to follow how they approach food at schools in Finland: lunch is a lesson (a very enjoyable one) and part of the curriculum. The whole school sits down to eat lunch without any exceptions. No food is allowed to be brought into school, so children are ready for their meal and will try new things. All children are taught to cook and spend a week working in the school kitchen as well as helping to lay the tables and clear. The healthy, wholesome food changes every day and is prepared in in batches so it is always fresh. Food studies are integrated into other classes such as sport and science and school meals are free. 
If we did this wholeheartedly and with schools being judged and awarded on their food and food-teaching, we could crack obesity in a generation. 
Do I think we will do this? Not a chance. 
What ingredients do you always have in your cupboard or fridge for everyday meals? 
Onions, lemons, soy sauce, eggs, bacon, salad. 
Do you tend to go for local, organic produce?  
I'm not neurotic about it, but we buy at the farmers' market (and at Daylesford!) and eat as much local organic food as we can.
At Daylesford, our Market Garden is the beating heat of our farm. Can you tell me about your garden at home in the Cotswolds. You have transformed it since you moved in – do you still enjoy growing your own fruit and vegetables? 
Yes, but I can't claim any more to be the gardener. I have lots of help, and we now grow veg in raised beds which is easier for old ladies like me to reach. 
Avoiding food waste and eating sustainably have been hugely important themes for us over the last year. What are your top tips for avoiding waste and eating mindfully?
Think about how many meals you will be making and don't over buy. Never throw away food. Almost everything can have a second life in a salad or soup, a stir fry or frittata.