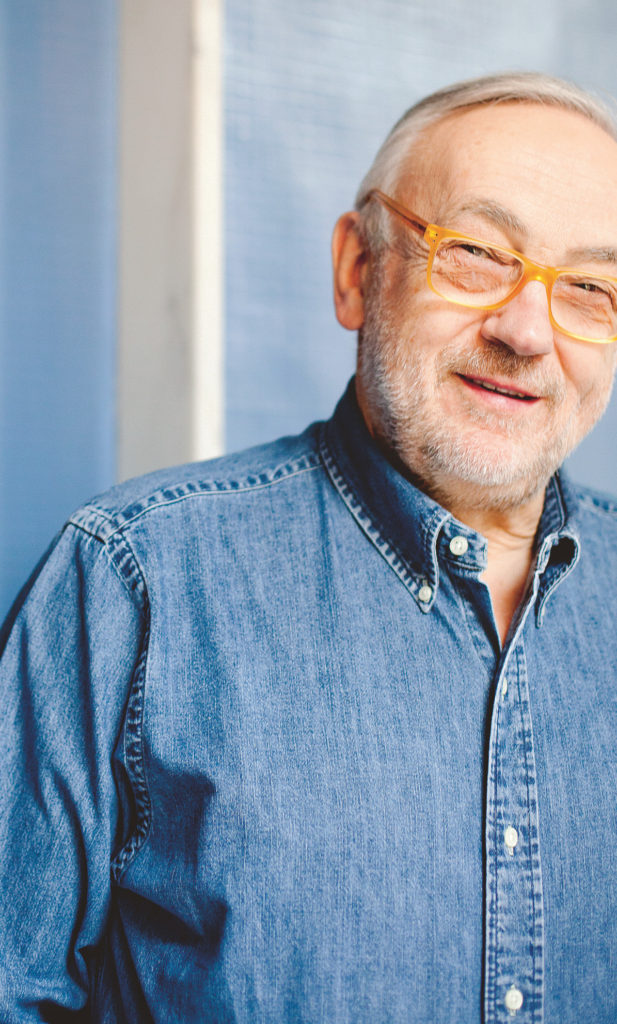 'sustainable cooking for me means cooking with seasonal ingredients, not only because you save on the air miles but also because of the amount of energy wasted on cold stores to preserve products'
STORIES ·
08.02.19
Food | Mindful Living
I've spoken about my admiration of chefs often – their skill and their passion will never cease to inspire me and I love watching them work.
Pierre Koffmann is somebody I believe has brought so much to cooking and restaurants in Britain. He has mentored and trained some of the most talented and successful chefs in this country and like me, he is a huge believer in the value of traditional skills and in passing them on.
So I feel honoured that he took some time away from his kitchen in Bath to answer some questions and talk to me about his love for food, his favourite ingredients, why he believes eating seasonally is so important and what he'll be cooking this Easter.
Who or what got you into cooking?
My mother and grandmother were both excellent cooks and they were the main people who inspired me. Plus, I just love food and have done from a young age! I wasn't good at anything else growing up and I was lucky enough to really enjoy cooking and eating, so it was very natural for me.
What was food like when you were growing up?
Food was made to feed people. It wasn't fancy or fashionable – I remember lots of stews and rabbit. There was fish, meat and vegetables. I grew up after the war so food was all about feeding yourself and your family. My grandfather was a farmer so most of the food we ate was from the farm. My mum was a great gourmand, so food was about enjoying it for its own sake. She would start discussing the next meal while we were still sat eating.We were working class with a big family of six people so we didn't go on holidays. Food and eating were how we relaxed.
You've been in the UK for over 40 years; how has food changed in this country since you arrived?
When I arrived in the UK in 1970, the food here was very basic: avocado with prawn cocktail etc. It was all very ugly! But now you can eat very well in all UK cities, especially London. The food is now as good as in European cities.
Do the changing trends influence the way you do things in your own restaurants?
I prefer to set trends than follow them. You must be a leader if you want to be a chef so I've mostly created original dishes. In 1977 I created my signature pig's trotters dish when no one wanted to eat this sort of thing; squid Bolognaise too.
How important is the provenance of your ingredients?
I believe you have got to buy the best ingredients to make the best dishes. It's obviously better if you can find these locally but sometimes, I must import from France or Italy because they are the best.
The impact of living more sustainably and being mindful with our choices, such as our food, and plastic consumption, has hit the wider public consciousness over the past year – how important is cooking and living sustainably to you, and how does it influence the choices you make?
Sustainable cooking for me means cooking with seasonal ingredients, not only because you save on the air miles but also because of the amount of energy wasted on cold stores to preserve the products. It used to be that you could only buy cherries in June when they were in season at home and now you can get them all year round and they're flown in from all over the world and covered in lots of plastic. I also don't understand why farmed fish are fed on smaller fish like anchovies and sardines when to me, these small fish in their original form are much more delicious as an ingredient that the farmed salmon they feed.
Which ingredients do you consider staples – things you always have in your cupboards or fridge?
Salt and pepper, of course
French Dijon mustard
Tinned sardines in olive oil
Eggs
Bacon
Butter
There is always a piece of cheese
At least two bottles of wine!
Maggi seasoning – it's a very old seasoning that has an umami taste
Anchovies
And of course, there is always lots of garlic!
Favourite cuisine?
French is obviously my favourite food as it's so comforting to me. I love everything but my second favourite, away from French would be Chinese food.
What ingredients are you excited about working with as we come into spring?
It's lovely to start cooking with fresh spring greens. One of the reasons to cook with the seasons is to keep your ingredients constantly changing so you will never get bored. There is always something new to cook with.
What will you be cooking for Easter lunch?
New season lamb is traditional. Like having turkey or goose at Christmas, Easter is one of the few days you keep traditions. I'm not religious but to me tradition is important. To accompany it we have spring vegetables and lots of garlic.
What projects are you working on? Tell me about any other plans for this year.
I will be continuing to work in the kitchen at Koffmann & Mr. White's, the new restaurant in Bath that I started with my old student Marco Pierre White at the Abbey Hotel last year. I'll also be developing my potato business which I run with my wife Claire to include roasting, mashing and chipping potatoes.
Koffmann & White's is located at the Abbey Hotel in Bath. For table reservations please visit www.abbeyhotelbath.co.uk