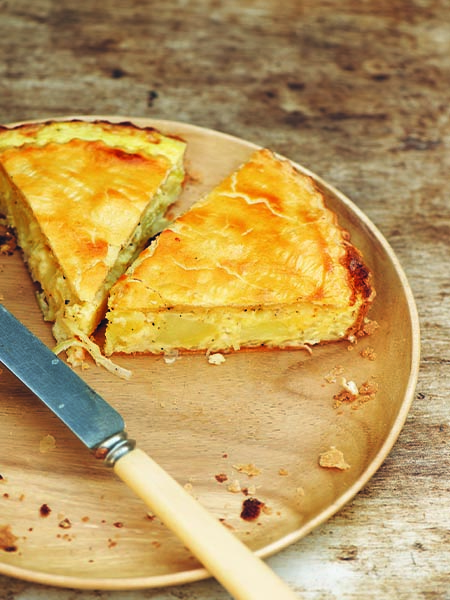 this time of year calls for nourishing, warming and hearty food
STORIES ·
11.02.21
Food | Recipes
This time of year calls for nourishing, warming and hearty food. This cheddar, potato and onion pie from my book A Love for Food is pure comfort and needs nothing more than a simple side of steamed greens or a mixed leaf salad to accompany it. ⁠
1 x 500g block shortcrust pastry
a little plain flour, for rolling out
500g (peeled weight) potatoes, cut into cubes (about 2cm)
2 medium onions, chopped
600g Cheddar cheese, coarsely grated
3 medium eggs, beaten
1 medium egg yolk, beaten
To make this, you need a flan tin with a removable base, 25cm in diameter and around 5–7cm deep.

Lightly flour your work surface. Take around two-thirds of the pastry (wrap the rest in clingfilm and chill in the fridge) and roll out into a circle about 3mm thick and 5cm larger than the tin. Wrap the pastry carefully around your rolling pin to lift it and drop it gently into the flan tin. Press the pastry into the base and sides of the tin, leaving a little excess overhanging the edge.
Put the tin on a baking tray and chill in the fridge while you prepare the filling. Half fill a medium pan with lightly salted water and bring to the boil. Add the potatoes and return to the boil. Cook for 5 minutes, or until cooked but still slightly firm. Add the onions and return to the boil, then drain immediately in a colander. Tip into a large bowl and leave to cool.
When the vegetables are cold, stir in the cheese and beaten whole eggs until thoroughly combined. Take the pastry case from the fridge and fill with the potato and cheese mixture.
Lightly flour your work surface again and roll out the remaining pastry into a circle around 3mm thick and big enough to cover the pastry case, leaving a little overhang. Brush the edges of the pastry case with the beaten egg yolk, then wrap the pastry circle over your rolling pin and carefully drape it over the top. Press to seal the edges, then trim off the excess pastry. Make a large hole in the centre of the pie and brush all over the pastry lid with the remaining egg yolk. Put back into the fridge on a baking tray for an hour to chill and set – this will help to prevent the pastry from shrinking in the oven.
Preheat the oven to 180°C/gas 4. To decorate the top, take a sharp knife, and with the tip gently score the pastry in gently curved lines from the centre to the sides of the pie, to resemble the spokes of a wheel. Bake on the baking tray in the oven for 45–60 minutes, until the pastry is nicely browned and the filling is hot throughout – you can check by inserting a skewer into the centre of the pie. It should be piping hot when you remove it.