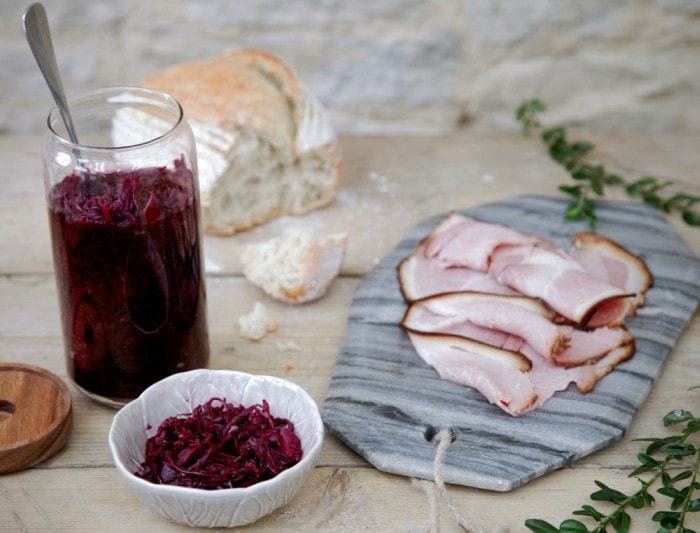 The joy of this recipe is the subtle sweetness that comes through with the addition of apple and gentle spices. The probiotic properties will offer a much needed digestive aid after times of indulgence.
Prepare a jarful at the beginning of the festive period and enjoy with iron-rich venison or cold meats and salads for Boxing Day lunch
Makes a 1 litre jar
600g red cabbage, very finely sliced
1.5 tbsp sea salt
2 tsp fennel seeds
1 tsp caraway seeds
2 tsp coriander seeds
400g beetroot, grated
1 apple, grated
Begin by slicing the cabbage into fine strips. Transfer to a bowl, sprinkle over the salt and add the spices. Massage with your hands for a good 8-10 minutes until a generous pool of liquid begins to gather at the bottom of the bowl and the cabbage has softened considerably.
Next add the grated beetroot and apple and stir together until thoroughly combined
Transfer to a jar and press the cabbage mixture to the bottom. Pour over the liquid from the base of the bowl. The trick at this stage is to ensure that the cabbage remains submerged as this is essential for the fermentation process. If you are struggling to keep everything submerged, continue to press the cabbage down until it holds or alternatively place a small, clean weight into the jar to secure it down. You'll need to ensure that there is about 2cm of space at the top of the jar to allow the liquid to ferment and bubble.
Leave the mixture to ferment at room temperature for at least a week, opening the jar daily for the first three days to release any build up of carbon dioxide.
Leave at room temperature for up to three weeks before tightly sealing and transferring to the fridge or a cool larder until ready to use.