This wonderfully light salad celebrates many of our most nutritious winter ingredients. With such vibrant colours, it makes for a beautiful dinner party starter or alternatively, a quick, gentle salad to enjoy of an evening with fresh bread, light pickles and cold meats.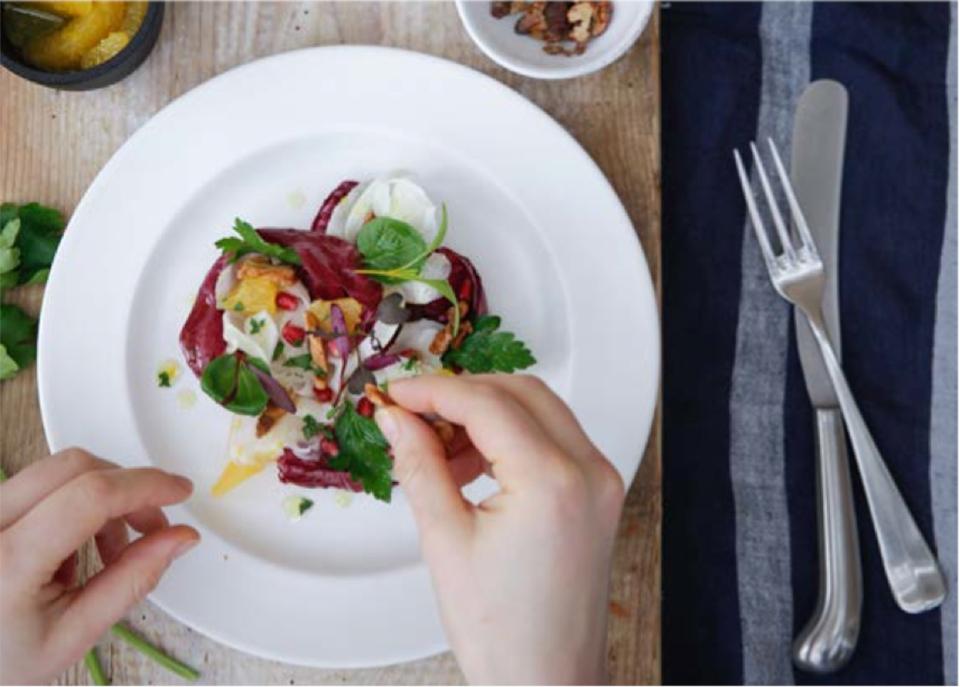 Ingredients: Serves 2
2 oranges
Pinch of salt
1 tsp lemon juice
1 tsp olive oil
35g walnuts, finely chopped
1⁄2 a bulb of fennel, shaved
1⁄2 a bulb of radicchio
10g parsley, leaves picked
75g soft ewes or goats cheese
Fresh pomegranate seeds to garnish
Pre-heat the oven to 180°C
Method:
Chop the ends from the oranges and turn onto a newly straightened edge. Remove the skin by cutting down the sides with the curve of the fruit, removing all of the pith.
Segment by holding the oranges over a bowl and cutting closely between each of the membranes, letting the segments drop into the bowl. Squeeze the juice from what remains of the oranges into a separate bowl adding the salt, lemon juice and olive oil to form a light dressing.
Place the walnuts onto a baking tray and toast for 6-8 minutes. Set aside to cool.
Using a mandoline, shave the fennel, add to the bowl with the orange segments and toss together. If you do not have a mandolin, simply slice as finely as you can with a knife.
Tear the radicchio leaves into large pieces and divide between two plates. Layer the leaves with
the orange and fennel and top with the parsley, soft cheese, pomegranate, and walnuts. Drizzle over the orange dressing and serve.