Low in fat and high in protein, venison is perhaps one of the healthiest of all meats. Containing twice as much iron as beef or lamb, it is also full of essential omega 3 fatty acids and both vitamins b6 and b12.
This hearty casserole is a great celebration of venison's superb flavour and goes perfectly with celeriac mash.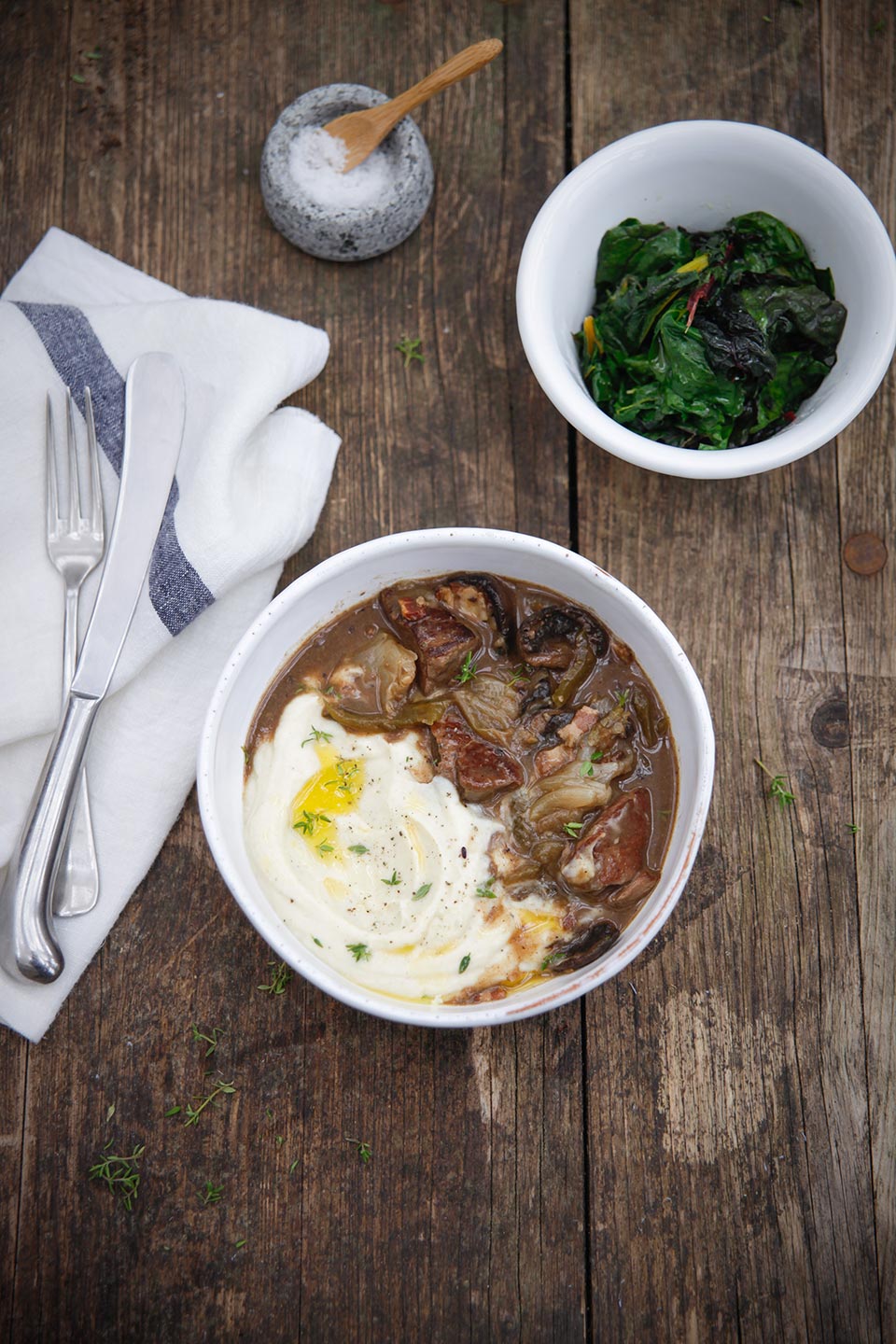 Ingredients (Serves 4) 
For the casserole: 
2tbsp, butter, beef dripping or oil
800g venison haunch, trimmed and diced
100g smoked streaky bacon, cut into strips
120g chestnut mushrooms, halved
2 cloves of garlic, roughly chopped
6-8 shallots, peeled and halved
2 sticks of celery, finely chopped on an angle
1tsp tomato purée
125ml red wine
1tbsp plain flour
700ml chicken or veal stock
3 sprigs of fresh thyme
A handful of chopped parsley to serve
For the celeriac purée: 
1 medium celeriac, peeled and roughly chopped
2 cloves of garlic
2 sprigs of thyme
400ml whole milk
knob of butter
Salt and pepper
Splash of cream 
Method: 
Pre-heat the oven to 170°c 
Heat the butter, dripping or oil in a heavy bottomed saucepan. Once hot, add the venison in batches and brown evenly on all sides, removing to a casserole pan between batches. 
Next, add the bacon, mushrooms, garlic, shallots and celery to the pan with a little more oil and cook for 5-10 minutes, until the vegetables are nicely browned all over. Add the tomato purée and stir over the heat for a further minute. Tip everything into the casserole dish with the venison. 
Over the heat, pour a generous splash of the red wine into the pan and de-glaze. Add the flour to the liquid and whisk through to remove any lumps. Stir in the rest of the wine and pour into the casserole with the browned meat and vegetables. Pour in the stock, stirring everything together well. Add the thyme, bring to a simmer and then cover with a lid. Place in the middle of the oven for 1 ½ – 2 hours until the venison is just tender. 
To make the celeriac purée, place the chopped celeriac in a saucepan with the garlic and thyme. Pour over the milk – there should be just enough to cover the celeriac. Bring to the boil and simmer gently for 15 minutes or until the celeriac is soft enough to break with the back of a fork. Strain through a colander, reserving the milk and discarding the thyme sprigs. 
Tip the cooked celeriac into a jug blender, with the butter, salt and pepper. Add a couple of ladles of the milk and blend to a smooth, velvety purée, adding more milk if needed. Taste to check the seasoning. 
When ready to serve, top the venison with a little chopped parsley and enjoy with the celeriac purée and some lightly wilted greens