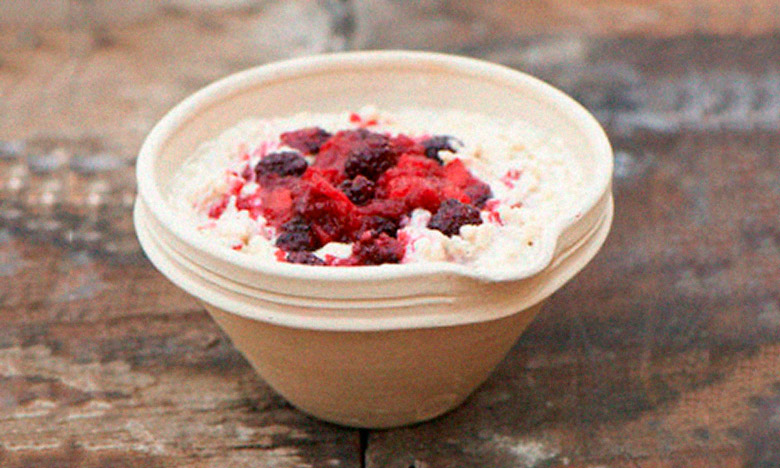 The gentle cooking of the rice over a bain marie makes this pudding not only soft and creamy, but also incredibly easy to make.
I use risotto rice, as it is impossible to find organic pudding rice – and it makes a perfect pudding.
Of course you can make it at any time of the year, and serve it on its own, or with whatever fruit you like, but I think it is particularly good with apples and blackberries in the autumn.
Ingredients
150g risotto rice
75g sugar
500ml milk
10g butter
1 vanilla pod, split in half and seeds scraped out
1 teaspoon ground nutmeg
300ml double cream
For the Compote
2 small cooking apples, peeled, cored and chopped
60g sugar
Juice of ½ a lemon
150g blackberries
Method
Put the rice, sugar, milk, butter, vanilla and nutmeg into a large ovenproof bowl, cover with clingfilm and place over a pan of gently simmering water – make sure the base of the bowl isn't touching the water. Cook for about 1 ¾–2 hours, stirring occasionally and making sure that the water in the pan doesn't evaporate away – top it up as necessary. It is ready when most of the liquid has been absorbed, the rice is soft and the pudding has thickened. Take off the heat, stir in the double cream, and remove the vanilla pod.
While the rice is cooking, make the compote: put the apples, sugar and lemon juice into a small pan with 3 tablespoons of water, cover and bring to the boil, stirring occasionally until the apples soften. Stir in the blackberries, cook for a few more minutes until the berries 'bleed', then take off the heat.
Serve the rice pudding in individual bowls, with a spoonful of compote on top.