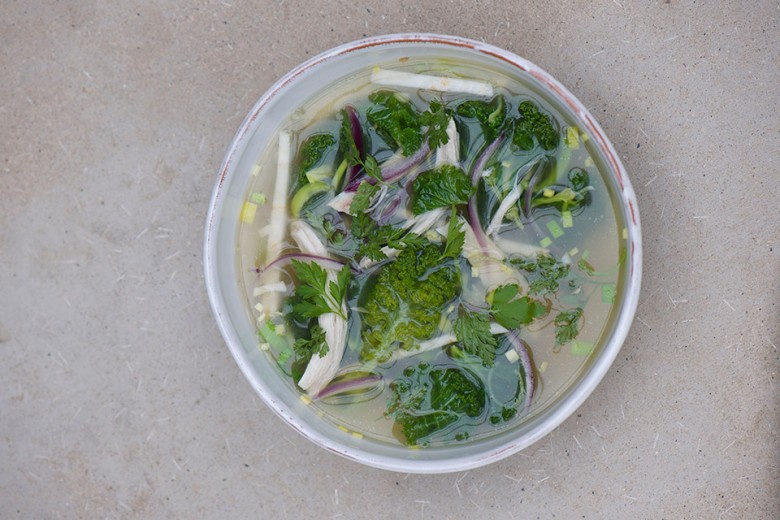 This is a great detox broth that really feels as though it is doing you good. It's the perfect recipe for this time of year, when you need something warm and comforting to stave off the cold.
You can put in the vegetables in any proportion you prefer – and if you don't have them all it doesn't matter, but the greater the mixture the more flavoursome, and healthier, the broth will be.
If you want to make turkey stock, crush the carcass with your hands, to break the bones, and put them into a large pan with 2 large white onions, peeled and halved; 2 carrots, peeled and halved; 2 heads of unpeeled garlic, just cut in half; a small bunch of fresh thyme; and a tablespoon each of peppercorns and sea salt. Cover with cold water, bring to the boil, then reduce the heat to a simmer, and skim off any grease and scum on the surface. Then simmer gently for 2-3 hours.
Ingredients (serves 8)
2.5 litres of good chicken or turkey stock
400g shredded mix of red onion, carrots, cabbage, leeks, celeriac or celery, and kale
About 2cm fresh root ginger, finely chopped
500g cooked turkey meat, torn into thin strips
Sea salt and freshly ground black pepper
3 tablespoons chopped fresh flat-leaf parsley
2 tablespoons chopped fresh chervil
Method
Bring the stock to the boil, add all the prepared vegetables and the ginger, and simmer for about 5 minutes, until all the vegetables are soft. Add the chicken or turkey and bring back to the boil, then take off the heat.
Taste and adjust the seasoning as necessary, and sprinkle with the herbs before serving.