Wild Garlic is one of my favourite foraged ingredients and something that I love to pick up on my daily walks with the dogs. The wild garlic season is now in full swing and our grassy banks are rich with these aromatic, flavourful leaves.
The freshly picked leaves are delicious in salads, frittatas and flavoured butter and I also like to preserve its distinct flavour by adding it to nutritious pesto before freezing it in ice-cube trays to add to dishes later in the year. Dropped into fresh, green minestrone or melted through courgette noodles, it makes a fantastically quick and healthful option.
In celebration of these nutritious leaves the Daylesford Cookery School has put together three simple and utterly delicious wild garlic recipes for you to try at home. I hope you enjoy them.
Wild Garlic Butter
A delight to have in the fridge ready to serve on top of a steak, to toss through fresh greens or to smear onto warm bread. Incredibly simple to make and mouth wateringly satisfying, wild garlic butter is a must at this time of year!
INGREDIENTS:
200g unsalted butter, softened
30g wild garlic leaves
1 tsp sea salt flakes
1/2 tsp paprika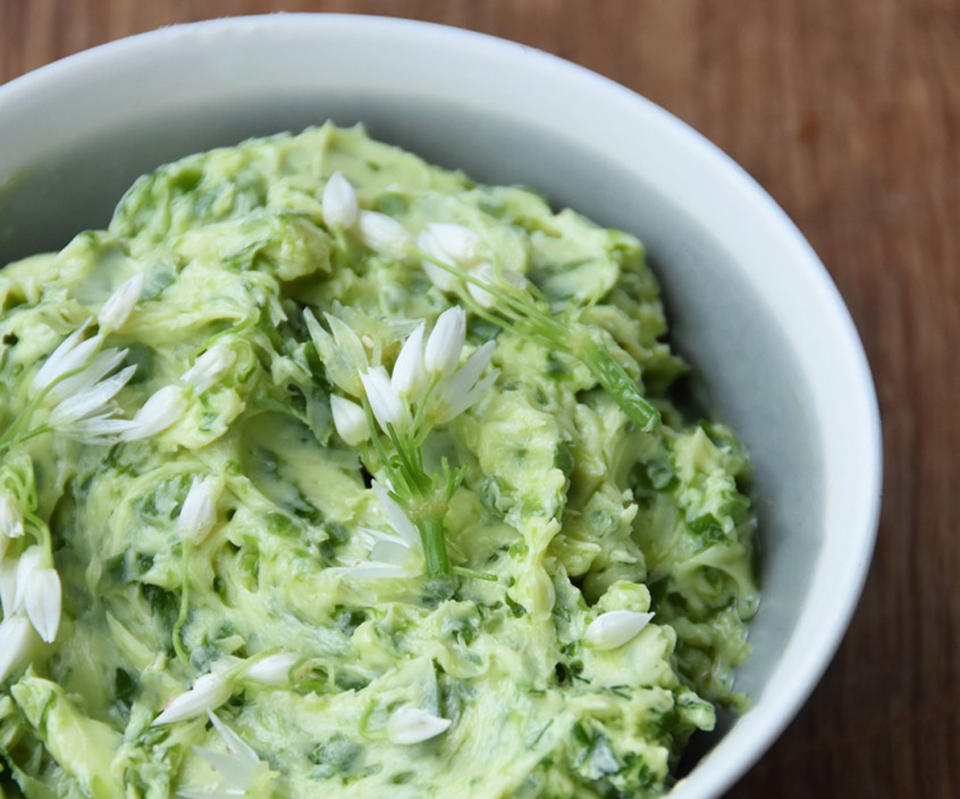 Wash and then very finely chop the wild garlic leaves. Then simply place the softened butter in a mixing bowl and stir in the wild garlic, salt and paprika. Spoon the mixture onto a sheet of clingfilm or baking parchment and roll up to form a log shape, about 3cm in diameter. Chill in the fridge and then cut into 1/2cm slices when you ready to use it. Or, serve as it is to be spread on freshly baked bread.
Wild Garlic Pesto
That moment you come home in the evening tired and exhausted from a long days work to find an empty fridge is never a good one. That moment when you come home after a long days work to find a jar of wild garlic pesto in the fridge however is always a good one – in part because it can be added to almost anything with fantastic results! Stirred through pasta or grains such as millet or pearl barley, melted through warm roast vegetables, dropped into soups for a burst of flavour or simply piled into a lettuce cup or wrap with whatever else you can find in the fridge! Wild garlic makes for the perfect pesto vessel so make up a big batch and freeze what you can't devour fresh.
INGREDIENTS:
130g sliced wild garlic leaves (or alternatively, watercress leaves)
3 tablespoons pumpkin seeds, lightly toasted in a dry pan
25g Parmesan cheese, grated
1 clove of garlic, thinly sliced
130ml olive oil
Sea salt and freshly ground black pepper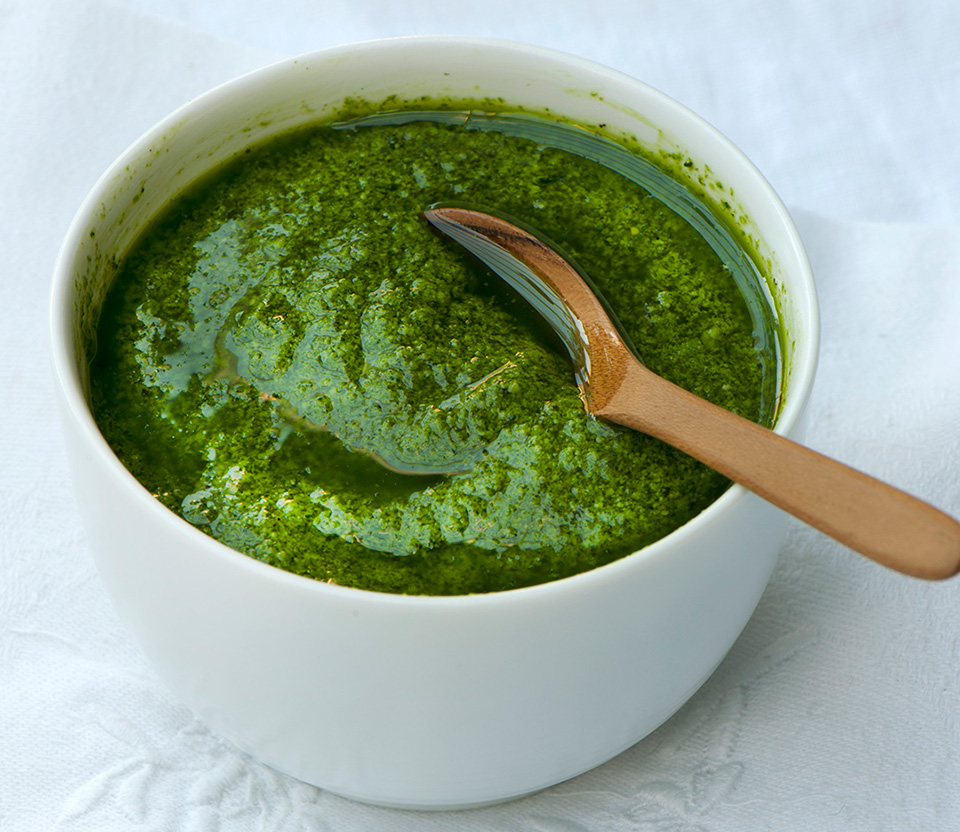 In a bowl mix half the wild garlic (or watercress) with the garlic clove and olive oil and leave to stand for 10 minutes, then transfer to a blender and whiz to a smooth paste.
Add the remaining wild garlic (or watercress), the pumpkin seeds and Parmesan and pulse for a few seconds until you have a coarse pesto. Taste and season as necessary.
Put into the fridge to chill (for up to a week) if not using straight away.
Charred Asparagus With Wild Garlic Remoulade Dip
There could be little more apt than a wild garlic and asparagus combination at this time of year. Tender and flavourful they compliment each other perfectly! This dish makes for a brilliant and impressive fresh starter or the perfect simple supper on a Sunday night!
INGREDIENTS:
2 bunches English asparagus
1 egg yolk
1 tsp dijon mustard
110ml groundnut oil
3 tbsp double cream or yoghurt
lemon juice to taste
salt and pepper
15-20g wild garlic leaves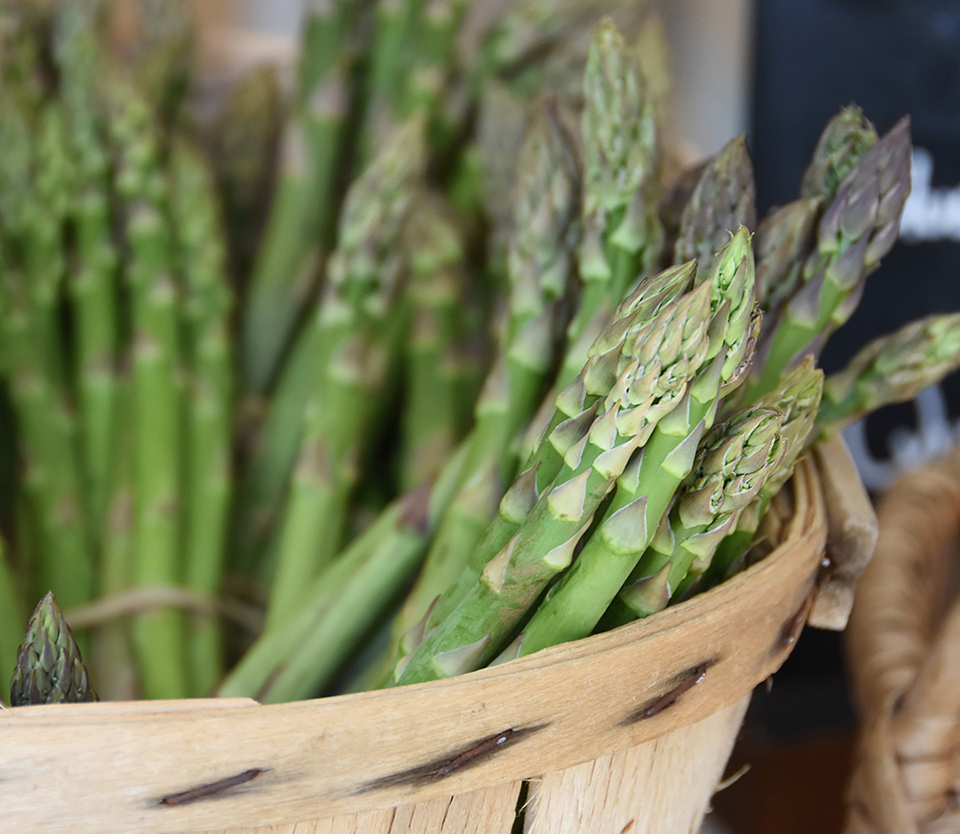 Begin by making the remoulade sauce. Place the egg yolk and mustard in a mixing bowl with a little salt and pepper. Slowly begin to pour in the oil, drop by drop to start with, whisking all the time to form a thick mayonnaise. Once all of the oil has been incorporated, stir in the double cream and lemon juice. Wash and shred the wild garlic leaves and add to the remoulade. Taste and adjust the seasoning if needed.
Remove the woody ends of the asparagus and slice in half lengthways. Toss the spears in little olive oil, salt and pepper and then griddle for a few minutes on each side until slightly softened and char marks have appeared. Pile onto a plate and serve with a bowl of the remoulade to dip the asparagus in.