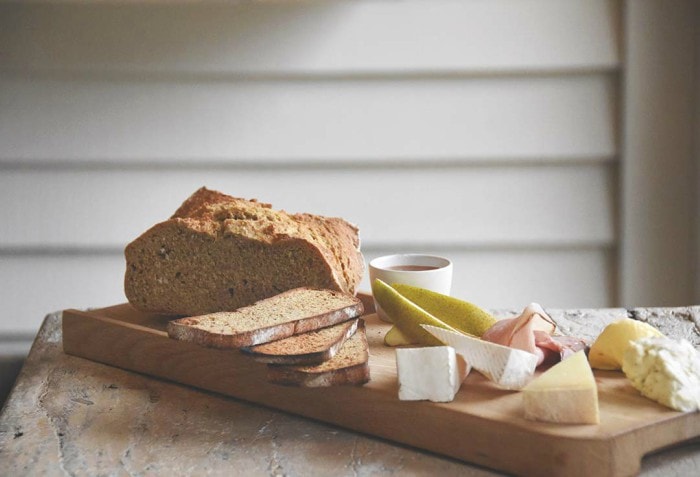 Most of the ingredients used at the Daylesford Cookery School come from within yards of the school itself. Fruit, vegetables and herbs are grown in our Market Garden; meat is from our pastures and abattoirs; milk, butter, kefir, cheese and buttermilk from our Creamery; bread from our Bakery; the list goes on. So naturally, when it comes to cooking with grains, locally grown British spelt is often our first choice.
Here, our Cookery School tutors share three of their favourite recipes to help transform this ancient grain into something delicious in your own kitchen.
DOUBLE GINGER SPELT COOKIES
White spelt flour is a versatile and useful staple to have in the cupboard for your baking efforts. Slightly lower in gluten than than standard white flour, it can also offer a lighter option for the digestive system or for those with mild intolerances.
These double ginger spelt cookies are just the thing to make at home as a quick and flavorful treat. You could even make a big batch and keep it in the freezer – simply cook from frozen for 2-3 minutes longer.
The recipe makes 10 cookies.
65g soft brown sugar
65g butter
½ tsp bicarbonate of soda
1 tsp golden syrup
1 tsp milk
100g white spelt flour
1 tsp ground ginger
50g crystalised ginger, roughly chopped
Preheat the oven to 160˚C and line two baking sheets with greaseproof paper.
In a bowl or food processor, cream together the sugar and butter until light and fluffy. Add the bicarbonate of soda, golden syrup and milk and mix well. Sift in the spelt flour and ground ginger and mix until you have a smooth dough.
Transfer the dough to a board and gently need in the crystallized ginger. Lay out a piece of cling film and place the dough into the centre. Roll into a sausage shape about 8-10cm in diameter and rest in the fridge for at least 20 minutes.
When the dough is nice and firm, remove the cling film and slice with a sharp knife into rounds about 1-2cm thick and place onto a baking sheets.
Bake for around 15-20 minutes. Remove and cool on wire racks before serving with a warming mug of tea.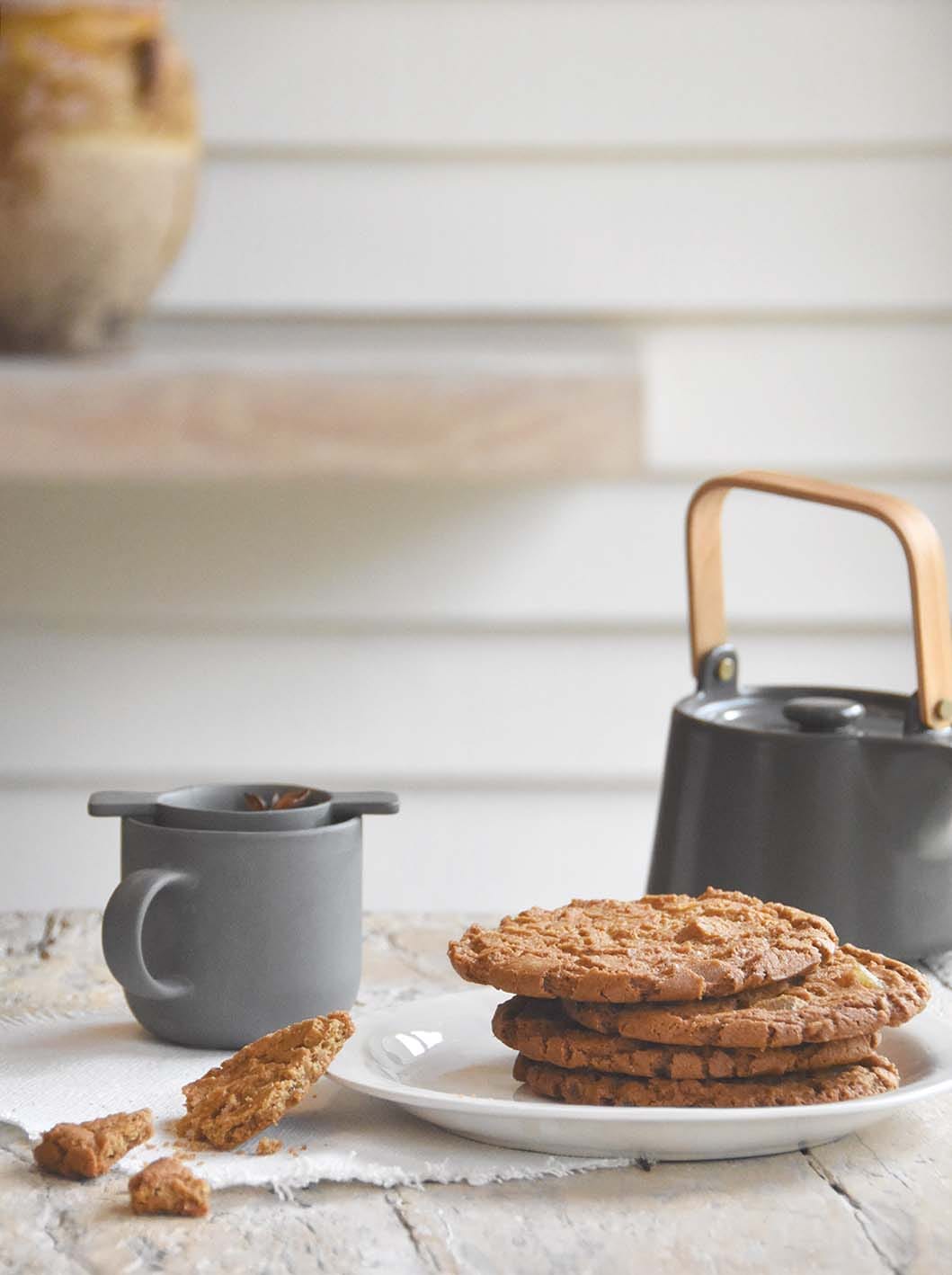 ROASTED VEGETABLE AND PEARLED SPELT SALAD
If you are someone who is often short of time, roasting a big batch of vegetables once a week can be a helpful tool when you need to grab a quick bite. Simply keep in the fridge to and stir through salads with grains.
Whole spelt is a fantastic ingredient to keep in your store cupboards. Though it takes slightly longer to cook than some other grains, it's nutty flavour and fiberous texture ensures that it is deeply satisfying. Again, try cooking a big batch at the beginning of the week to have with salads or to use as a base to a delicious risotto.
FOR THE SALAD:
1 red pepper
4 shallots
1 bulb of fennel
100g spelt
Handful of rocket
FOR THE SALSA VERDE:
Handful of soft herbs
1 tsp capers
1 tsp Dijon mustard
1 clove garlic
1 lemon
Glug of olive oil
Pre-heat the oven to 200˚C.
Put the spelt into cold water and simmer until cooked, around 30- 40 minutes should do it.
Next, rub the pepper with oil and add a little salt before placing onto a lined baking tray. Roast in the oven until the skin has started to blacken – you will need to turn the pepper at least to ensure that it colours evenly.
Remove the pepper from the oven and place into a bowl. Cover with clingfilm and allow it to steam – this will make getting the skin off a little easier when it has cooled slightly. When you are peeling the skin away, remove any seeds and membrane before slicing the flesh into strips. Set aside.
Cut the fennel and shallot into wedges and add to a pan with a covering of water, a good drizzle of olive oil, salt and pepper. Boil hard until the water has evaporated and the vegetables are coated in oil. Pop into an oven at 200˚C for 8-10 minutes and roast until nice and tender and turning golden in colour.
To make the salsa verde, blend with a stick blender the soft herbs, capers, Dijon mustard, garlic and olive oil with some salt, pepper and lemon zest. Check for seasoning and set aside.
To plate up, mix the spelt with the roasted vegetables and rocket leaves. Lift on to plates and drizzle with the salsa verde.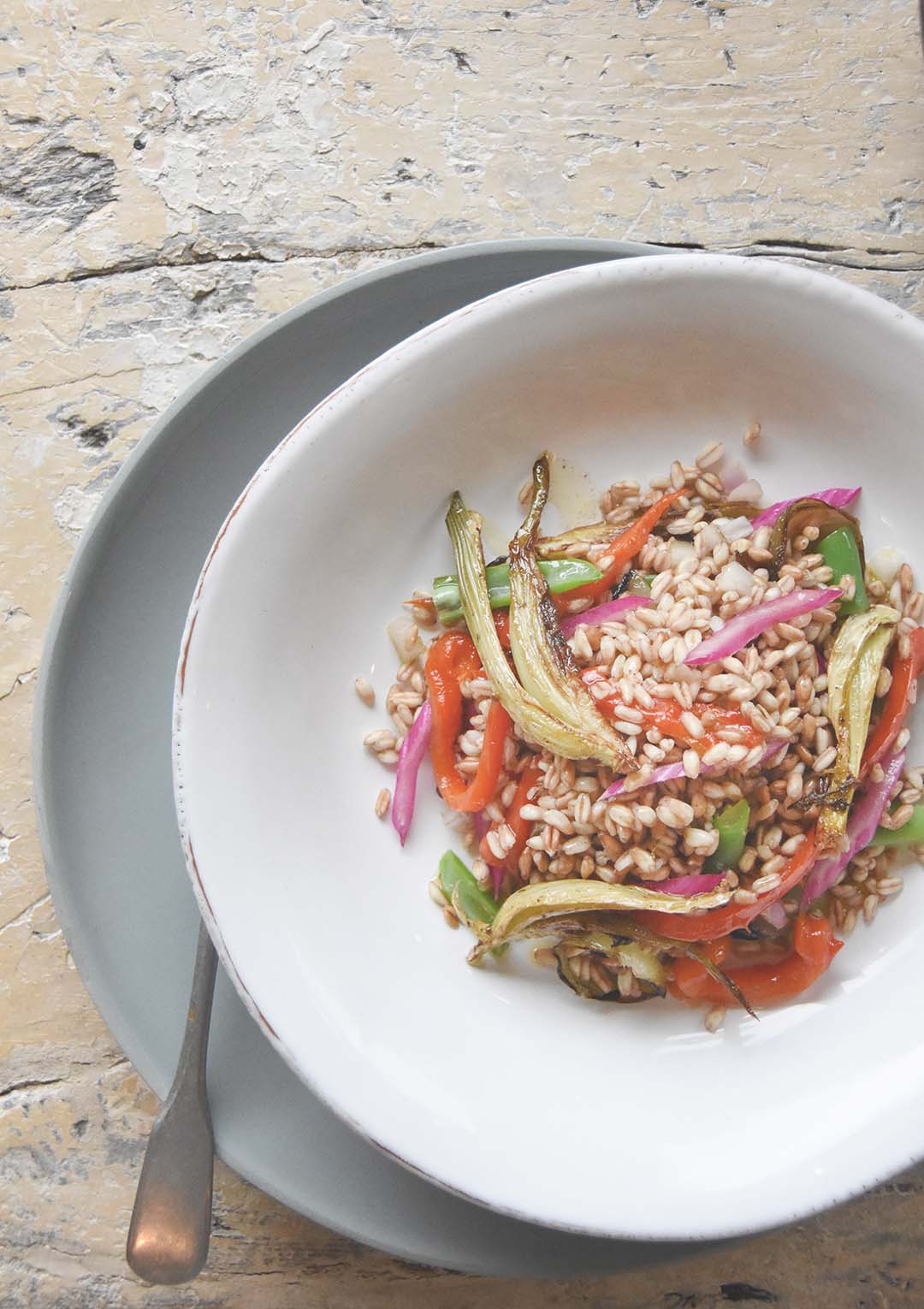 SPELT SODA BREAD
For anyone new to baking, soda bread is the perfect place to start and this easy recipe will boost your confidence, so we always teach it at our Artisan Bread Making course at the Cookery School. Give it a go and why not try making a batch of your own creamy butter to go with it – like soda bread, it is much easier than you might think.
500g spelt flour
1 1/4 tsps sea salt
1 tsp bicarbonate of soda
2 tsp baking powder
450g natural yoghurt or baking powder
FOR THE BUTTER:
1 litre of double cream
Begin by making the butter. Pop the double cream into a food processor and turn it on full, waiting for the cream to whip and then split before churning into butter. Strain the butter, collecting the buttermilk and rinse under a cold tap. Add flavourings such as chopped roasted garlic, grated horseradish, chopped herbs or pepper. The butter will almost always need a pinch of salt. Wrap tightly in parchment paper and store in the fridge until ready to use.
To make the soda bread, mix all of the ingredients and knead well for 5 minutes or so to achieve a smooth dough. Shape into a loaf and score with a sharp knife. Bake at 200°C for 35-40 minutes until well-risen and golden – when ready, the loaf should sound hollow if you tap the base. Remove and allow to rest on a cooling rack.