The plum trees at the farm are now heavy with delicious fruit and every morning we forage the grass below the trees to collect the precious fruit for chutneys, poaching, baking, pickling and roasting.
To help you make the most of any gluts you may have in your own garden our COOKERY SCHOOL has put together three of their favourite plum recipes.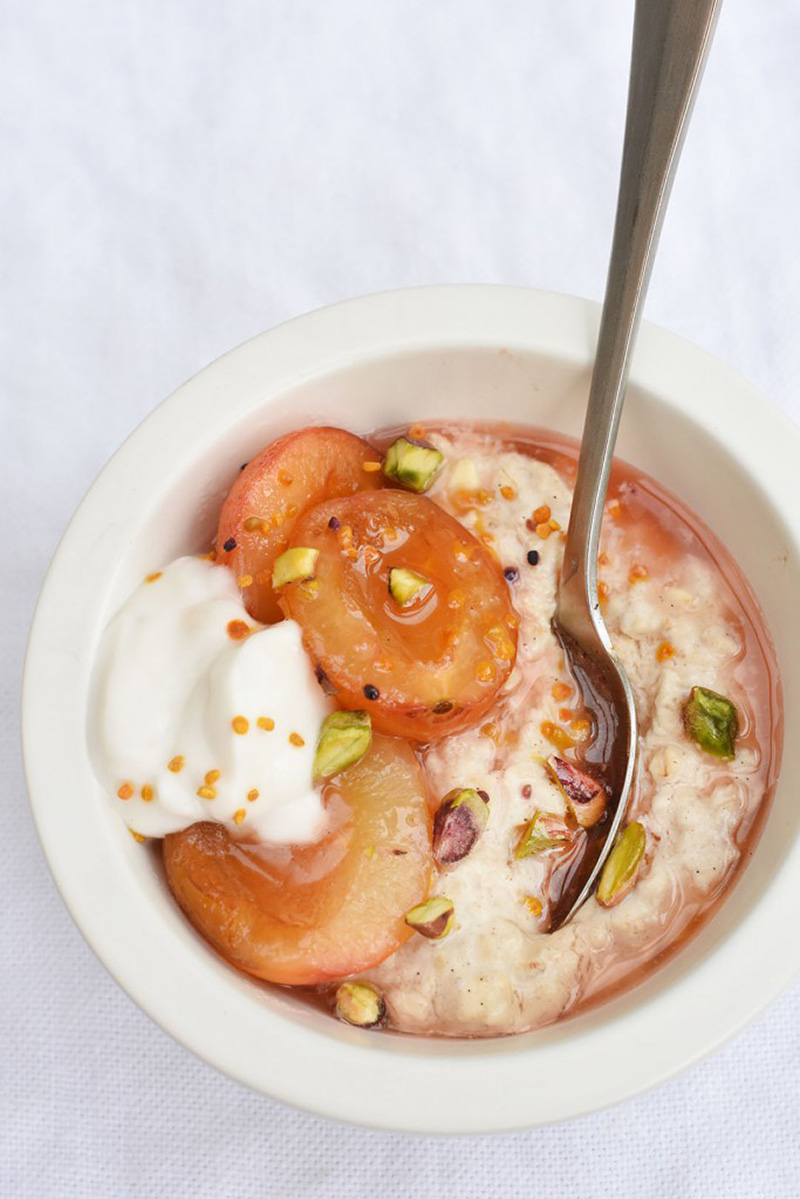 Plum And Star Anise Compote With Almond Milk Porridge
When plums are in season, light poaching brings out their fragrant sweetness without taking away from their beautiful colour and texture. We've used star anise and cinnamon in this recipe, but vanilla, cardamom and ginger would all be welcome partners. As well as for breakfast, this compote is delicious for pudding – try it with homemade vanilla ice cream or as a base for a warming autumn crumble
For the Plums (Serves 2)
300g plums
1 tbsp honey
2 star anise
1 cinnamon stick
4 tbsp water
For the Porridge
60g whole oats
200ml almond milk
Pinch of salt
Seeds from ¼ vanilla pod
Method
Wash, halve and de-stone the plums. Place them in a small saucepan with the honey, star anise, cinnamon and water. Bring to a gentle simmer and turn the plums over in the cooking liquor with a spoon to coat on all sides.
Cover with a lid and cook very gently for 4-5 minutes until the skins are just starting to wrinkle and the flesh is tender. Set to one side to cool slightly while you make the porridge.
In a small pan, combine the oats, almond milk, vanilla and pinch of salt. Heat slowly, stirring all the time, until the porridge is thick and creamy.
Spoon the porridge into serving bowls and top with the plum compote, discarding the cinnamon stick and star anise.
We like to add a spoonful of coconut yoghurt, a scattering of chopped pistachios and a little bee pollen too – you can experiment with any of your own favourite toppings.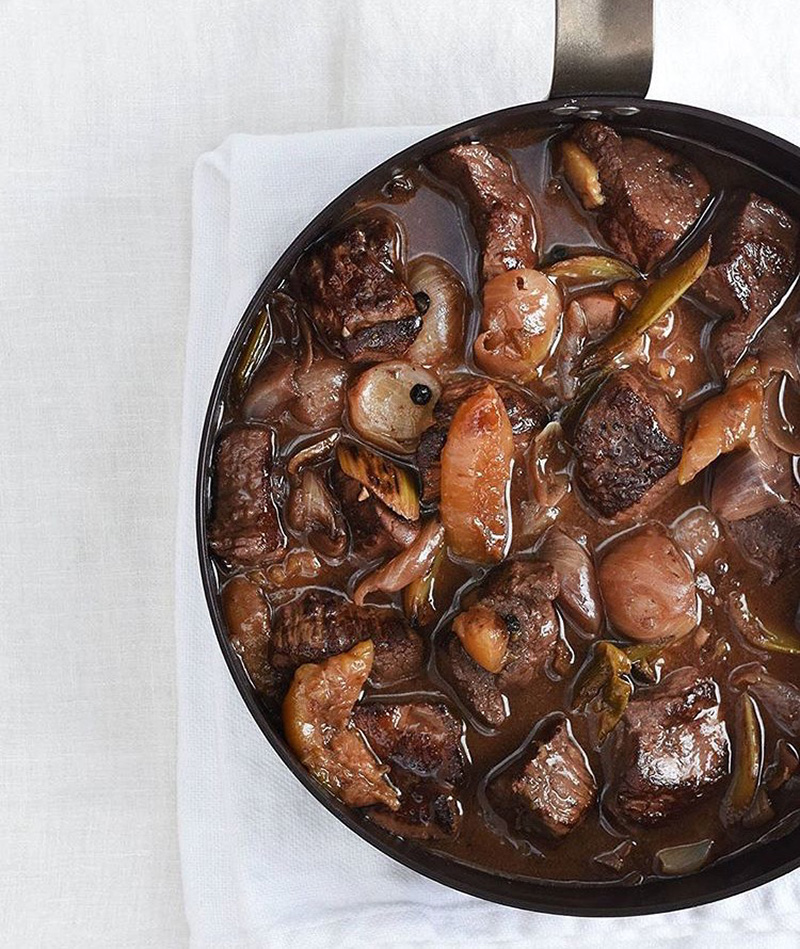 Venison, Plum And Port Casserole
Sweet plums and port are the perfect complement to venison in this warming casserole, providing the perfect autumn/winter supper dish. Try serving it with creamy celeriac mash and wilted kale leaves.
Ingredients (Serves 4)
1 kg venison haunch
300g shallots, peeled and halved
2 sticks of celery, roughly chopped
2 cloves garlic, crushed
1 heaped tbsp juniper berries
3 bay leaves
2 sprigs thyme
300ml ruby port
250g plums, de-stoned and quartered
700ml veal or beef stock
1tbsp cornflour, optional
Method
Preheat the oven to 160 C.
Dice the venison into 2 inch pieces and season with salt and pepper.
Heat a little oil in a large casserole pan and brown the venison pieces in batches, removing to a plate as you go and keeping to one side.
Once all of the venison is browned, add the shallots and celery to the same pan, with a little more oil. Cook, stirring occasionally, until lightly softened and lightly browned. Add the garlic, juniper, bay leaves and thyme to the pan, stir for a minute over the heat and then pour in the port. Bring to a simmer and reduce by half.
Return the venison to the casserole pan along with the quartered plums and add the stock. Season with salt and pepper, stir well and bring to a simmer. Cover with a lid and transfer the casserole to the oven for 1 ½-2 hours.
Remove from the oven and taste to check that the venison is tender, adding more salt and pepper if needed.  Discard the bay leaves and sprigs of thyme.
If the sauce needs to be thickened, mix the cornflour with 2 tbsp of cold water to form a smooth paste. Slowly pour this into the casserole and return to the heat for a minute or two until the sauce thickens.
Serve with celeriac mash, autumn greens and perhaps some roast heritage carrots.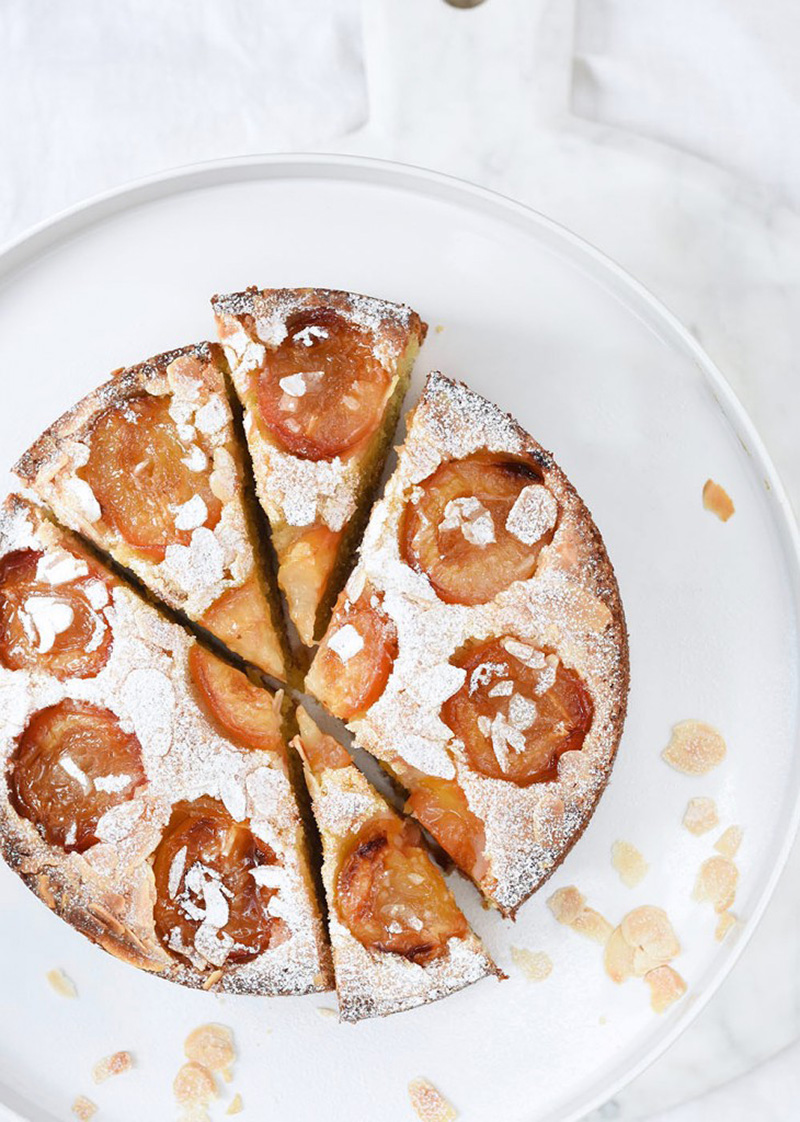 Plum Frangipane Torte
Frangipane is a favourite in the COOKERY SCHOOL, we love using it in tarts with all sorts of summer and autumn fruits harvested from our Market Garden. This is a really simple way to show off plums and impress your guests with such a pretty dish which can be served as a pudding or for afternoon tea. If you have other late summer gluts, try the same recipe with blackberries, peaches or pears in place of the plums.
Ingredients (Serves 6-8)
170g butter, softened
170g golden caster sugar
½ vanilla pod, seeds only
3 eggs
160g ground almonds
70g plain flour, sieved
Pinch of salt
½ tsp ground ginger
6 ripe plums, halved and de-stoned
25g flaked almonds
Icing sugar, to serve
Method
Preheat the oven to 180 C.
Place the butter and sugar and vanilla in a large bowl and cream until light and fluffy. Beat in the eggs, one at a time, adding a little of the flour if the mixture looks like it might split. Fold in the ground almonds, flour, ginger and salt.
Grease and line a 23cm cake tin with a removable base. Spoon the mixture into the tin, using the back of a spoon to evenly level the top.
Arrange the plum halves prettily on top of the frangipane, gently pressing each half down into the batter.
Sprinkle over the flaked almonds and bake in the middle of the oven for 35-40 minutes until lightly golden brown and cooked through. You can test this by inserting a skewer into the middle of the cake – if it comes out clean, the cake is ready.
Leave to stand for 10 minutes before removing the cake from the tin and cooling on a wire rack. Just before serving, dust generously with icing sugar.