This year the team who look after our Cotswolds Market Garden have grown over 45 varieties of heritage tomatoes. If you walk in to any of our polytunnels between the months of July and early October you will be overwhelmed by the fantastically sweet scent of bright, plump, delicious tomatoes and their fragrant leaves.
Such organic freshness must be treated with the upmost respect and care and so our Cookery School team have put together three of their favourite recipes that celebrate the wonderful flavour of these delicious fruits.
Tomato, Broad Bean and Mint Salad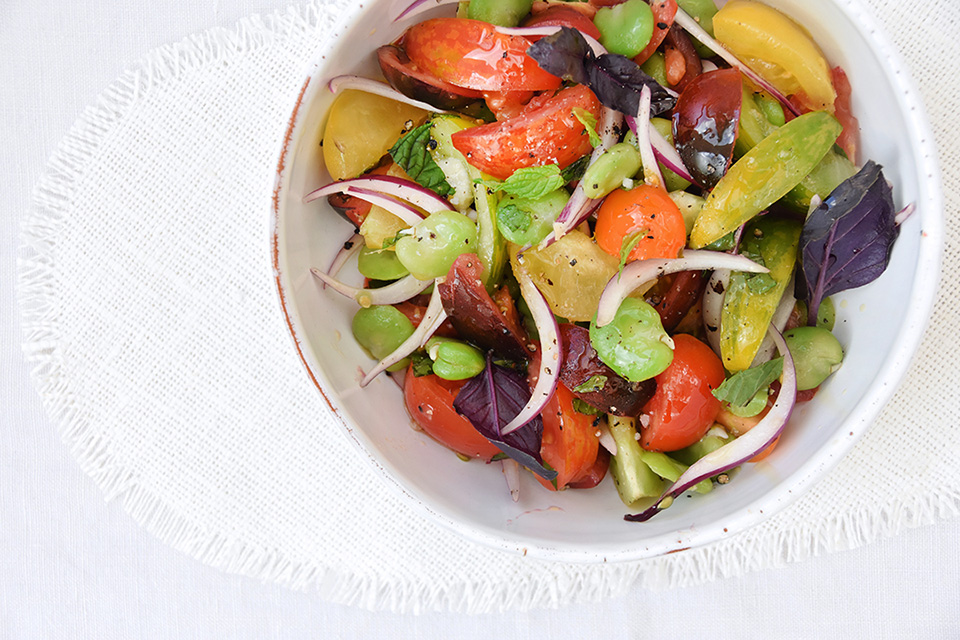 A combination of two summer ingredients, which we love in our Market Garden – heritage tomatoes and bright broad beans. Both have so much flavour already, so need little more than careful dressing and seasoning. Try using dwarf French beans in place of broad beans towards the end of the season. We've used mint in this recipe but you can add a variety of garden herbs such as chives, basil, parsley or a mixture of all three.
Serves 4
Ingredients
170g broad beans
500g mixed tomatoes, in a variety of sizes and colours
½ red onion
10 mint leaves
Lemon zest, a little
Lemon juice, 1 tbsp
2 tbsp extra virgin olive oil
Salt and pepper
Method
Begin by blanching the broad beans. Bring a pan of salted water to the boil and drop in the beans. Bring back to the boil and simmer for 2-3 minutes until just tender. Drain and cool under a running cold tap. Once cold, slip off and discard the tough outer skins of the beans.
Prepare the tomatoes by slicing into wedges – a variety of sizes really adds to the beauty of this salad so don't worry about them all being the same size. Slice the red onion thinly and tear the mint leaves into small pieces.
Tip the tomatoes into a large bowl with the onion, beans and mint leaves. Whisk together the lemon zest, juice and olive oil a small bowl and tip onto the salad. Season with salt and pepper and toss everything together well before serving straight away.
Tomato Water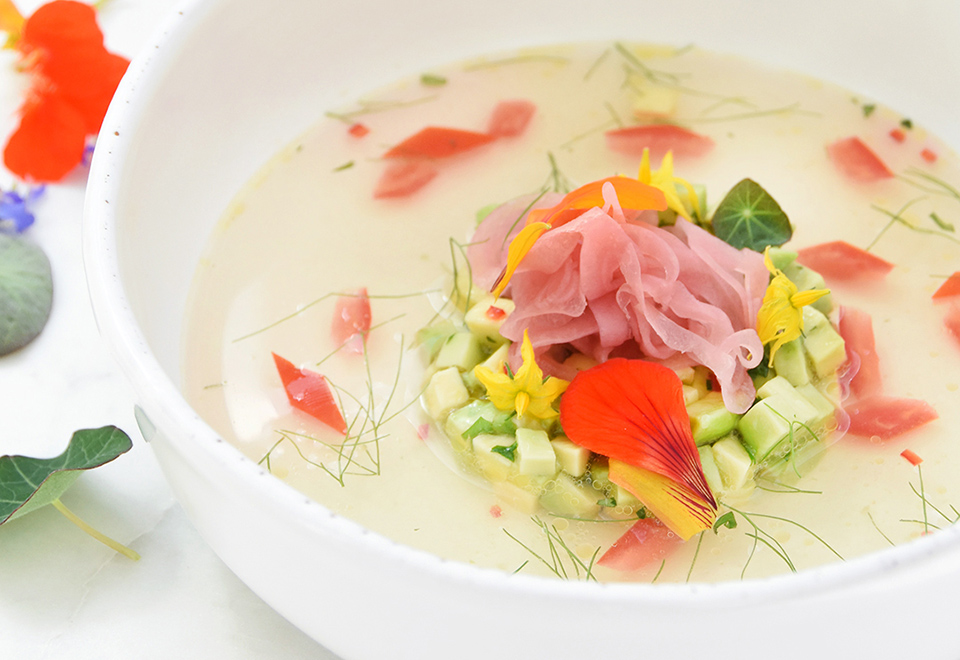 Tomato water is a bit of a Cookery School secret. Super simple to prepare, it's packed with flavour and is one of those dishes that people won't believe you made in only a matter of minutes. You can use it to make a delicious chilled soup, as we do below, serve a tiny glassful as a palate cleanser between courses, warmed and poured over crab ravioli or use it to make the best Bloody Mary your guests will have ever tried!
Ingredients
8-10 large tomatoes
½ clove garlic
2 basil stalks
½ tsp salt
Method
Roughly chop the tomatoes and place in the bowl of a food processor along with the garlic clove, basil stalks and salt. Pulse briefly, once or twice, to chop the tomatoes without turning them into a pulp.
Tip the mixture into a sieve lined with muslin, hanging over a deep bowl. Leave to one side to let the water slowly drip through, being careful to make sure the sieve isn't touching the water collecting underneath.
Resist the urge to squeeze or press down on the tomatoes in the sieve as this will force through pulp and leave you with a cloudy result.
After a couple of hours, or ideally overnight, discard the mixture left in the sieve and carefully pour the tomato water into a jug, leaving behind any pulp which might have gathered at the bottom of the bowl.
If serving as a palate cleanser, store in the fridge until ready to serve. If adding as a broth to the likes of a crab ravioli, simply warm through gently before pouring over the top.
** In the picture above, we have simply chopped half an avocado into a small dice before tossing it with a little finely chopped coriander, chilli and seasoning. This has then been carefully placed into the bowl of chilled tomato water with a little pickled onion on the top. Around the edge we have scattered finely chopped fresh tomatoes, fennel tops and edible flowers. This combination makes for the most fantastic starter but of course you can play with other combinations and herbs.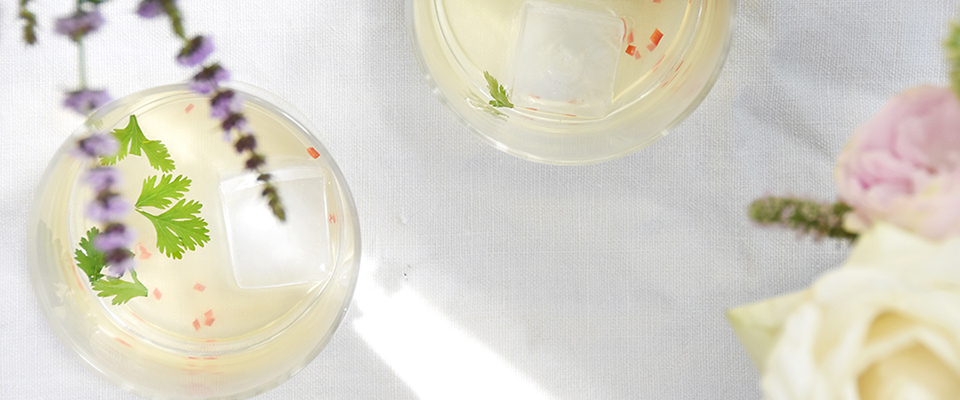 Rosemary Roast Heritage Tomatoes With Garlic, Olive Oil and a Basil Dressing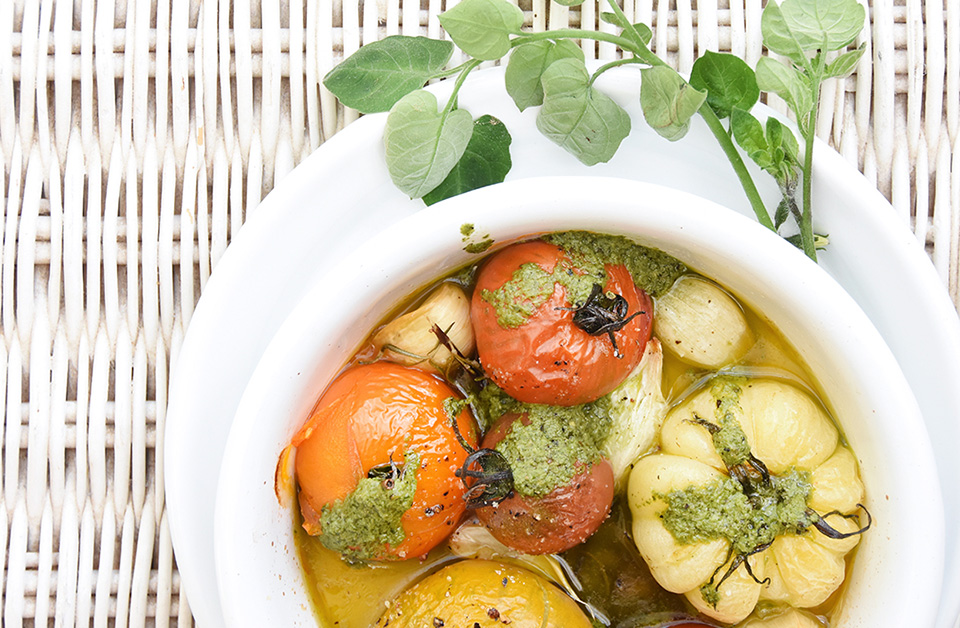 This dish really celebrates sweet, ripe tomatoes at the height of their season. It makes a wonderful accompaniment to any meal as well as a delicious sharing plate, served tapas style with plenty of fresh, crusty bread to soak up the rich tomato juice and olive oil.
Serves 2-4 (as a side or sharing dish)
Ingredients for the tomatoes
8-10 heritage tomatoes, different shapes and colours
5 cloves garlic
3 tbsp extra virgin olive oil
1 stalk of rosemary
salt and pepper
For the dressing
3 handfuls of fresh basil leaves
10 mint leaves
2 large anchovies
a squeeze of lemon juice
150ml extra virgin olive oil
Method
Preheat the oven to 200 C.
Briefly wash the tomatoes and place in a roasting tin, nestling the rosemary stalk underneath. Bash the garlic cloves with a rolling pin to crush slightly, while keeping them in their skins, and place in the tin alongside the tomatoes.
Spoon the olive oil over the tomatoes, season with salt and pepper and roast in the oven for 20 minutes, until the skins have just burst and the garlic cloves have softened.
Whilst the tomatoes are cooking, make the basil dressing. Place the basil and mint leaves in the bowl of a food processor or blender, along with the anchovies, olive oil and squeeze of lemon juice.
Season with a little salt and pepper and blend until you have a sauce which is the consistency of a runny pesto. Taste and adjust the seasoning, adding a little more oil, lemon or salt and pepper as needed.
When the tomatoes are ready, spoon the basil dressing over the top and serve straight away.