Our Daylesford Blue Legbar hens are a rare Gloucestershire breed that produces our award-winning blue eggs with yolks of a rich yellow colour and high in omega 3. These three egg recipes have been put together by The Cookery School team and celebrate the incredible versatility of the simple egg.
You can learn to cook dishes just like these on our Seasonal Organic Suppers for Every Day course which runs regularly throughout the year and always includes delicious dishes using seasonal produce from our Farm and Market Garden.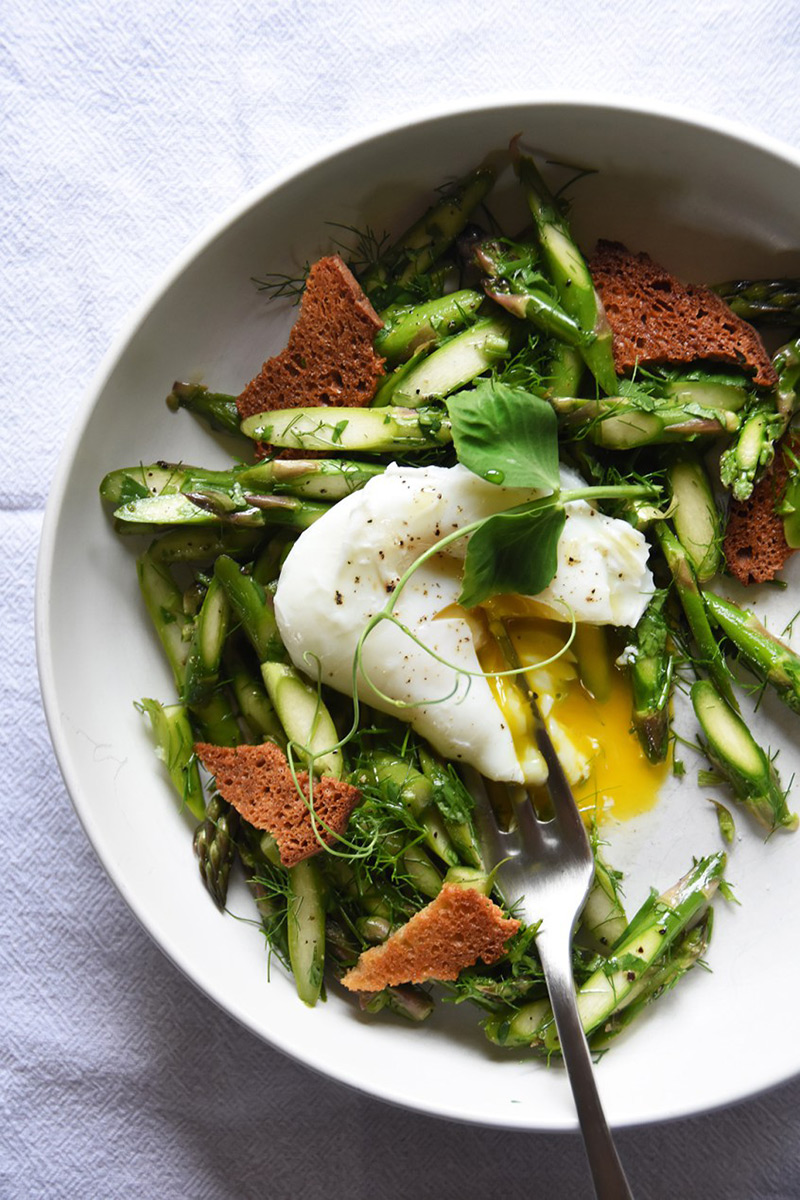 RAW ASPARAGUS SALAD WITH POACHED EGG & CRISPY RYE BREAD
Asparagus and eggs could quite possibly be one of the best combinations of all-time. Don't be put off by the use of raw asparagus in this salad, as when picked in season and used when fresh and young, their stems provide the most wonderfully tender crunch. This is one of those rare dishes that hits the spot for breakfast, lunch and dinner and so is a brilliant one to have up your sleeve. 
Ingredients
1 bunch asparagus
2 eggs
1 tbsp extra virgin olive oil
Squeeze lemon juice
Handful chopped herbs (eg parsley, chives, tarragon)
2 very thin slices rye bread 
Method
Begin by rubbing a little olive oil into the sliced rye bread on both sides. Place on a baking sheet in the middle of the oven at 180°C for 8-10 minutes until toasted and crisp. Cool slightly before breaking into shards. 
Snap the woody ends from the asparagus and discard. Thinly slice on the diagonal, leaving the tender tip intact. Place in a bowl and dress with the extra virgin olive oil, lemon juice, salt, pepper and chopped herbs. Leave to one side. 
Bring a pan of water to a simmer. Add a pinch of salt and a little cider vinegar. Take off the heat, drop in the eggs one at a time, gently stir the water to free the eggs from the bottom, cover and leave to poach for 4 minutes. 
Pile the raw salad onto your serving dishes. Top with the poached eggs and rye shards, finishing with an extra drizzle of olive oil, salt and pepper.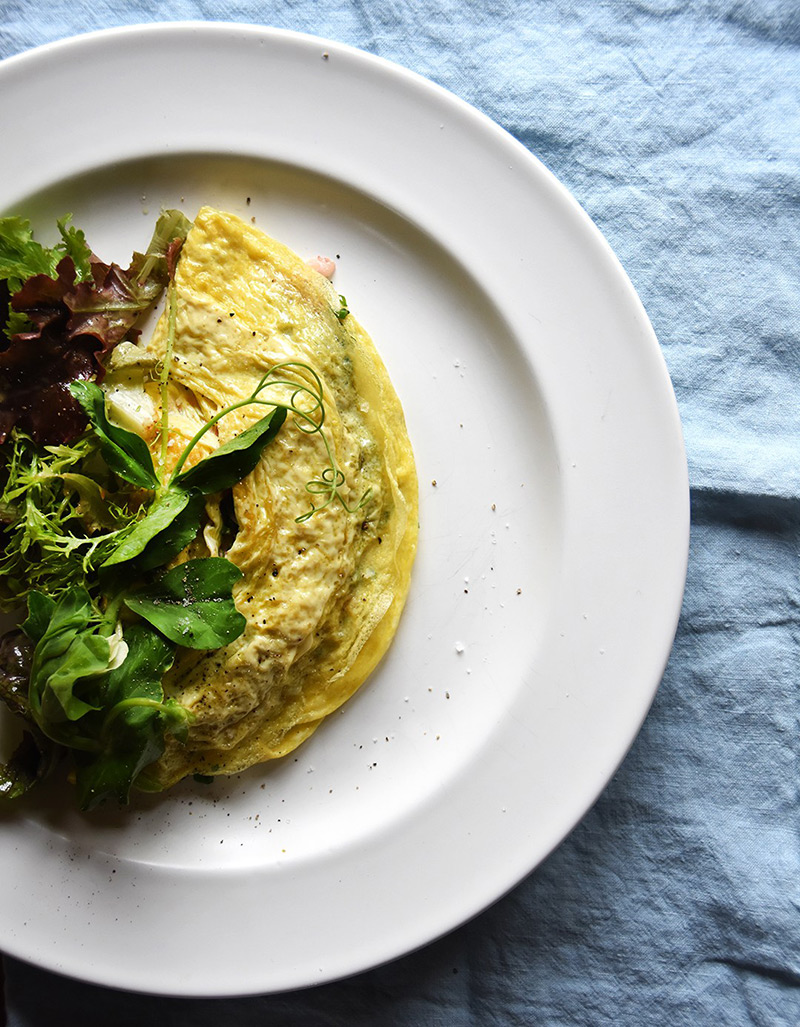 SINGLE GLOUCESTER, HAM AND HERB OMELETTE

The ultimate simple supper, an omelette takes no time to throw together and really allows our beautiful organic eggs to shine.
Ingredients
3 eggs
2 handfuls SINGLE GLOUCESTER cheese, grated
1 thick slice ham, chopped
A knob of butter
A small handful chopped green herbs
Method
Crack the eggs into a bowl and whisk well. Season with salt and pepper and stir in half of the grated cheese. Heat the butter in a non-stick frying pan until hot and sizzling.
Add the egg mixture, stirring quickly to disrupt the eggs as they start to set on the bottom of the pan. Allow to settle and cook for a few seconds before repeating.
After the second fluffing, add the second handful of cheese, the ham, herbs and a turn of pepper.Hold the pan at an angle and roll the omelette away from yourself, so it folds in half. Tip onto a plate and finish with a dressed green salad.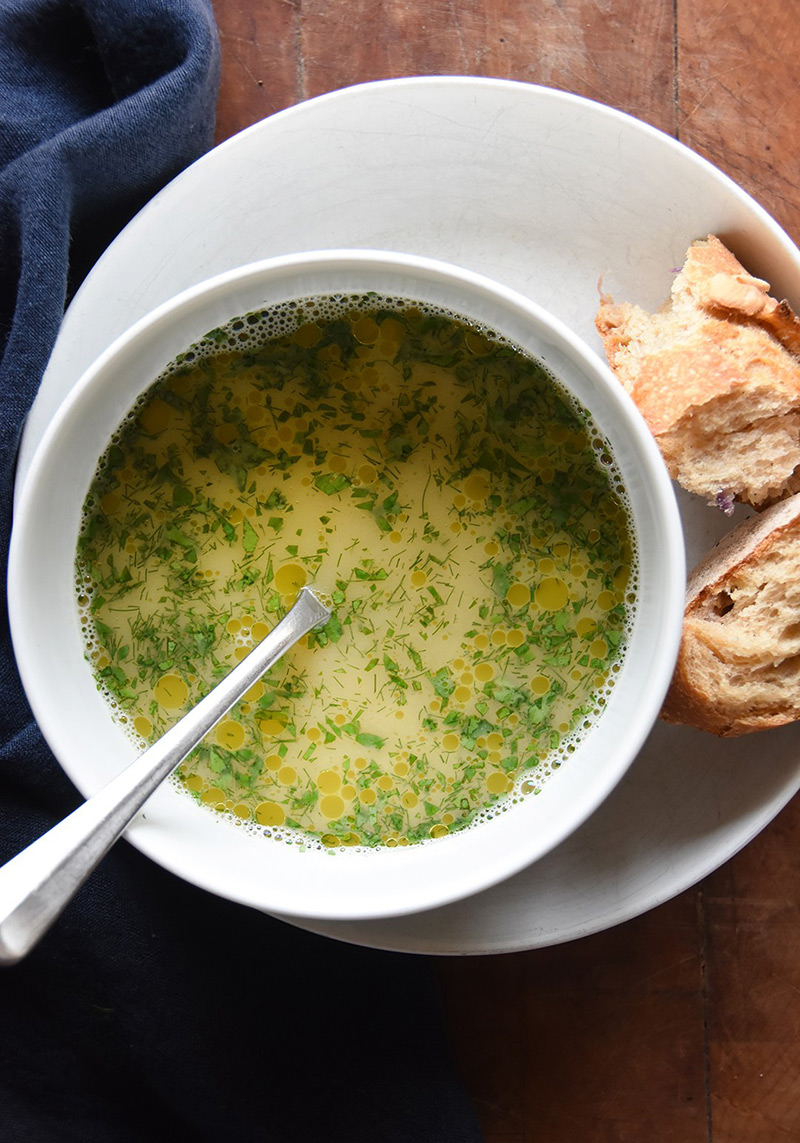 GRANDMA'S SOUP

Nourishing, rich and full of flavour, this traditional soup is incredibly quick to make and a great use for chicken stock. If you're particularly hungry you can add cooked fine rice noodles, or angel hair pasta to the soup just before serving. 
Ingredients
400ml chicken stock
2 eggs
30g Parmesan, grated
Handful of chopped mixed herbs (basil, mint and parsley)
Squeeze of lemon juice
Method
Pour the stock into a deep pan and bring to a simmer. Crack the eggs into a bowl, whisk well and stir in the Parmesan and herbs.
Remove the pan from the heat and whisk the egg mixture into the stock. Season with salt, pepper and lemon juice and serve straight away.