Summer days are finally upon us and delicious smoky smells are in the air from barbecues sizzling across the country. It is finally time to sit back with a cold drink and soak up the summer in all its glory.
A barbecue however can swiftly become an expensive affair with many hungry mouths to feed and inevitably a thirsty crowd. Our Cookery School team have therefore put together three of their favourite recipes that make use of humble, yet utterly delicious cheaper cuts.
Join Steve and his Cookery School team throughout the summer for regular courses on putting together the Perfect Summer Barbecue, but in the meantime have a go at these three favourites.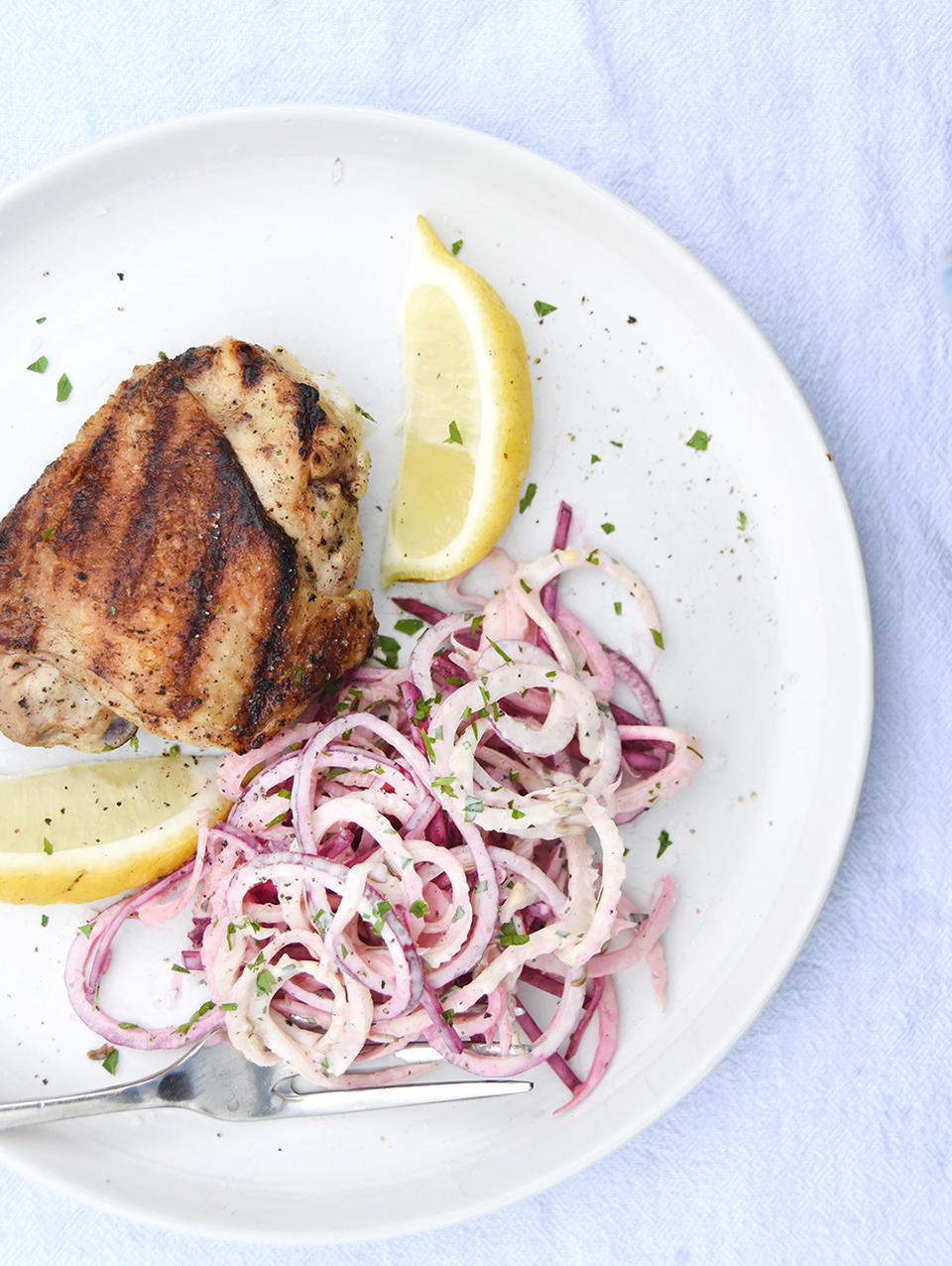 Buttermilk Chicken Thighs with Fennel & Beetroot Slaw
This recipe requires a little preparation the day before, brining the chicken in buttermilk which results in beautifully tender meat. Served with this elegant slaw, it's a real crowd pleaser.
Ingredients
4 organic chicken thighs (with skin)
400ml buttermilk
2 tbsp salt
1 fennel
1 beetroot
½ red onion
2tbsp mayonnaise
2tbsp crème frâiche
½ tbsp fennel seeds
Squeeze of lemon juice
Handful of chopped herbs
Method
Begin the day before your barbecue by brining the chicken. Combine the buttermilk and salt and pour over the chicken in a bowl. Cover and pop into the fridge overnight.
To make the slaw, trim the fennel and peel the beetroot and onion, discarding the roots and ends. Shred each with a mandolin or very finely slice with a knife and place in a large bowl. In a separate bowl combine the mayonnaise and crème frâiche with a little salt and pepper. Pour this over the vegetables, add the fennel seeds and herbs and mix together well.
The following day remove the chicken from the brine and pat dry. Place skin-side down onto the hot grill of your barbecue. Cook for 2-3 minutes until the skin begins to turn golden, then turn. Carry on turning the chicken every so often until it's cooked through and golden. Test the meat with a thermometer if you can, it's ready when it reads 75C.
Rest for a few minutes and serve with the slaw.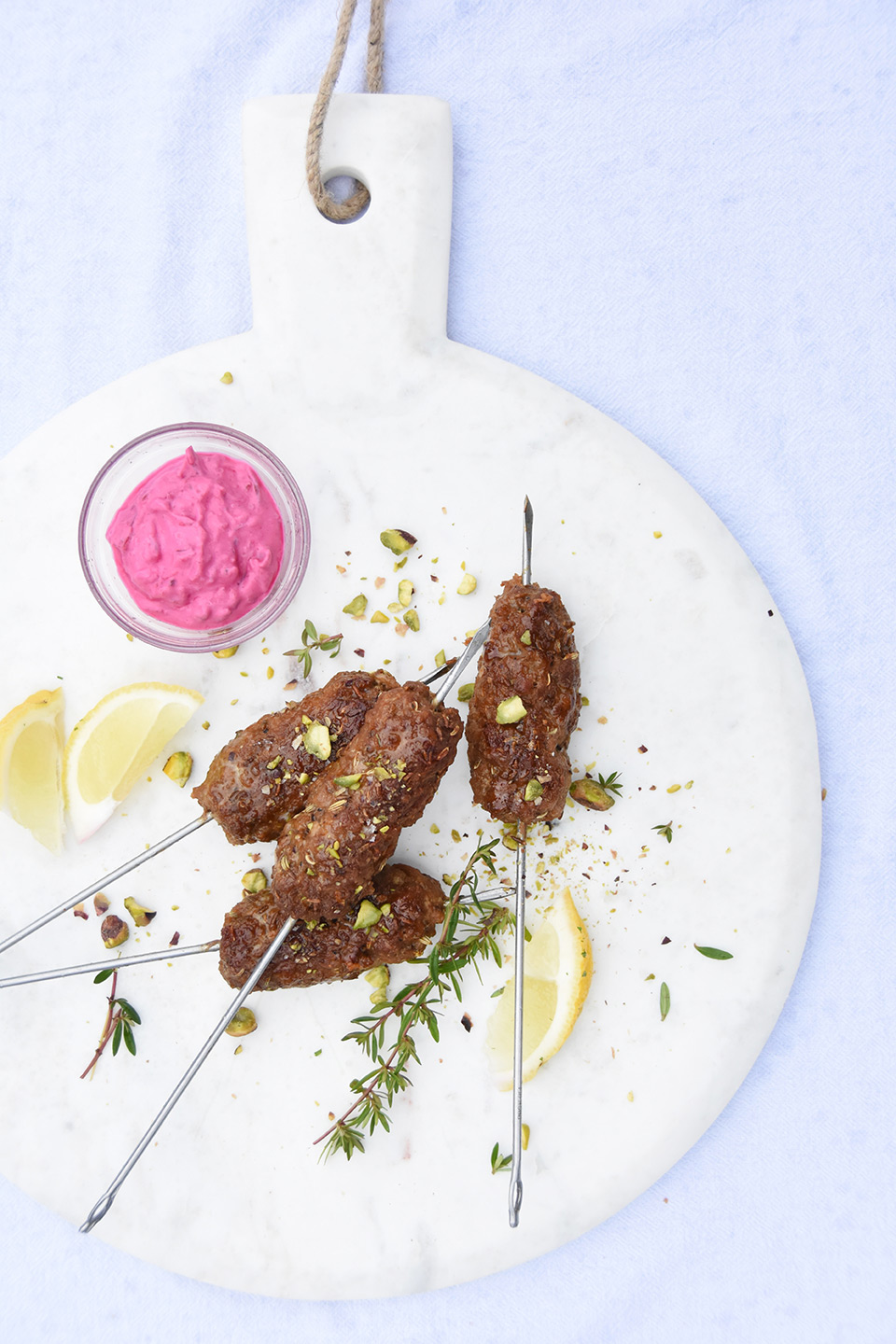 Spiced Lamb Kofta with Beetroot Dip
A great alternative to burgers, these fragrant spiced koftas take very little time to prepare and are delicious accompanied by a dip such as the Organic Beetrot Dip which is available both online and in our farmshops.

Ingredients
500g lamb mince
2 tbsp cumin seeds
1 tbsp fennel seeds
1 tbsp soy sauce
½ tbsp fish sauce
Few drops of Tabasco
Method
Simply place the lamb mince into a mixing bowl and add all of the other ingredients along with a good turn of black pepper. Mix together well with your hands, making sure the spices are evenly distributed through the mince.
Shape the mince into 8 long koftas and thread onto a skewer. Place onto a baking sheet or large plate and chill for a couple of hours before cooking.
To cook, simple place the koftas onto a hot grill and turn regularly until nicely browned and cooked through.
Serve with our Beetroot And Yoghurt Dip, a sprinkling of pistachios and some warmed pitta bread.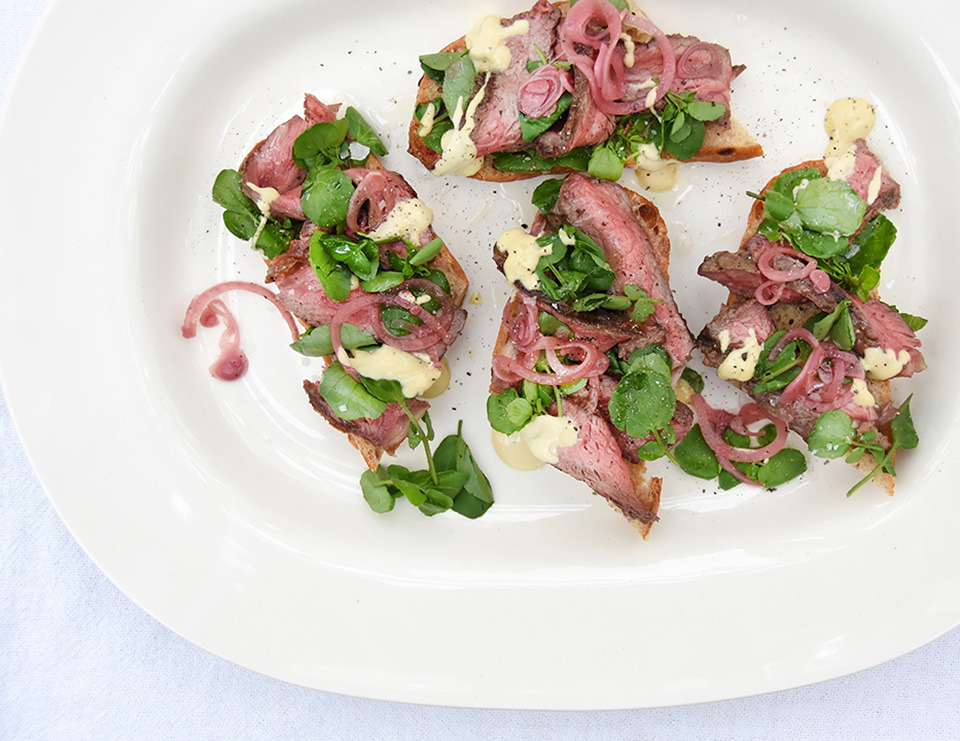 Open Rump Steak Sandwich with Watercress Leaves and Mustard Mayo
Serving steak as an open sandwich is a nifty way to make a little meat go a long way. For this recipe, two rump steaks will easily feed four people and depending on appetites and accompaniments, up to six.
Ingredients
2 organic rump steaks
4 slices of sourdough or ciabatta bread
2 handfuls watercress leaves
2 tsp dijon mustard
2 tbsp mayonnaise
Squeeze of lemon juice
1 red onion, finely sliced
Method
Season the rump steaks and rub with a little oil. Place onto a hot barbecue grill and cook for 2-3 minutes on each side (depending on thickness) until nicely char-grilled on the outside and cooked through to your liking. Remove from the grill and place to one side to rest.
Mix together the dijon mustard and mayonnaise with a touch of lemon juice, salt and pepper. Rub four slices of bread with a little oil and lightly toast on the barbecue on both sides.
Slice the rump steak and pile onto the toasted bread with the watercress leaves. Scatter over the sliced red onion, drizzle with a little mustard mayo on top and season with freshly ground salt and pepper.
For more information on our Cookery School and their courses, please click here.