After the 'hungry gap' of late winter, the arrival of vibrant forced rhubarb brings welcome colour and tart flavours to our plates. For our Cookery School team, this means placing large bunches into their baskets during their daily trips to forage our organic Market Garden for their course ingredients.
Here are three of the team's favourite recipes, which celebrate the onset of the rhubarb season.
RHUBARB & GINGER SORBET
(Serves 6)
The stunning colour and full flavour of this delicious sorbet makes it one of our favourite rhubarb recipes at the COOKERY SCHOOL. It is incredibly simple to make and places this wonderful ingredient at centre stage. We love to serve it with a sprinkling of honeycomb, bee pollen, toasted pistachios or an orange tuille biscuit.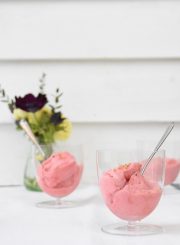 INGREDIENTS:
500g rhubarb
225g caster sugar
1 orange, zest and juice
100ml water
1cm fresh ginger (or a little more to taste)
METHOD:
Trim the ends from the rhubarb and discard. Slice into 2cm pieces and tip into a pan with all of the other ingredients. Bring to a simmer and cook over a moderate heat for a scant 5 minutes, until the rhubarb is only just tender, or al dente (if you cook it for any longer you will lose the bright pink colour).
Pour the mixture into a Vitamix or other high powered blender and blend on high speed until completely smooth. This will take about 3 minutes. If your blender isn't the most powerful and there are any stringy bits of ginger or rhubarb left, then pass the puree through a sieve.
Pour into a bowl and chill until completely cold. Then churn in an ice-cream maker for 15-20 minutes until the sorbet reaches a light, smooth soft-scoop consistency. Serve straight away or store in the freezer in a suitable container.
GENTLY SPICED RHUBARB CHUTNEY
(Makes 5-6 medium jars)
A really interesting chutney full of mild spices and fruit which is great served with a cheeseboard, Ploughman's or to top goats cheese on rye bread. Being a preserve, it's a good way to use up a rhubarb glut and lovely to have something delicious in your cupboard to tuck into throughout the year.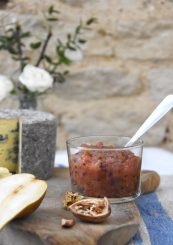 INGREDIENTS:
400g red onions, peeled and grated
450ml red wine vinegar
50g fresh root ginger, peeled and grated
2 cloves garlic, crushed
400g apples, grated
250g dates, pitted and chopped
200g sultanas
1tbsp yellow mustard seeds
1tbsp black mustard seeds
1 tbsp nigella seeds
2 tsp chilli flakes
400g brown sugar
700g rhubarb, sliced into 2cm pieces
METHOD:
Place the onions, vinegar, ginger and garlic in a large saucepan. Bring to the boil and simmer gently for 10 minutes. Then add the apples, dates, sultanas, spices and sugar. Stir well and bring back to a simmer, cooking for 10-15 minutes until then apples are tender. Add the sliced rhubarb and cook gently for 20-30 minutes until the chutney is thick and slightly glossy.
Remove the pan from the heat and leave to cool for a few minutes before spooning into clean, sterilised jars and sealing whilst the chutney is still warm.
PAN SEARED MACKEREL WITH PICKLED RHUBARB AND LAND CRESS
(Serves 4 as a starter)
This piquant rhubarb pickle is the perfect complement to rich, oily mackerel. It is also lovely served alongside creamy soft cheese or smoked fish and will keep happily for a week or so in your fridge.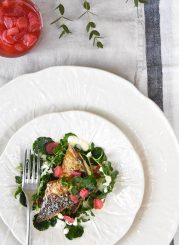 INGREDIENTS:
Pickle:
100ml cider vinegar
100g sugar
1 star anise
5 peppercorns
1 bay leaf
2 sticks rhubarb, cut into 3mm slices
Mackerel and salad:
4 mackerel fillets (pin-bones removed)
2 handfuls of land cress (or watercress)
2tbsp crème frâiche
glug of Exra Virgin Olive Oil
squeeze of lemon juice
salt and pepper
METHOD:
Place the vinegar, sugar, star anise, peppercorns and bay leaf into a saucepan and heat to dissolve the sugar, stirring every so often.
Once the sugar has dissolved, tip in the sliced rhubarb and bring to a simmer. Turn off the heat and leave the pickle to cool in the pan for 10 minutes before pouring into a glass bowl or dish and keeping to one side.
In a small bowl mix the crème frâiche with the lemon juice, olive oil and salt and pepper and keep to one side. Toss the land cress in a little olive oil.
To cook the mackerel, slice each fillet into two pieces on the diagonal and season on both sides. Heat a little oil in a saucepan and once hot, add the mackerel fillets, skin-side down. Cook for 2 minutes until the skin is golden and then flip over to cook for 1 minute on the flesh side. (Do this in two batches if your pan isn't big enough to comfortably hold the pieces of fish).
To serve, place a little land cress on the base of each plate and top each with two pieces of mackerel. Drizzle with a little of the seasoned crème frâiche and lastly the a scattering of the pickled rhubarb.