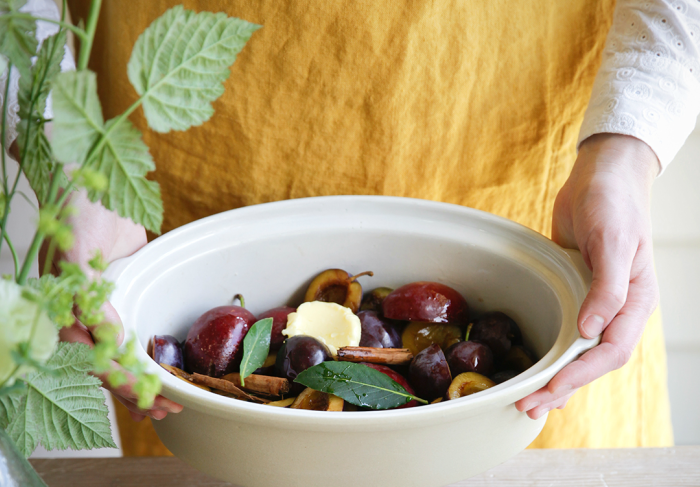 Autumn is perhaps our busiest season around the farm and Market Garden and for me it is one of the most fulfilling times of the year; full of purpose, as we gather our harvest from a fruitful summer and begin to prepare for the winter ahead.
With blackberries still in the hedgerows and plums heavy in the tree, it is a wonderful time of year to get outside and gather produce for the kitchen table.
Our latest E book brings together some of my favourite recipes for this special season, including harvest juices, whole baked heritage squash with garlic & sage butter and seared loin of venison with celeriac purée and plums. I particularly like the recipe for baked plums with honey and juniper, which I have posted below to give you a taste of what the full e book has to offer.
To download your copy please click here.
BAKED WILD PLUMS WITH HONEY & JUNIPER
Truly a celebration of the Autumn season, I like to serve these plums with organic yoghurt and homegrown honey for breakfast.
Alternatively, try serving as a delicious accompaniment to lean venison or seasonal game. Spoon the juices through rich gravy for a little sweetness and colour too.
8 plums (roughly 400g)
4 bay leaves
2 sticks of cinnamon, halved
12 juniper berries
40g butter (optional)*
40g honey
2 tbsps water
Pre-heat the oven to 180°C.
Halve the plums and remove the stones. Transfer to a medium sized pan and add the other ingredients.
Put a lid on the pan and bake in the oven for 10-15 minutes or until the plums are just soft. Transfer to a bowl, cover and store in the fridge before warming through when ready to use.
* If you would prefer to omit the butter, simply add a little more water instead.