Asparagus has such a short season – a fleeting eight weeks, that I try and enjoy it as much as I can during that time. Our Cookery School has put together this simple recipe to celebrate the asparagus which is still poking its head out the ground at the farm. Paired with our light and creamy Daylesford soft cheese, it puts the asparagus centre-stage and makes a quick and easy and option for a light brunch dish, lunch or supper.
For more quick ideas, join us at the Cookery School for one of our lazy brunch or seasonal simple supper courses this coming month: http: https://daylesford.com/cookeryschool/event/lazy-brunch/2018-06-17/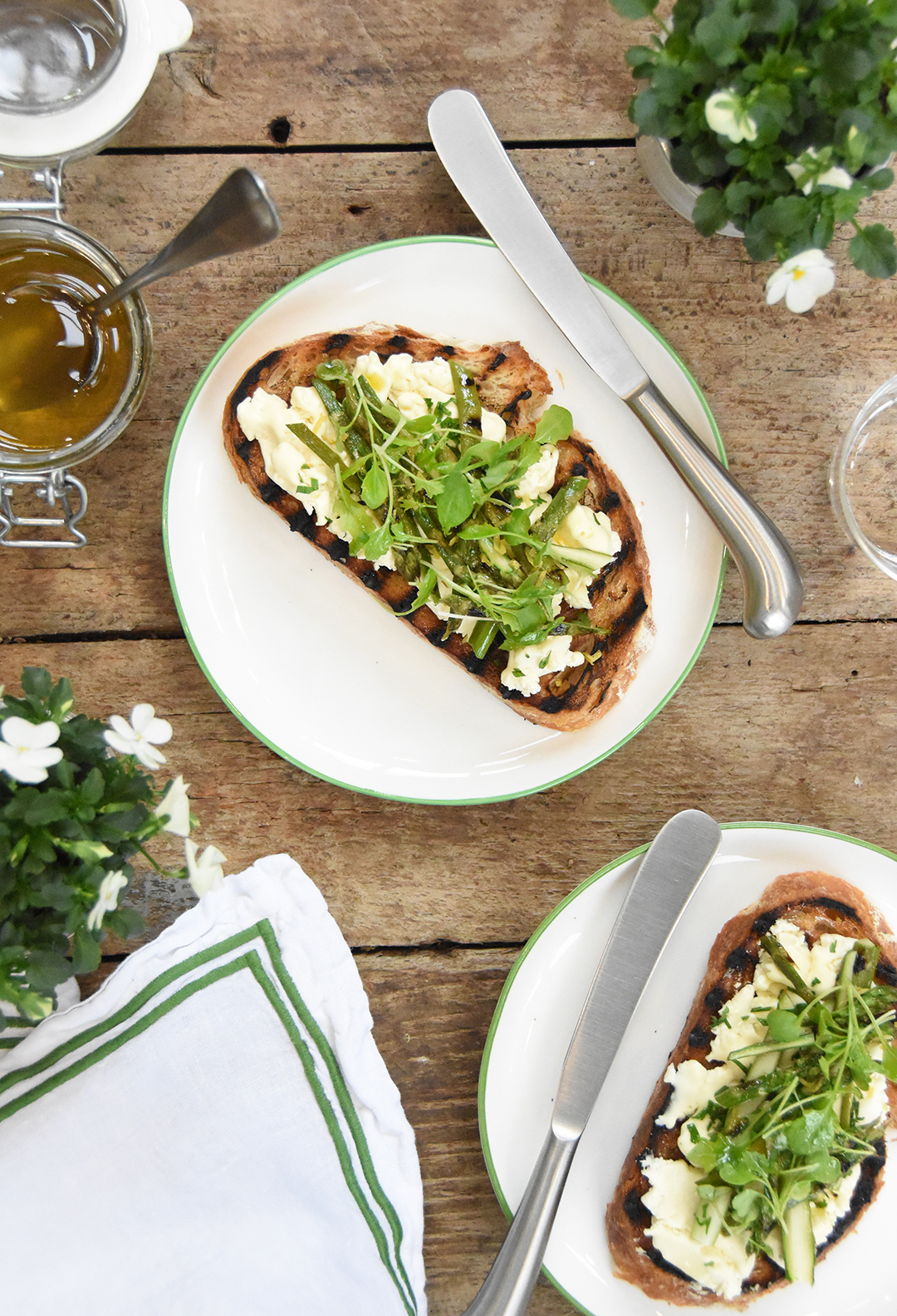 Serves 2
2 thick slices of organic sourdough
1 tsp olive oil
2 asparagus spears
130g fresh soft cheese
drizzle of honey
handful of roughly chopped herbs, such as parsley, chives or mint
Preheat the oven to 180°C and place a griddle pan over a high heat.
Rub both sides of the sourdough slices with the olive oil. Place on the hot griddle and grill until you have clearly defined char lines. Turn over and repeat on the other side.
While the sourdough is toasting, bring a pan of salted water to the boil. Snap off the woody ends from the asparagus and cook in the salted water for 2–4 minutes, until tender, then plunge into a bowl of ice-cold water. When cool, drain well and slice into matchsticks each around 5cm long.
Spread the soft cheese over the toast, arrange the asparagus matchsticks on top and drizzle over the honey. Place on a baking tray in the oven for 5–8 minutes to warm through.
Serve each tartine on a plate, seasoned with salt and pepper and scattered with the herbs.