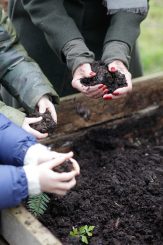 Spring is the time for children to discover their green fingers and this March we are holding the perfect class for inquisitive young minds.
Our Spring Planting Workshop takes place in our Garden Room at the farm on Saturday 11th March and will teach children about planting, growing and recycling bulbs. Students will then be able to take home their planted bulb, to watch it grow and flower.
The short course runs from 10am-12pm and costs £10 per child.