A filling and satisfying soup that offers a wonderfully hearty and satisfying bowl around which family and friends can come together. Made using some of our favourite winter vegetables, fibre-rich lentils and the antioxidant properties of fresh turmeric it is truly brimming with nutritional value.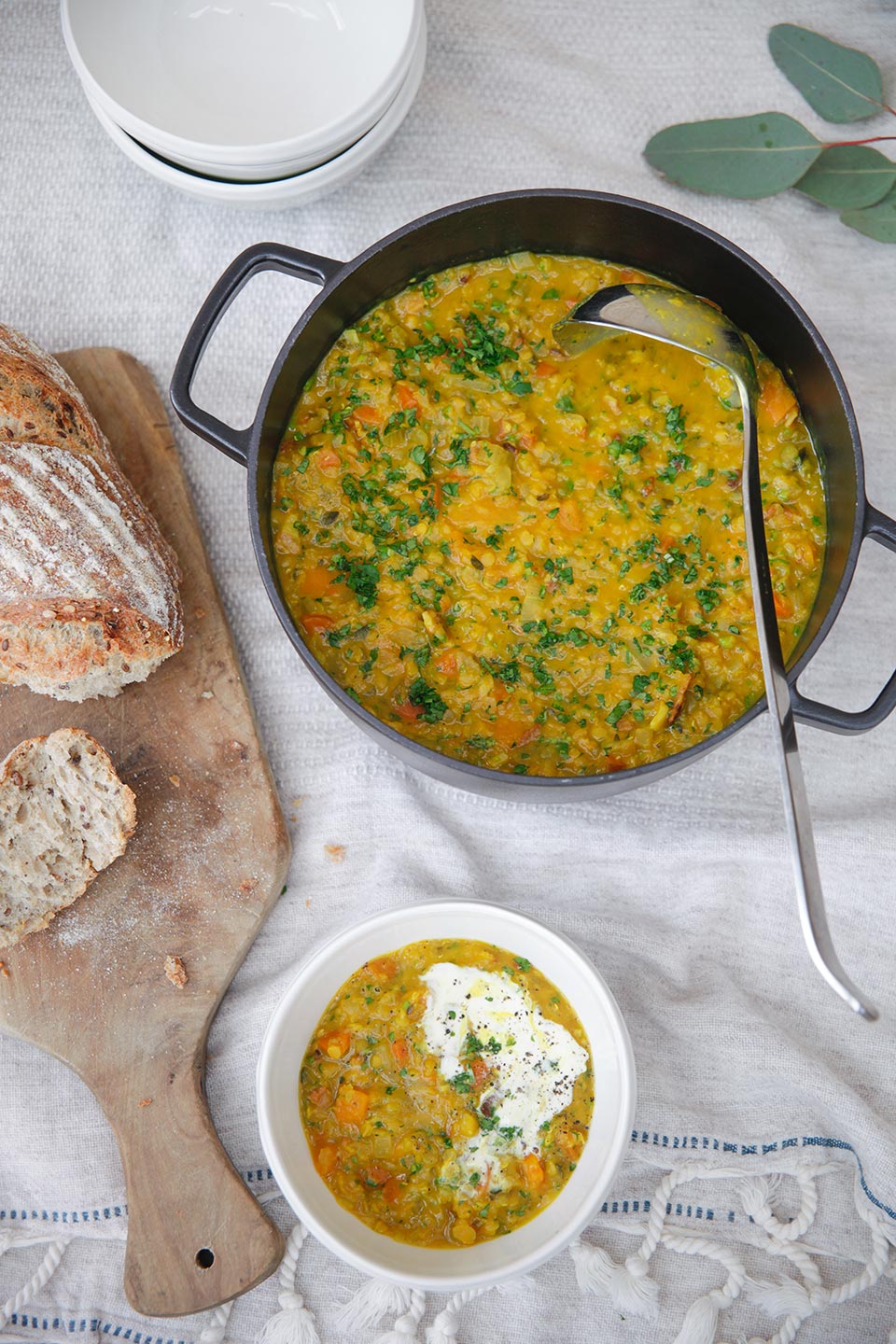 This soup is also delicious should you wish to make it vegetarian. Simply omit the pancetta or bacon and replace the chicken bone broth with vegetable broth. 
The recipe is from our new Daylesford E Book, which you can download for free from here.
Ingredients (Serves 2)
75g pancetta or bacon, finely diced
2 tsps grapeseed oil
1 tbsp butter
1 large onion, finely chopped
1 clove of garlic, finely chopped
1 medium carrot, finely chopped
2 sticks of celery, finely chopped
250g pumpkin or butternut squash, peeled and cut into 1cm cubes
2 tsps fresh thyme, picked leaves only
2 bay leaves
1 tsp fresh turmeric, finely grated
Salt and pepper
100g red split lentils
500ml organic vegetable or chicken bone broth
1 tsp apple cider vinegar
1 tbsp fresh lemon juice
15g parsley, roughly chopped
2 tbsp crème fraiche, optional 
Method
Put the pancetta and 1 tsp of the oil into a heavy-bottomed saucepan and toss over a gentle heat until turning golden brown and crispy. 
Next, add the the remaining 1 tsp of olive oil, butter, onion, garlic, carrot, celery, pumpkin, thyme, bay leaves, turmeric and seasoning.
Saute for 1-2 minutes before adding 2 tsps of water and returning the lid to the pan. Turn the heat to down and gently sweat for 15 minutes. 
Once the pumpkin is just beginning to soften, add the lentils, stock, and apple cider vinegar and bring to the boil. Simmer for 10 minutes or until the lentils are cooked and all of the ingredients have softened. 
Just before serving, stir through the fresh lemon juice and parsley adding the crème fraiche for a little creaminess should you wish.