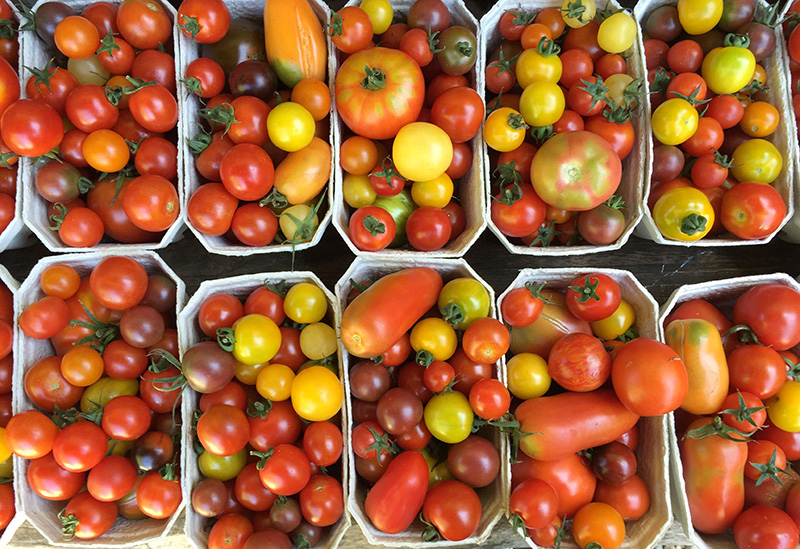 This is a fantastic way of using up ripe tomatoes that are becoming too soft to use for salads. Because you cook the jam quite quickly it retains a beautiful colour and looks almost translucent in the jar. The kick of chilli offsets the sweetness and it works best with something pungent like a mature cheddar or even a goat's cheese.
Ingredients
1kg ripe tomatoes, roughly chopped
2 red chillies, finely chopped (keep in the seeds)
1kg caster sugar
1 bay leaf
1 teaspoon cumin seeds
1 teaspoon fennel seeds
1 teaspoon black peppercorns
½ teaspoon cayenne pepper
2.5cm piece of fresh root ginger, very finely chopped
3 cloves of garlic, finely shopped
2 teaspoons salt
Juice of 1½ lemons
650ml red wine vinegar
Method
Put the tomatoes and chillies in to a bowl, cover with the sugar and leave in the fridge overnight.
When ready to make the jam, put a saucer in to the fridge and get it really cold, ready to test the setting point.
Make a little spice bag by laying the bay leaf in the centre of a small square of muslin, add the cumin and fennel seeds, peppercorns and cayenne pepper, then gather up and tie securely.
Transfer the tomato and chilli mixture to a heavy-based pan, along with the ginger and garlic, salt, lemon juice and vinegar, and add the spice bag.
Bring to the boil, then turn down the heat to a simmer, stirring regularly to ensure the mixture doesn't burn on the bottom of the pan as it thickens.
After about 30 minutes, test to see if the jam has reached setting point. Take the pan off the heat, and the cold saucer from the fridge.
Spoon out a tablespoon of jam on to it, wait a minute, then push your finger through the middle of it. If it leaves a line that stays clean (i.e. the jam doesn't run back into it) and the jam wrinkles slightly, it has reached setting point. If not, continue to boil and keep testing.
Have ready your hot, sterilised jars, fill them with the hot jam, close the jars, then seal in a pan of boiling water.