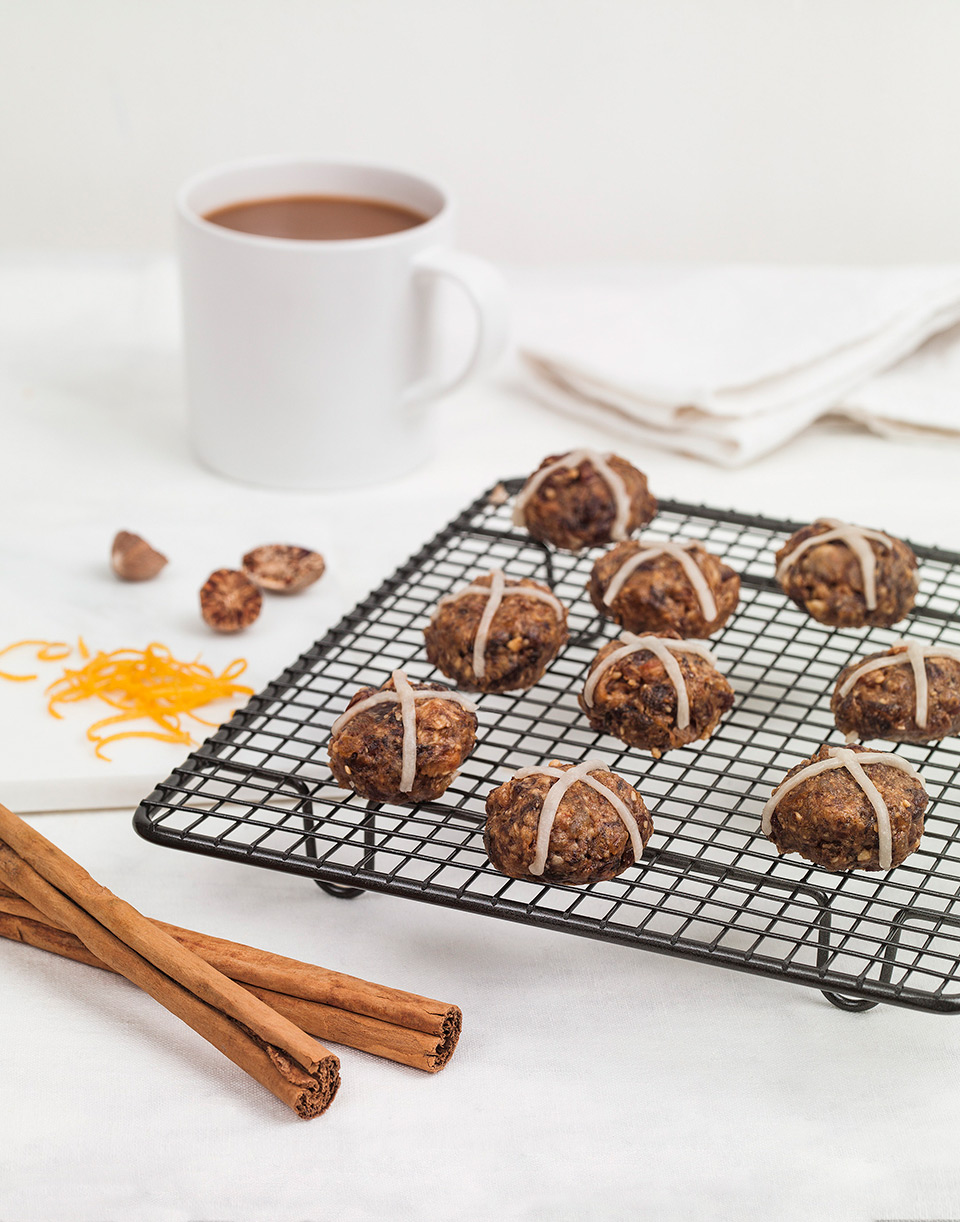 For a healthy twist this Easter, try our raw hot cross bites with spices, fruit, walnuts, honey and coconut oil – an excellent source of slow-release energy to keep you fuelled throughout the most challenging Easter egg hunts.
Ingredients (Makes 25 Bites)
200G Walnuts
120G Whole Dates
120G Sultanas
120G Raisins
100G Orange Peel
5G Ground Cinnamon
2G Mixed Spice
30G Coconut Oil
30G Honey
For Cross Topping
50G Spelt Flour
15G Sunflower Oil
50G Water
Method (Difficulty: Easy / 6 Hrs)
Combine All Ingredients Except The Honey And Coconut Oil In A Food Processor And Blend To A Fine Crumb.
Melt The Coconut Oil With The Honey In A Small Saucepan Until Warm But Not Hot
Slowly Add The Honey And Coconut Oil Mixture To The Food Processor On A Slow Speed Until All The Ingredients Are Combined.
Shape Into 25 Evenly-Sized Balls. Place On A Baking Tray Lined With Greaseproof Paper, Making Sure You Leave A Small Gap In Between Them. Using Your Fingers, Flatten The Bites Slightly.
To Make The Topping, Place The Spelt Flour In A Small Mixing Bowl And Slowly Add The Water And Oil To The Flour, Whisking By Hand Until You Get An Elastic Paste Consistency.
Spoon The Mixer In To A Piping Bag With A Very Small Nozzle And Pipe The Cross On The Top.
To Finish, Either Place The Baking Tray Of Bites In A Dehydrator For 12 Hours At 46°C, Or In A Conventional Oven At Gas Mark ¼  Or At 110°C For 6 Hours.
The Finish Will Be A Moist Bite With Crispy Cross Topping, great for a healthy Easter snack.