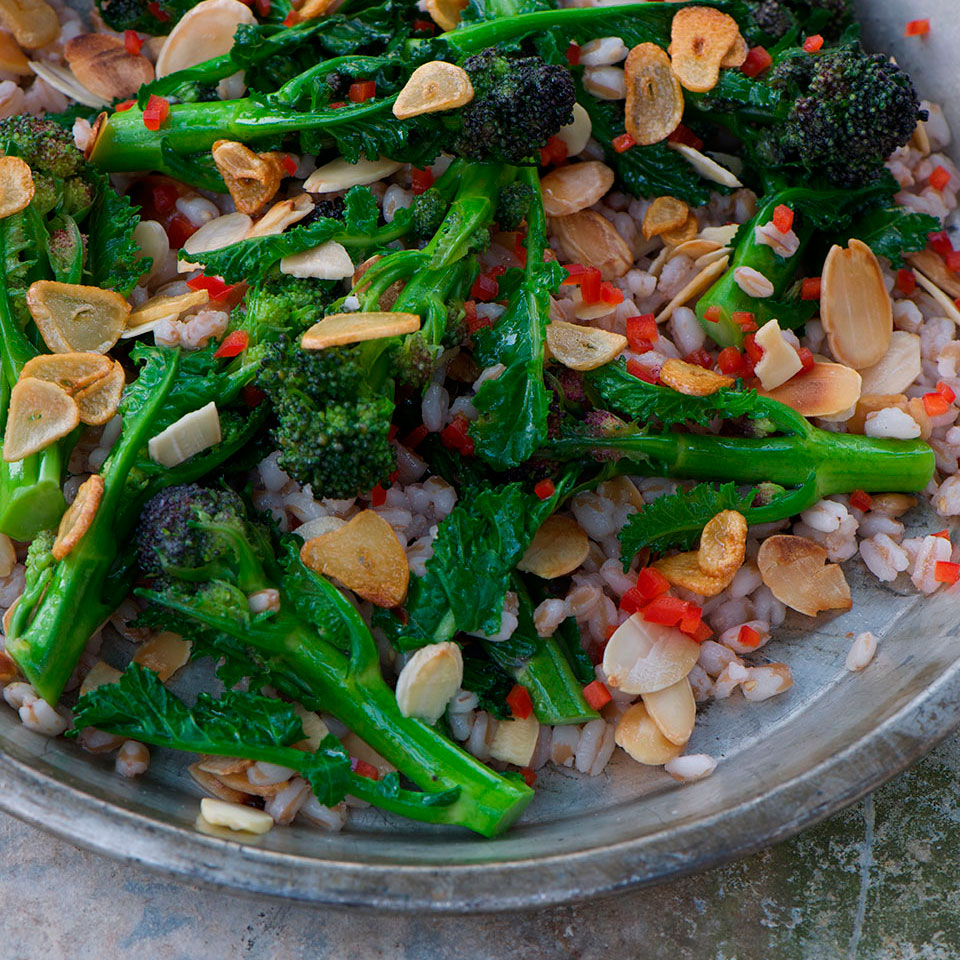 This recipe celebrates purple sprouting broccoli. The spelt adds a little texture, as do the garlic crisps and almonds. Crisping the garlic also gives softer bursts of flavour, which complement the broccoli, rather than overpowering it.
Ingredients (Serves 4)
Sea salt and freshly ground black pepper
125g pearled spelt
800g purple sprouting broccoli (about 500g after stalk removed)
150ml olive oil
4 cloves of garlic, very finely sliced
20g toasted flaked almonds
zest and juice of 1 lemon
1 plump red chilli, deseeded and finely chopped
Method
Half fill a medium saucepan with water, add 1/2 teaspoon of salt and bring to the boil. Stir in the spelt and return to a simmer. Cook for about 20-30 minutes, or until the spelt is just tender, stirring occasionally, then drain and rinse under running water until cold.
Drain well and tip into a large bowl.
While the spelt is cooking, half fill a large saucepan with water and bring to the boil. Add the broccoli and bring back to the boil, then take off the heat immediately, sot hat the broccoli stays crisp.
Drain through a colander under running water until completely cold. Leave to drain for 10 minutes then tip into the bowl with the spelt.
Heat 100ml of the oil in a small frying pan and fry the garlic slices gently for 2-3 minutes until evenly golden and crisp, taking care not to let them burn, or else they will taste bitter. Remove from the heat, lift out with a slotted spoon and drain on kitchen paper.
Add the almonds, lemon zest and juice and chilli to the bowl of spelt and broccoli, along with the rest of the olive oil, a good pinch of salt and some freshly ground black pepper. Toss well tip into a wide serving bowl or platter, sprinkle with the reserved crispy garlic slivers and serve.