Over the last year, our nutritionists, suppliers, chefs and creative teams have been working tirelessly on a very exciting new product range at Daylesford – our brand new cold press drinks range, which includes nut milks, juices, booster shots, cultured kefir and smoothies.

In celebration, we spoke to our resident Nutritionist Rhaya Jordan to go a little deeper into what each of these cold press drinks can do for our health and wellbeing.
Cold Press Juices:
The juice v's smoothie debate has been running for some time now as to who reigns supreme on the healthy stakes. But to be honest, these two drinks are more different than you might think, so we prefer not to compare them but instead choose to celebrate them for their unique benefits.
A Question of Fibre:
Contrary to what many believe, did you know that there is still fibre in your juice? There are two types of fibre; soluble and insoluble, and as the name suggests, soluble fibre is liquid and passes through the juicing process. This is one of the reasons that cold pressed juices can be so filling.
A Question of Quantity:
The second difference between the two comes down to the quantity of plant-based nutrients found in both juices and smoothies. For a smoothie, perhaps you may blitz roughly 500-700g of fruit and vegetables per serving. However, when it comes to juices, you need to press a much increased quantity of produce to yield a similar sized serving. This could mean anything between 800g to 1kg of ingredients. As a result, you can understand that there may well be a higher percentage of plant phytochemicals in a similar serving of juice as there would be in a smoothie. Consequently, if you are after a very big dose of antioxidants and plant pigments, pick up a juice

Cold Press Smoothies: Fast Food or Junk Food?
Smoothies are the ultimate fast food! And like fast food, smoothies can be utter junk food. The other end of the scale however sees entirely nourishing smoothies made using organic fresh produce and the best quality raw fats in the form of nut butters and milks in their unadulterated forms (raw fats in your smoothie will help you to absorb vitamin A, beta-carotene and other nutrients). Smoothies, well made with good ingredients, can be the ultimate way to ensure your body is nourished – while they offer a wonderfully gentle option for the stomach when busy schedules mean that your digestion will be half shut down as a result of stress and distraction. Richer and more hearty than juices, a well made smoothie with high levels of protein will keep you fuller for longer, offer vital vitamins and minerals for glowing skin and fibre for optimal gut health.

Nut Milks: Nuts or Not?
At Daylesford we are lucky enough to have one of the most beautiful organic dairy herds in England who supply us with the most deliciously rich organic milk. However, dairy is not for everyone, and even those who do use our milk can supplement their diets by drinking nut milks occasionally to add variety to their diet. Nut milks tend to be lower in protein than dairy, but they can still be considered a good source of protein and healthy fats, while they are rich in soothing minerals like magnesium too. Nut milks are lighter to digest and when on the run you might find you feel light and clear on drinking them. We at Daylesford are also very much in favour of eating more plant-based foods and this is a particularly delicious way of doing just that.
Perhaps our favourite drink in the new range is our Tiger Nut Milk. Tiger nuts in fact are a tuber, so despite the name are not a nut at all – in fact, they are not even related to nuts!  So if you want some of the nutrition but need to avoid nuts, tiger "nut" milk is the thing for you!  (please note that we cannot guarantee that our Tiger Nut Milk is made in an entirely nut-free environment because we make it in the same place as our Almond Drink and other Nut Milks).
Shots: Natural Boosters
Our newly refurbished B Fresh shot of ginger, turmeric, lemon and honey offers the body an intense, almost medicinal hit of strong spices and nourishing ingredients. Ginger is a stimulating, warming and enlivening replacement for caffeine, or an old fashioned pick me up for when you begin to feel under the weather. Turmeric, as so many of us now know, offers a wide ranging list of benefits for the body, and perhaps most importantly a vital hit for the immune system. How much better to pick yourself up when you are flagging with a shot of organic nutrition than to reach for another coffee or Lemsip? Add to juices and smoothies or down in one!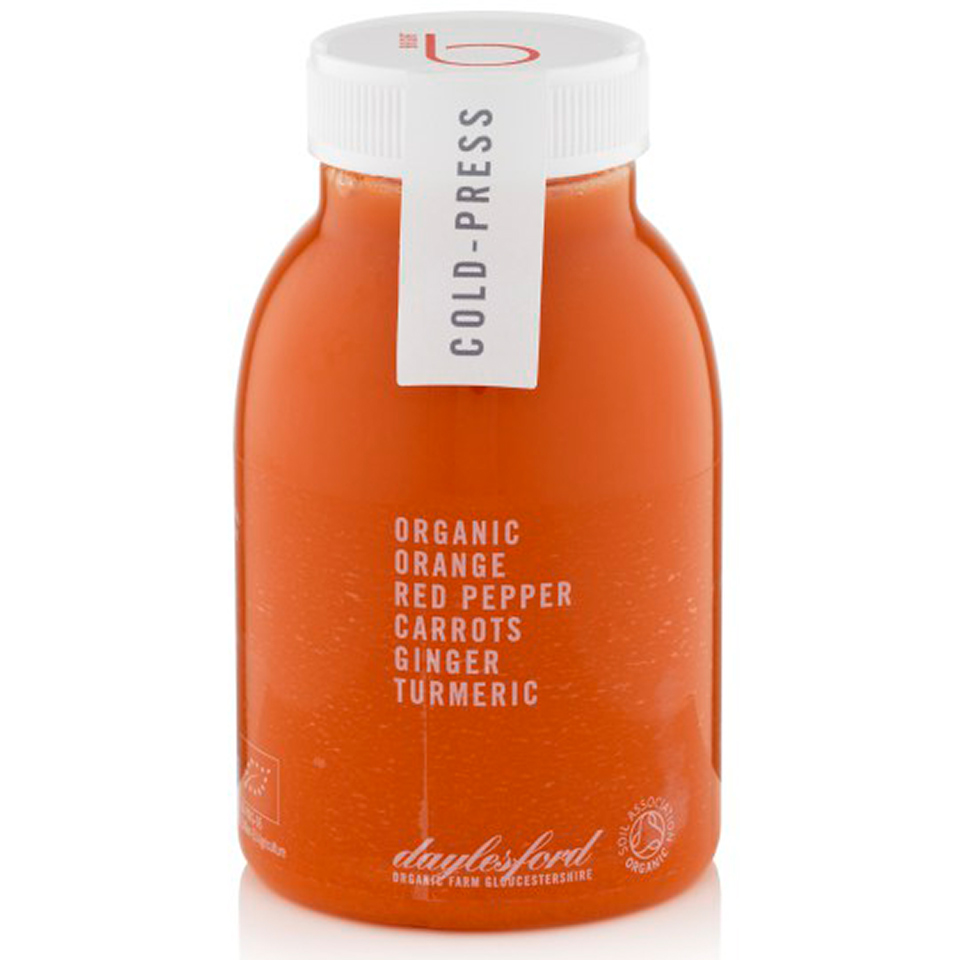 Organic Dairy Kefir: Feed Your Core
Though not technically cold pressed, our new Kefir is a product that we could not be more proud of. Made from the milk of our organic, Pedigree British Friesian dairy cows, this subtly fermented drink is designed to enrich the body with natural, hugely beneficial cultures which work to help promote optimal gut health. Our Kefir is made in our Cotswolds Creamery by our brilliant team, and as you may know, our dairy cows are out at pasture just a few hundred feet away. It really doesn't get more local than this.
This is a smooth, tangy product that is perfect for smoothies, dressings, dips, marinating meat and vegetables or mixed into bread, dough's and batters. Eating and drinking fermented foods and drinks are central to our belief at Daylesford that a healthy core means a healthy body; our organic Kefir lies at the very heart of this ethos.