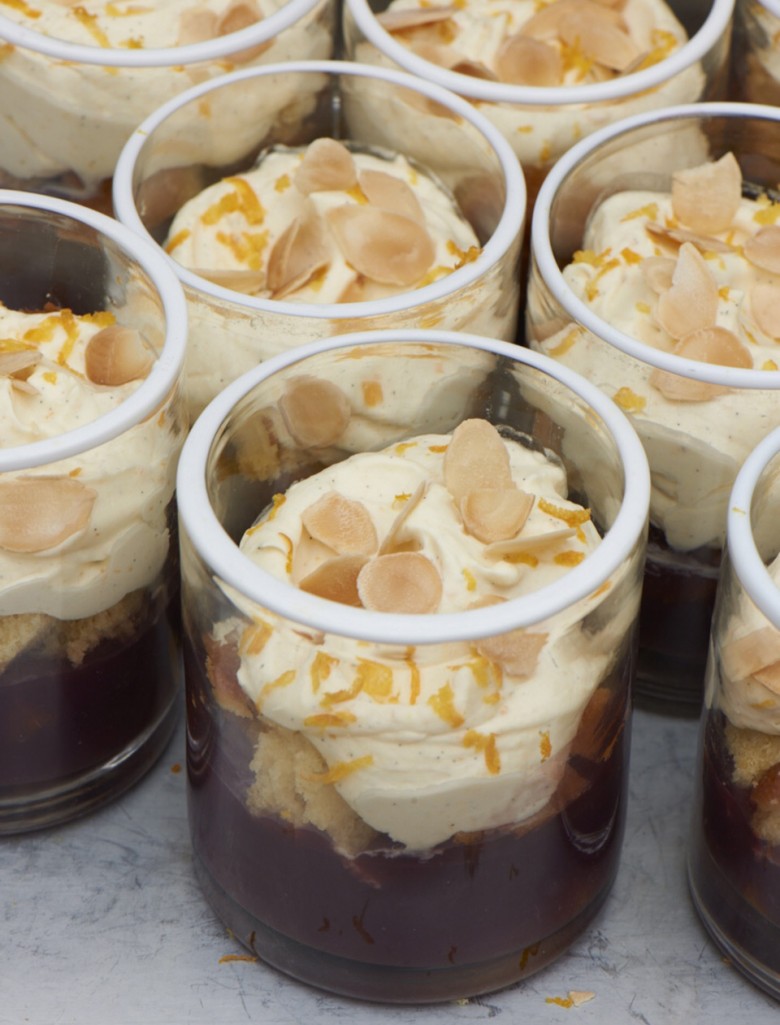 A rich, spiced pudding that is perfect for this time of year.
Ingredients
2 oranges
12 small pieces of sponge cake
2 tablespoons of brandy
180g double cream
4 tablespoons flaked almonds, lightly toasted in a dry pan
Icing sugar for dusting
For the mulled wine jelly
½ an orange
150ml red wine
A pinch of ground nutmeg
½ a cinnamon stick
A pinch of ground allspice
5 whole cloves
2 tablespoons caster sugar
1 sprig of fresh mint
1 tablespoon brandy
1 tablespoon whisky
3 tablespoons orange juice
2 gelatine leaves
Method
First make the jelly. Peel the skin from the orange and put into a pan. Cut the flesh into rough pieces and add to the pan with the rest of the jelly ingredients, except for the gelatine. Bring to the simmer for 4-5 minutes, then turn off the heat and leave to infuse for 2 hours.
Strain the juice into a bowl through a fine sieve to remove the orange pieces and spices (throw these away), then return the juice to the pan and warm very gently.
Soak the gelatine leaves in a bowl of ice-cold water until soft (the water must be cold or the gelatine will dissolve), then take out, squeeze and add to the pan of warm juice, stirring until the gelatine dissolves. Take off the heat and keep to one side.
Finely grate the zest from one of the 2 oranges and keep on a saucer (you will be stirring this into the cream later), then peel and segment both. Divide the segments between four tumblers or small bowls and pour the slightly warm jelly over them. Put into the fridge to set for about 3 hours, until firm.
Arrange the cubes of sponge cake over the top of the jelly and drizzle with the brandy. Whip the cream with the reserved orange zest until it falls from a spoon and spoon over the sponge. Put back in to the fridge for 30 minutes, then top with the flaked almonds. Finish with a dusting of icing sugar and serve.