We grow thousands of heritage tomatoes in our organic market garden at Daylesford each year –  right now, varieties include Gardener's Delight, Tigerella, Golden Cherry, Sungold, Rosella, Oligold and Purple Russian.
What better way to celebrate their arrival than with an elegant tomato, goat's cheese and mint tart with a simple red onion salad. Try to choose a variety of shapes and colours when you select your tomatoes for great-looking tarts.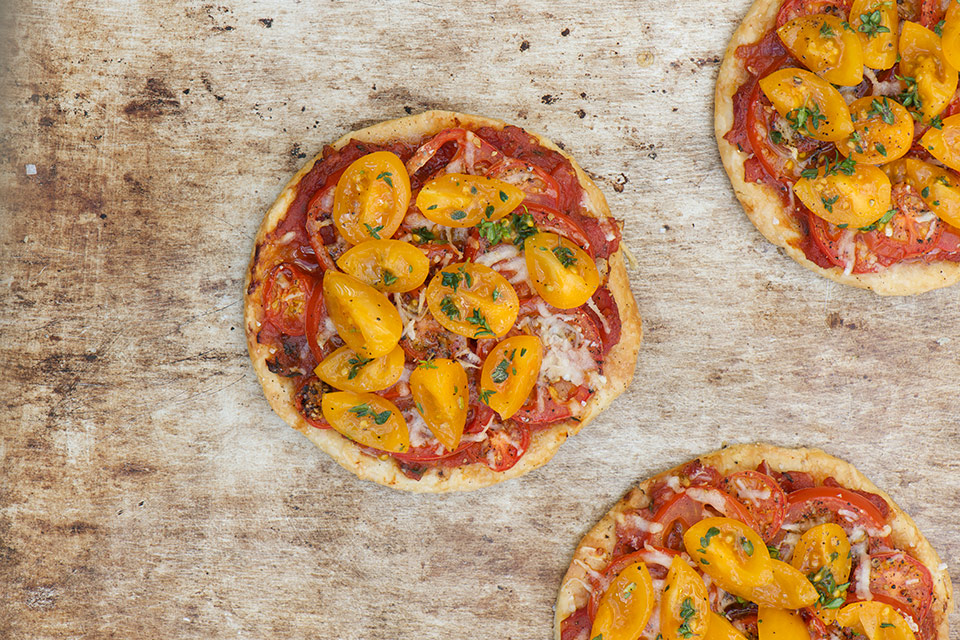 Ingredients
Puff pastry, 2 large discs about 5″ wide
4 or 5 heritage tomatoes
4 tbsp Leoube extra virgin olive oil
1 tbsp cider vinegar
1 tsp Dijon mustard
1 tsp honey
1 red onion
Handful of seasonal leaves
Fresh mint leaves
1 Oddington goats' cheese (about 70g)
2 tbsp Leoube olive tapenade
Method
Heat the oven to 190°C. Bring a large pot of water to the boil. Remove the core from the tomatoes and make a small score to split the skin. Pop the tomatoes into the boiling water for 6-10 seconds, or until the skin splits. Plunge straight into iced water. When chilled, remove, de-skin and slice finely.
Lay the puff pastry discs on a flat tray, preferably with a piece of greaseproof paper, and arrange the tomato slices on top in a rosette. Season with salt and pepper and pop into the oven for 14-16 minutes or until golden brown, sprinkling the goat's cheese over the top for the last few minutes.
In the meantime, make the dressing by combining the mustard, honey, vinegar and extra virgin olive oil. Season to taste and set aside.
Slice the red onions as finely as possible, keeping the onions whole to achieve nice rings. Mix these with the salad leaves, add torn leaves of mint and dress at the very last minute.
When the tart is ready, take it out of the oven, pop on to a plate and finish with the dressed salad and a spoonful of black olive tapenade.