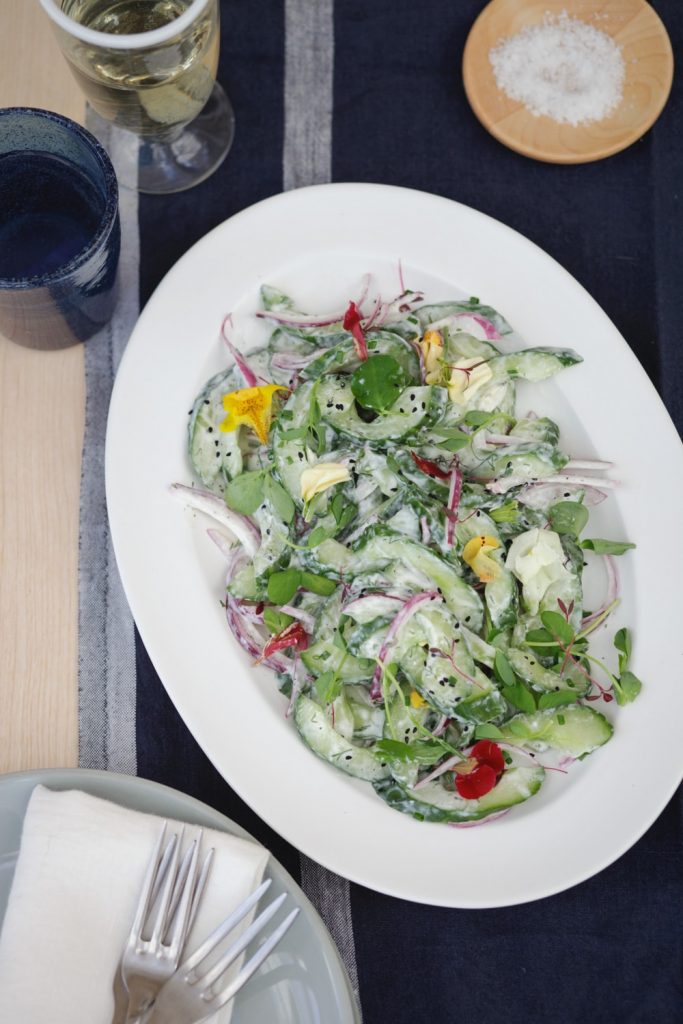 Simple, light and refreshing this summer salad includes bee-friendly herbs and flowers as garnishes.
In the Market Garden, we support our bees by growing flowering crops and allowing our salad brassicas to flower. Just as the bees rely on our efforts, we depend on their ability and hard work to pollinate crops. By maintaining a growing diversity, we create a source of nectar to keep these valuable pollinators on site.
SALAD:
1 large cucumber (roughly 500g) seeded centre removed
1⁄2 red onion, peeled and finely sliced
DRESSING:
100g organic natural yoghurt
2.5 tbsp lemon juice
1⁄4 tsp apple cider vinegar
1 tbsp dill, finely chopped
1 tbsp mint, finely chopped
1⁄4 tsp salt generous twist of black pepper
GARNISH:
Nigella seeds or freshly chopped chives
Edible flowers such as chive tops, borage or fennel flowers
Slice (and peel if you wish) the cucumber on an angle into strips about 0.5cm thick. Transfer to a bowl with the red onion and toss together.
Put all of the ingredients for the dressing into a separate bowl and whisk thoroughly to combine. Pour the dressing over the cucumber and toss until evenly coated. Sprinkle with the Nigella seeds and edible flowers before enjoying straight away.