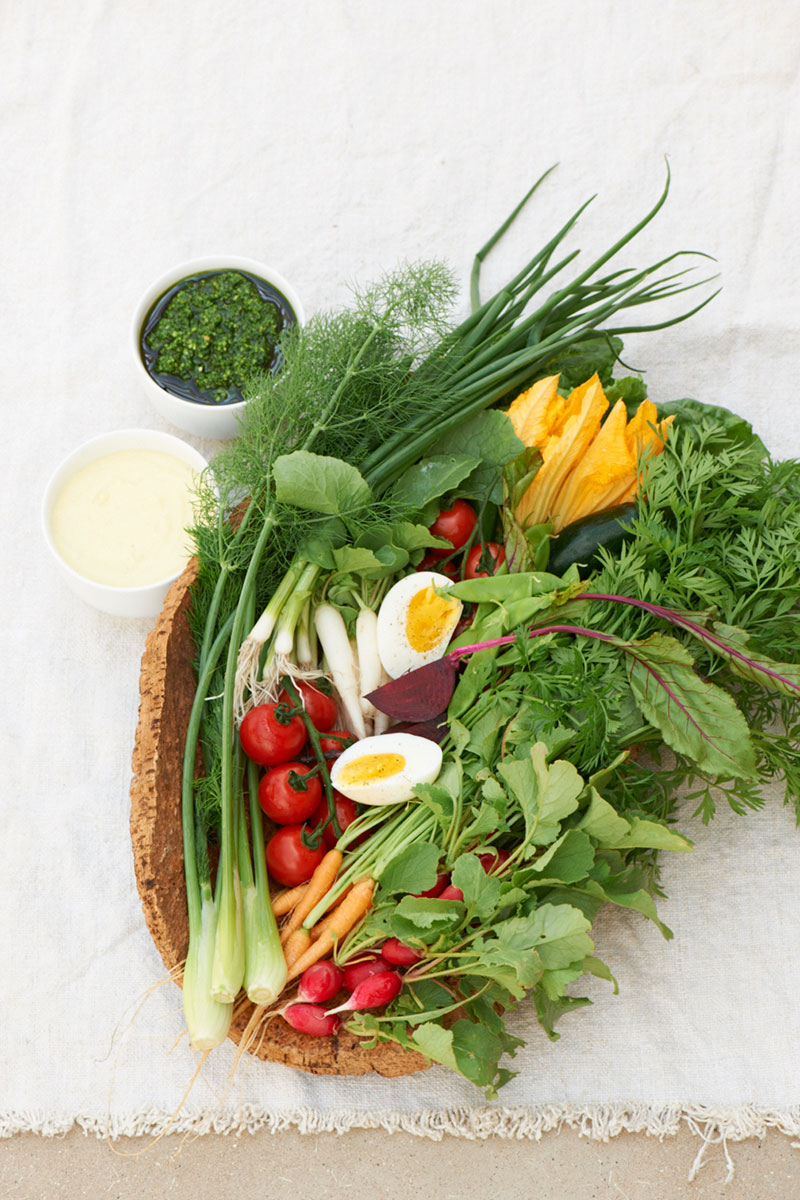 This is simply about celebrating the bounty of the summer garden on any given day.

Ingredients (serves 4)
4 medium eggs
a pinch of sea salt
1 bunch of asparagus, woody ends removed
2 bunches of baby radishes, trimmed
1 bunch of baby carrots, trimmed, stalks left on
2 handfuls of sugar snap peas
2 baby gem lettuces, halves lengthways
3 stalks of vine cherry tomatoes (about 20 tomatoes)
5 or 6 spring onions, trimmed
4 slices of good bread, preferably sourdough
1 handful of pea shoots
For the cheddar sauce:
2 egg yolks
300g creme fraiche
60g Cheddar cheese, finely grated
40g Parmesan cheese, finely grated
sea salt & freshly ground black pepper
For the salsa verde mayonnaise:
40g fresh parsley leaves, roughly chopped
20g fresh mint leaves, roughly chopped
30g rocket leaves, roughly chopped
1 clove of garlic, roughly chopped
3 tablespoons capers
4 heaped tablespoons Dijon mustard
160ml olive oil
4 anchovy fillets
160ml mayonnaise
Method
Have the vegetables at room temperature. Bring a medium pan of water to the boil and add a pinch of sea salt. Gently lower in the eggs and simmer for exactly 7 minutes. Take off the heat and rinse them immediately in cold water to prevent discolouring, then peel the eggs.
Arrange the prepared vegetables on a board or platter.
Toast the bread until crisp – either under the grill, or, if possible, on a medium hot griddle pan until both sides are nicely charred. Cut each slice into 3 fat soldiers and arrange with the vegetables.
Halve the eggs and add to the platter, then sprinkle with the pea shoots.
For the Cheddar sauce, put the egg yolks and creme fraiche into a heatproof bowl over a pan of simmering water (making sure the base of the bowl doesn't touch the water) and whisk constantly until the mixture becomes hot and slightly thick. Take off the heat, add the grated cheeses, gently mix until all the cheese has melted (this will thicken the sauce fully), then check for seasoning.
For the salsa verde mayonnaise, mix all the ingredients apart from the mayonnaise in a bowl and leave to stand for 10 minutes to allow the flavours to infuse into one another. Blend to a coarse paste (or do this with a pestle and mortar). Put the mayonnaise into another bowl and slowly whisk in the blended herb mixture, a little at a time. Do this slowly, to avoid the mayonnaise separating. Chill in the fridge until needed.
Have the hot Cheddar sauce and chilled salsa verde mayonnaise in separate pots and serve both alongside the crudités.