In the weather we've been having recently, I just want to eat something light and very refreshing in the evening so a simple consommé is perfect. It is also a dish that sums up the way I like to eat in the summer, placing a very seasonal ingredient – beautiful sun-ripened tomatoes – at the centre of the plate to let its flavours shine.
The soup is clean-tasting and fresh and a wonderful celebration of the season. It's taken from my book Nurture, which contains lots more summer recipes like it if you're looking for inspiration about what to eat in the heat.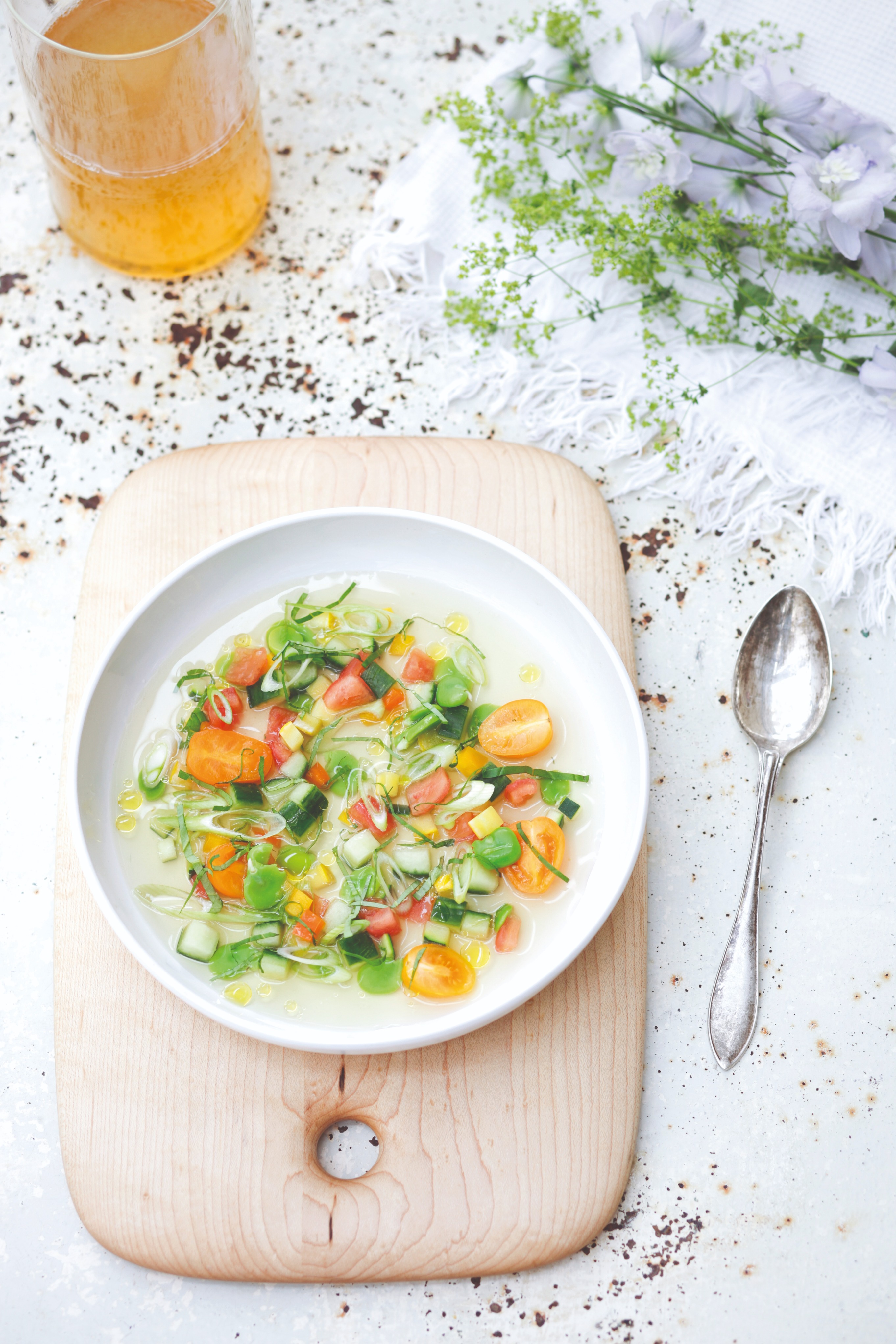 Serves 4–6
2kg very ripe tomatoes, roughly chopped
2 celery sticks, roughly chopped
1 cucumber, roughly chopped
1 red onion, roughly chopped
2 tbsp olive oil
1 tsp Tabasco
2 tsp Worcestershire sauce
1 tbsp celery salt
To garnish
½ cucumber, deseeded and finely diced
½ courgette, deseeded and finely diced
½ red pepper, deseeded and finely diced
½ yellow pepper, deseeded and finely diced
20 broad beans, blanched and outer skins removed
20 basil leaves, torn
olive oil, to drizzle
Put the tomatoes, celery, cucumber and red onion into a food processor and pulse until you have
a rough purée. Mix in the olive oil, Tabasco, Worcestershire sauce and celery salt.
Set a jelly bag or sieve lined with muslin over a bowl and pour the mixture into it, allowing it to drip into the bowl overnight. The next day, throw away the pulp and sieve the consommé once more.
Serve the soup chilled with everyone adding their own garnish and drizzling over a little olive oil.