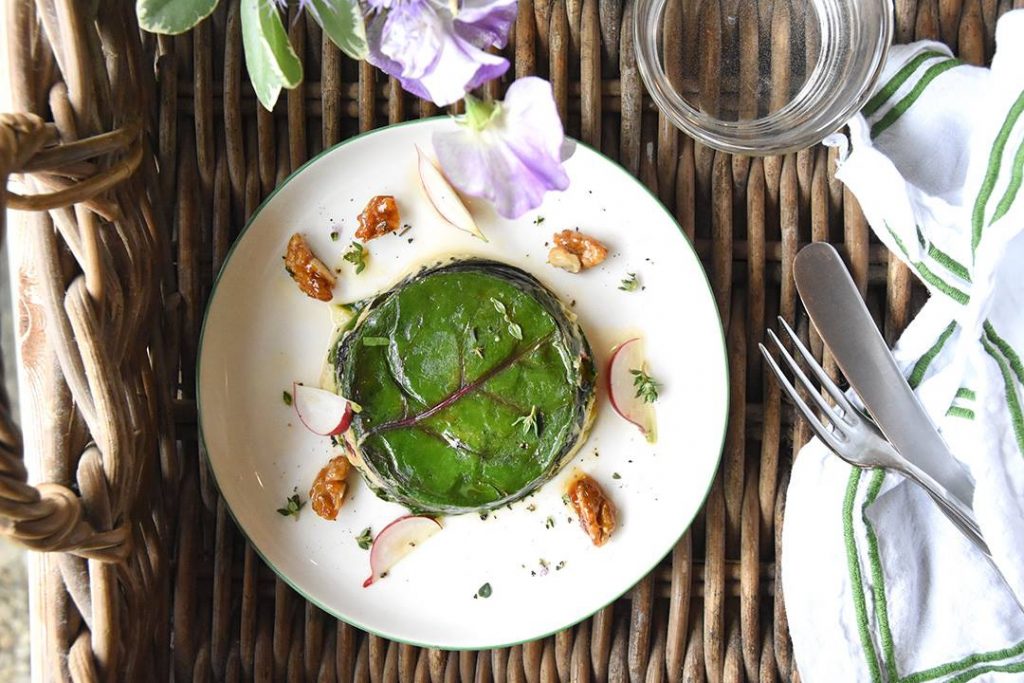 A simple, yet impressive dish that makes the most of new season chard, leaks and carrots.
Serves 2
INGREDIENTS:
1/2 a leek
1 shallot
1/2 a carrot
1 clove garlic
20g butter
leaves from 2 stalks of thyme
1 tbsp créme frâiche
1 egg
1 tbsp soft herbs such as parsley, coriander, chives or chervil
100g soft cheese, such as feta, crumbled
4 large chard leaves
Handful of walnuts
1 tbsp honey
Salt & pepper
Salad leaves
METHOD:
Begin by slicing all the vegetables apart from the chard into a thin julienne and then gently fry them in a heavy bottomed pan with the butter, thyme, pinch of salt and pepper, until they have softened and sweated nicely. Add to the sautéed vegetables the crème frâiche and allow it to cook out for a few moments until thickened slightly. Stir through the beaten egg, chopped soft herbs and seasonal cheese.
While this is happening bring a pan of seasoned water to a boil and prepare a bowl of ice water. Blanch the chard for 2-3 min and refresh in the ice cold water to stop the cooking and retain that beautiful colour. Pat them dry and set aside.
In a lightly greased 10cm tart tin, lay two chard leaves on the bottom then spoon in the vegetable mixture. Then seal this in with the remaining two leaves and cover with baking parchment then bake at 150ºc for around 10-15 minutes.
While the parcel is finishing off in the oven put a frying pan on a moderate heat, put in the honey and walnuts and cook until the honey is thick, then pour onto a sheet of baking parchment and allow to cool.
Take the parcel from the oven and carefully turn out. Garnish with the chopped caramelised walnuts and a handful of dressed leaves.