Daylesford Cookery School has come up with some great recipes to make the most of your leftover food from Christmas Day and which would make a delicious lunch or snack on Boxing Day.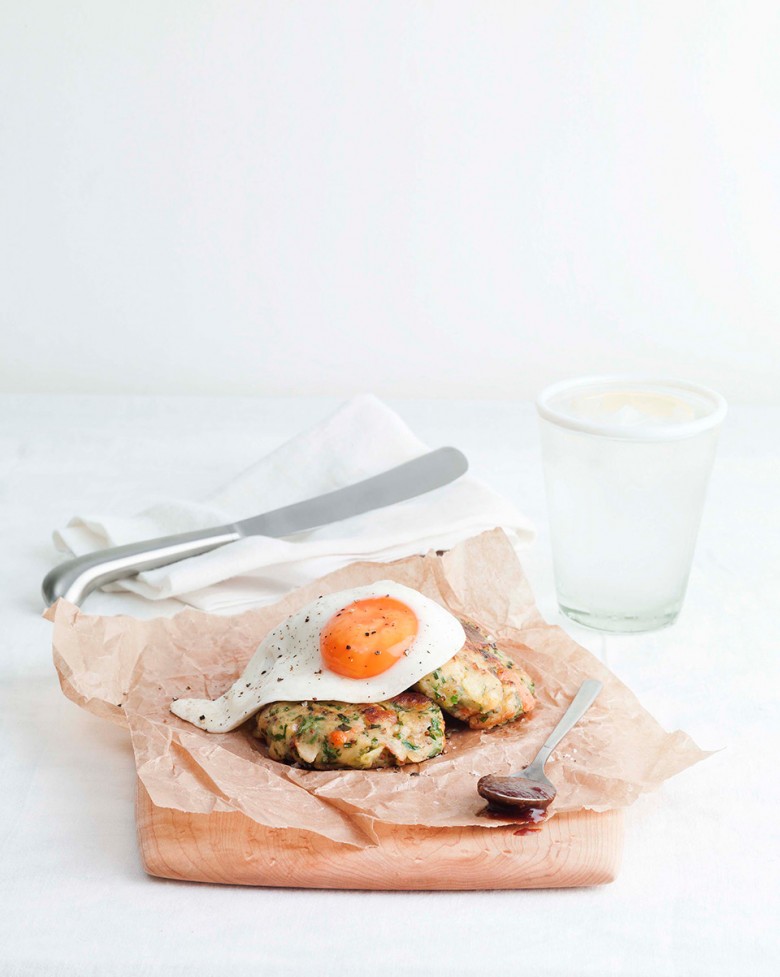 Leftover Bubble & Squeak cakes with grain mustard and a fried egg
This is a fantastic way to use up your leftover roasted vegetables, sprouts and potatoes on Boxing Day. These little cakes could easily be brunch, late lunch or even a quick supper after a busy Christmas Day.
Ingredients (Serves 2):
Roast potatoes 6-8
Egg yolks 3
Leftover sprouts Handful
Grain mustard 1 tbsp.
Roasted vegetables Handful
Seasonal salad Leaves
Fresh herbs Handful
Brown sauce Optional
Flour 2 tbsp.
Blue Legbar eggs 4
Butter 25g
Method
Begin making the mash by crushing the roasted potatoes in a large bowl. Add to this the chopped up root vegetables, sprouts, lots of fresh herbs and the grain mustard, seasoning well with salt and pepper. Next, add the egg yolks to bind the mixture together with the flour to dry it out slightly – you may not need all the flour. Give the mixture a really good squeeze with your hands to bring everything together. It should hold without being sticky.
Dust a smooth surface with flour and shape the mixture into four cakes – a palette knife is incredibly helpful for this. Heat a pan with a dash of grape seed oil and the knob or two of butter and fry until golden on both sides – if you like, you can pop these into the oven for a few minutes to warm through.
Finally, fry the eggs in the last of the butter with a dash of oil over a low heat until just cooked, season with salt and pepper and arrange the cakes on to four plates, finishing with the eggs and a dollop of brown sauce.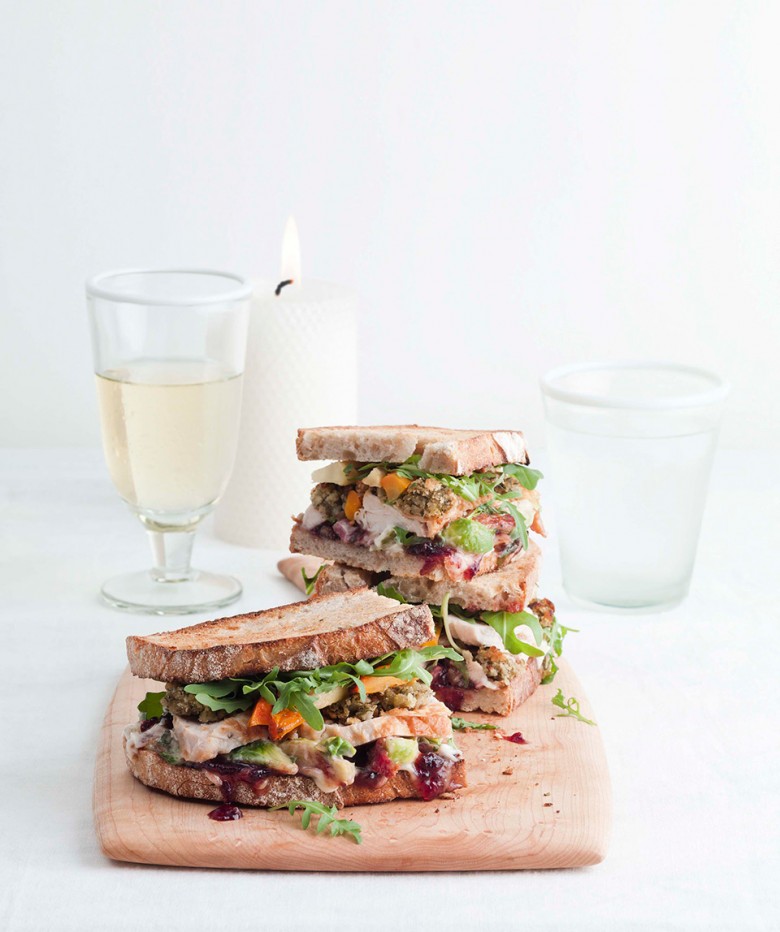 The Ultimate Christmas Leftover Sandwich
If the bubble and squeak cakes are not your cup of tea, this sandwich is a fantastic Boxing Day treat. At home, we stack it as high as possible and enjoy together for a late lunch.
Ingredients (Serves 4):
Sourdough bread 8 thick slices
Leftover sprouts Handful
Mayonnaise 8 tbsp.
Streaky bacon 4 rashers
Cranberry sauce 4 tbsp.
Double cream 100ml
Cooked turkey, thigh or breast 8 slices
Root vegetables Handful
Stuffing –
Tarragon Leaves
Lemon ½
Rocket Leaves
Method
Begin by preparing the sprouts. Use a sharp knife or a pair of scissors to cut the bacon into thin strips. Pop a little oil in a hot frying pan and add the bacon, frying until golden. Add the chopped up sprouts and the cream and boil hard until thick. Add the tarragon, season well with salt and pepper and set aside.
Top the turkey slices with the stuffing and popping under a hot grill to heat through – it is very important that the turkey be piping hot.
Toast the bread under a hot grill until deeply golden. Remove and spread all 8 slices with the mayonnaise and lashings of cranberry sauce. Layer the bread with creamed leeks, the turkey, stuffing and a scattering of root vegetables and top with a few leaves of rocket and a squeeze of lemon juice. Close the sandwiches with the remaining pieces of bread and press down gently.
Cut in half and enjoy thoroughly.
Christmas Pudding & Whisky Ice Cream
A super way not only to use up any leftover Christmas puddings but also a wonderful way to preserve those leftovers into January. The whisky is not strictly necessary but enhances the flavour and helps the consistency of the finished ice cream.
Ingredients (Makes approximately 1 litre):
Double cream 600ml
Light brown sugar 75g
Milk 200ml
Christmas pudding 200g
Egg yolks 10
Whisky 50ml
Method
Begin by heating the cream and milk together with half of the crumbled up Christmas pudding until just beneath the boil. Add the whisky and set aside.
Whisk together the egg yolks and sugar together until light and fluffy. Pour the cream mixture over the eggs whilst whisking before returning the mixture to the pan and cooking over a low heat, stirring constantly, until the mixture is thick enough to coat the back of a spoon (if you have a thermometer, it should read 75C).
Pour the mixture into a bowl and cool completely, first at room temperature and then in the fridge.
Churn the mixture in an ice cream machine until frozen, light and fluffy – this should take around 20 minutes. Crumble in the remaining Christmas pudding, folding through and pop into the freezer.
When you are ready to enjoy the ice cream, take it our of the freezer and pop into the fridge around 2 hours before eating to allow the ice cream to soften uniformly.
Top with granola for a simple weeknight treat or serve with poached pears for a Christmas dinner party.