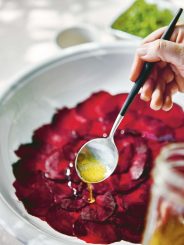 This delicious, simple recipe is taken from my daughter Alice's new book: "One Gun Ranch, Malibu: Biodynamic Recipes For Vibrant Living".
(serves 4)
Ingredients
2 large beetroot, trimmed and scrubbed
2 tablespoons olive oil
1 tablespoon apple cider vinegar
2 teaspoons raw local honey
large pinch of cumin seeds
Handful of micro coriander or fresh coriander leaves
Method
Preheat the oven to 200°c/400°f.
Roast the beetroot whole with the skins on—no need to add oil—until tender, about 45 minutes. Set aside to cool. Using a vegetable peeler, thinly slice into carpaccio strips and lay the strips across a large plate.
In a jar, combine the olive oil, vinegar, and honey. Close tightly and shake well.
Drizzle the vinaigrette over the beetroot and let marinate for 10 minutes.
Garnish with the cumin seeds and coriander and serve.