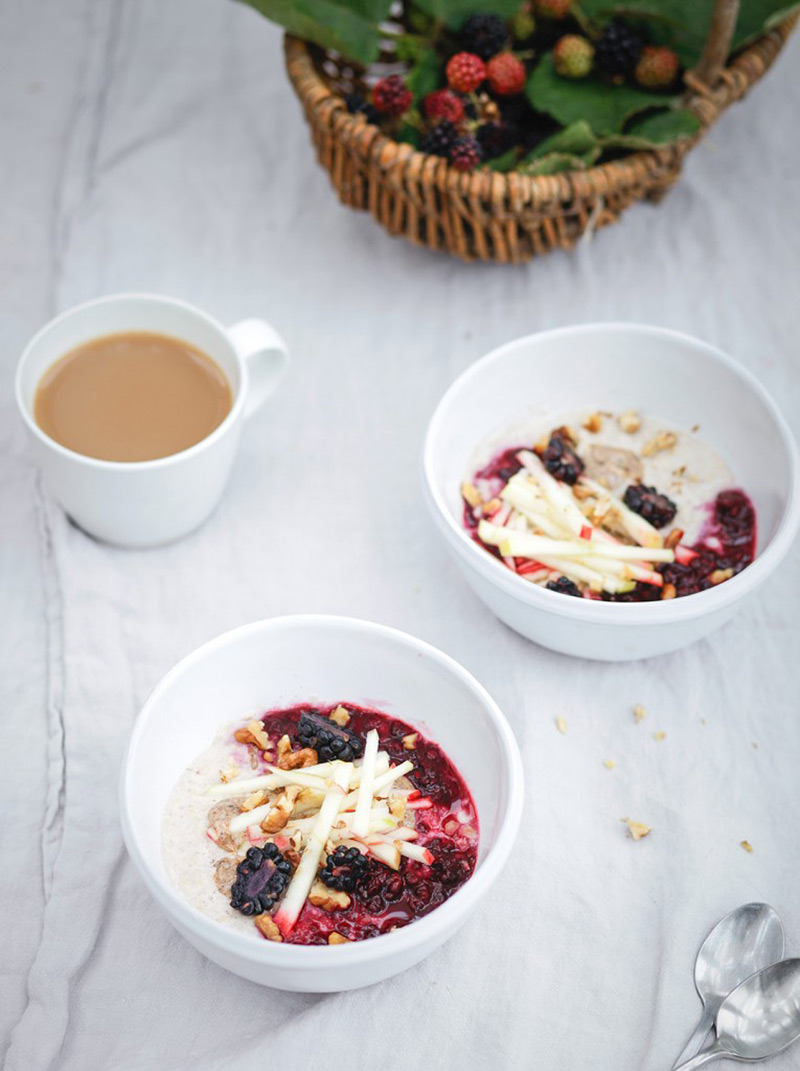 As the autumn hedgerows heave with delicious blackberries, our foraging efforts often find us with baskets brimming with fruit.
One of my favourite ways to celebrate these nutritionally rich berries is to pair their vibrant colour with a gently spiced porridge. The addition of almond butter and apple in this recipe makes for a truly comforting bowl to warm your hands around as the weather turns cooler.
Ingredients (Serves 2)
For the Porrridge
70g jumbo porridge oats
220ml almond milk
pinch of salt
1tsp allspice
For the Blackberries
80g blackberries
1tbsp water
1TSP Honey
To Serve
1 apple, grated or chopped into matchsticks
2 tbsp almond butter
Toppings of your choice such as bee pollen, coconut yoghurt or toasted walnuts     
Method (Easy, 10 Min)
Combine the jumbo porridge oats, almond milk, salt and allspice in a pan. Heat slowly, stirring all the time, until the porridge is thick and creamy.
Meanwhile, place the blackberries in a separate pan with the water and honey and bring to a simmer. Lightly crush the blackberries with the back of a spoon and continue to simmer until the liquid has reduced by around a quarter and the coulis is syrupy.
Divide the porridge between two bowls and pour over the coulis. Top with the apple, almond butter and additional toppings of your choice.