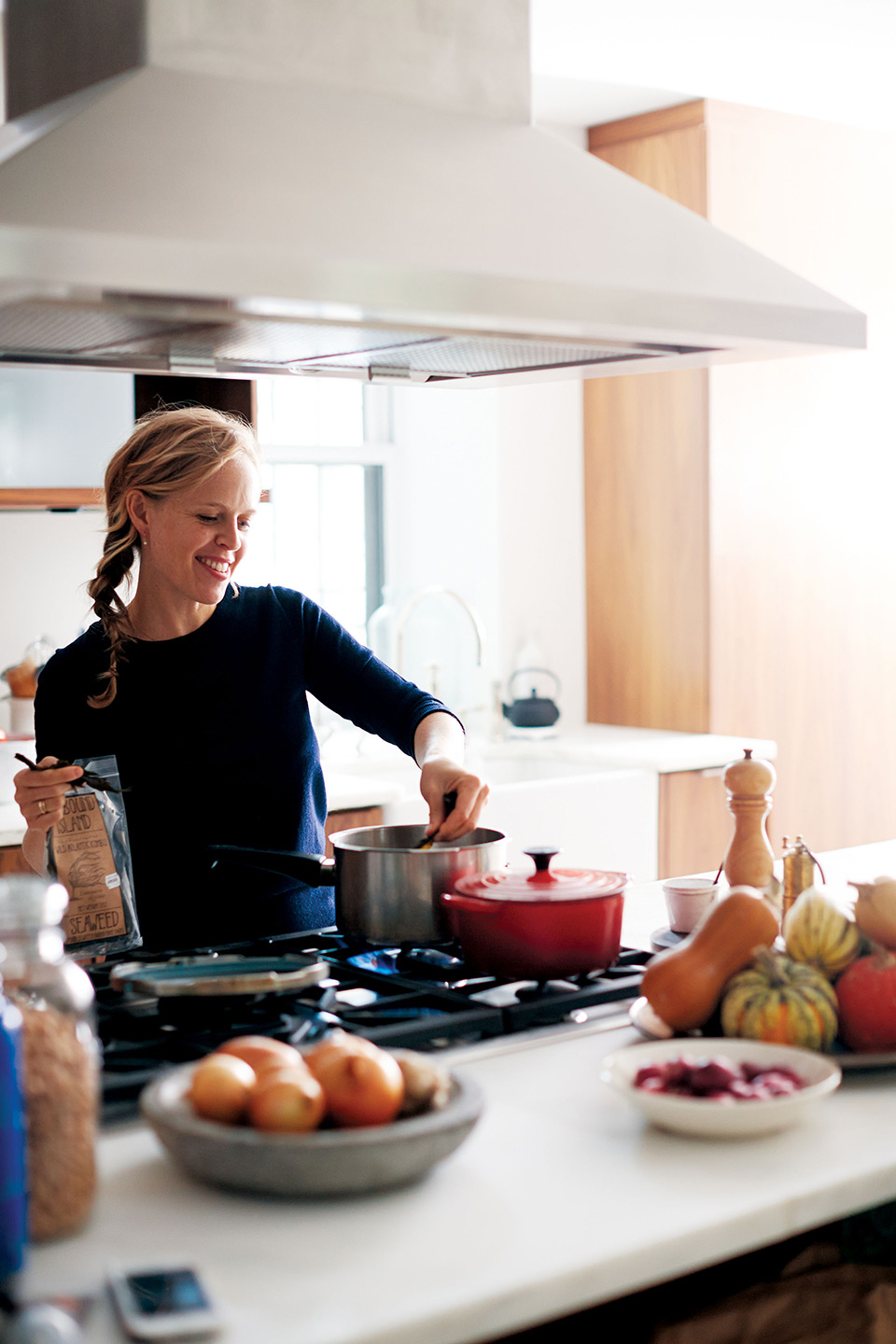 Amy Chaplin is a vegetarian chef who is inspired by nature and the healing benefits of whole food ingredients.
Her award-winning cookbook, At Home In The Whole Food Kitchen, celebrates the art of eating well and holds honest, seasonal, nourishing food at its very core. Her mission is to inspire people to seek out locally grown, organic vegetables, to stock their larders with nutrient rich, whole food ingredients and most importantly, cook at home – principles that also lie at the heart of all that we do at Daylesford.
This crunchy, flavourful granola recipe is taken from Amy's book At Home In The Whole Food Kitchen and would make a delicious, healthy start to the day.
This is a deluxe granola, one that I make for special occasions and holiday gifts. It looks gorgeous packaged in jars or cellophane bags tied with ribbon. Most people I know enjoy it with the full amount of maple syrup, but if you're looking to cut down on sweeteners, you can reduce or omit the maple syrup completely. I have also made this with coconut nectar in place of the maple syrup, which results in a less sweet-tasting granola. Either way, it's sublime served with tangy yogurt, berries and figs when they're in season.
NOTE: You can replace the extra virgin olive oil with coconut oil for a richer, coconuty flavour, or you can use unrefined sesame oil for a nutty, less sweet taste.
INGREDIENTS
70 G (2½ OZ/ ½ CUP) Raw pumpkin seeds
70 G (2½ OZ/ ½ CUP) Raw sunflower seeds
65 G (2½ OZ/ ½ CUP) Raw unhulled sesame seeds
450 g (1 lb/5 cups) regular rolled oats
140 G (5 OZ/1 CUP) Whole raw almonds, roughly chopped
175 g (6 oz/2½ cups) dried, unsweetened coconut flakes
1 teaspoon ground cinnamon
120 ml (4 fl oz/ ½ cup) brown rice syrup
60 to 120 ml (2 to 4 fl oz/ ¼ to ½ cup) maple syrup
½ teaspoon sea salt
120 ML (4 FL OZ/ ½ cup) Extra Virgin Olive Oil
1 tablespoon vanilla extract
60 G (2 OZ/⅓ CUP) Thinly sliced unsulphured dried apricots
60 G (2 OZ/⅓ CUP) unsulphured sultanas
160 g (5½ oz/1 cup) unsweetened dried cherries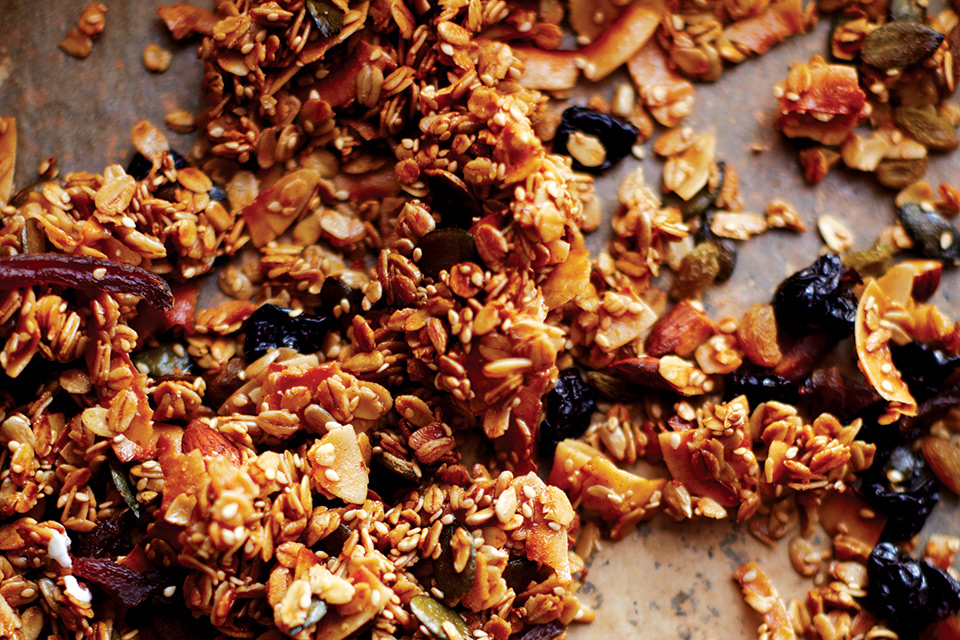 METHOD DIFFICULTY: EASY
Preheat oven to 150C/300F/Gas mark 2. Line two baking trays with baking parchment and set aside. Place pumpkin, sunflower and sesame seeds in a medium bowl and fill it with water. Swish the seeds around and let them settle. Pour off the water and catch the seeds in a sieve. Rinse under running water and set aside to drain while you prepare the other ingredients.
Place oats, almonds, coconut and cinnamon in a large bowl; toss to combine and set aside. Warm the rice syrup, maple syrup and salt in a small pan over a medium heat. Stir until mixture begins to simmer, then remove from heat and stir in olive oil and vanilla; set aside. Stir the drained seeds into the oat mixture. Pour in the olive oil mixture and stir until evenly combined.
Divide between baking trays and bake for 15 minutes. Stir, rotate baking trays and bake for another 15 minutes. Stir again and return to oven for an additional 5 to 10 minutes or until granola is golden and toasty.
Place warm granola in a bowl, add dried fruit and toss gently. Cool completely before storing in jars. Granola will keep well for four to six weeks.